Important Note: This article is not an investment recommendation and should not to be relied upon when making investment decisions - investors should conduct their own comprehensive research. Please read the disclaimer at the end of this article.
Speaking at an industry conference last week, Cabot Oil & Gas (NYSE:COG) provided additional details with regard to its operating plan for 2106. In the Marcellus, the company plans to complete a total of 40 net wells and expects to grow its production by 2%-7% year-on-year.
The average lateral length will increase to an average of ~7,000 this year from an average of ~5,900 in 2015. Simultaneously, Cabot increased its EUR estimate per 1,000 feet to 3.8 Bcf from 3.6 Bcf previously.
The math suggests that the average well in the company's 2016 drilling program will have an EUR of ~27 Bcf.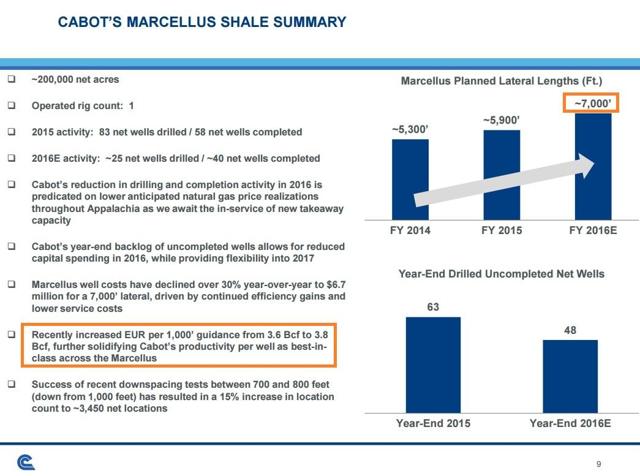 (Source: Cabot Oil & Gas, March 2016)
The company's estimated 2016 EURs are particularly impressive in the context of the relatively low cost per well. Assuming capital cost per 7,000-foot well in 2016 of ~$6.8 million for drilling and completing and an additional $0.4 million for facilities, Cabot's cost to develop the reserves, after giving effect to royalties, comes out at just ~$0.32 per Mcf.
Another notable takeaway from Cabot's update relates to the company's density pilots. Cabot has not seen performance deterioration in its test wells drilled with 700-800 foot spacing between wellbores relative to the standard 1,000-foot spacing. Some of the wells have been on production for over two years.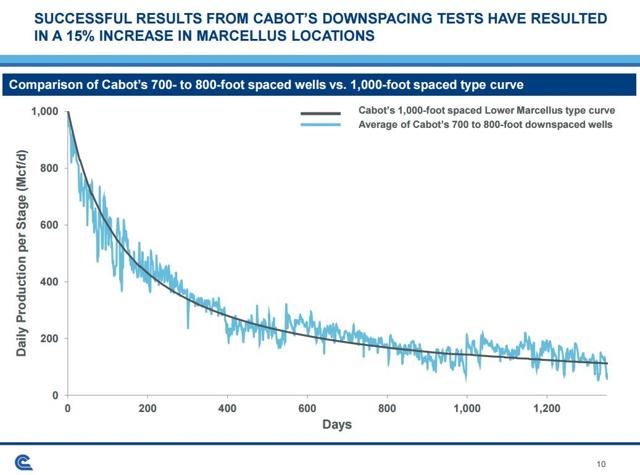 (Source: Cabot Oil & Gas, March 2016)
I would be cautious extrapolating Cabot's best well results onto its entire inventory of ~3.5 thousand drilling locations in the Marcellus. Still, the company's well performance to date has been truly impressive and validates the estimates of large original gas in place and high recovery rates.
Cabot's high EUR estimates correlate with the company's high cumulative production results per well. To date, Cabot has 10 wells that have produced 10 Bcf or more on a cumulative basis. Given that wells with the highest cumulative volumes tend to be older wells, they may not have had the benefit of the latest completion designs and optimized lateral placement. Some of those wells may also have lateral lengths shorter than the 7,000 planned for in the company's 2016 drilling plan.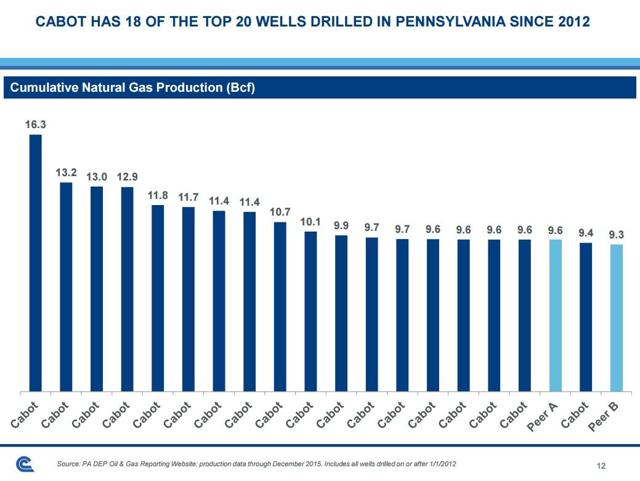 (Source: Cabot Oil & Gas, March 2016)
Needless to say, drilling economics in the core areas of the Marcellus North are potentially very compelling and would lead to rapid production growth if takeaway solutions were available. Unfortunately, the area will remain severely constrained through approximately 2017. The in-service date for Constitution Pipeline has been officially revised by Williams Companies (NYSE:WMB) to the second half of 2017, whereas the Atlantic Sunrise project is still in relatively early stages of approval process.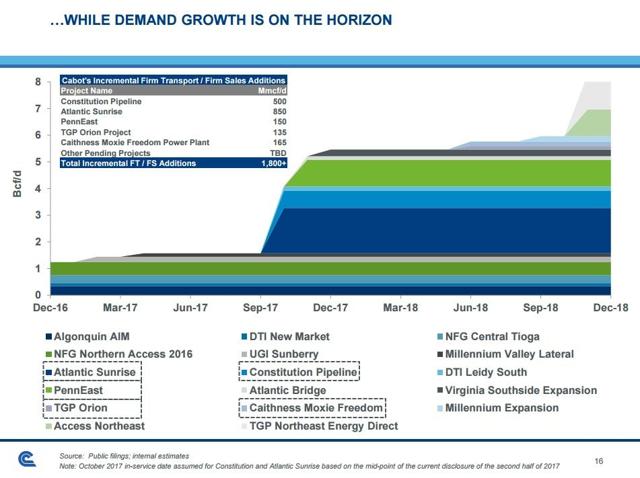 (Source: Cabot Oil & Gas, March 2016)
Prior to Constitution Pipeline coming in service, price realizations in the Marcellus North will likely remain poor, with the weak Henry Hub pricing exacerbated by the wide local basis.
Optimistically, Cabot may see 1.5 Bcf/d of incremental takeaway capacity available to it by early 2018, with potential to almost double volumes. Most importantly, the ability to transport natural gas to more favorable pricing points should results in much better netbacks. Cabot estimates that its netbacks would increase to $1.69 per Mcf in 2018, assuming a Nymex price of $2.79/MMBtu, compared to the estimated netback of $0.68 per Mcf in 2016.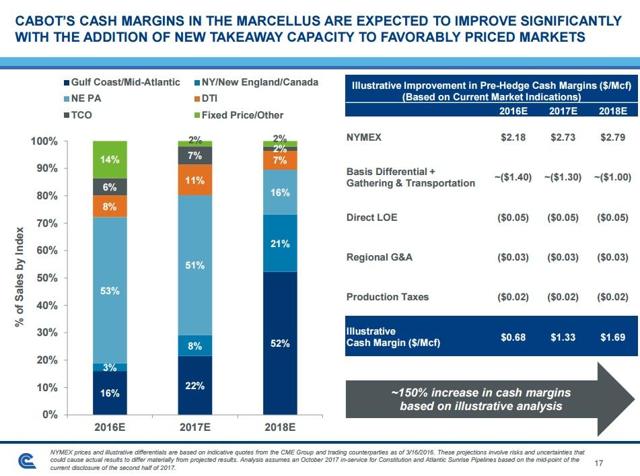 The combination of the 2.5x estimated increase in cash margins per Mcf and a step change in production volumes are a recipe for a strong improvement in cash flow. While significant risks remain with regard to the timing of the key pipeline projects coming in service, the reward is potentially quite significant.
Disclaimer: Opinions expressed herein by the author are not an investment recommendation and are not meant to be relied upon in investment decisions. The author is not acting in an investment, tax, legal or any other advisory capacity. This is not an investment research report. The author's opinions expressed herein address only select aspects of potential investment in securities of the companies mentioned and cannot be a substitute for comprehensive investment analysis. Any analysis presented herein is illustrative in nature, limited in scope, based on an incomplete set of information, and has limitations to its accuracy. The author recommends that potential and existing investors conduct thorough investment research of their own, including detailed review of the companies' SEC filings, and consult a qualified investment advisor. The information upon which this material is based was obtained from sources believed to be reliable, but has not been independently verified. Therefore, the author cannot guarantee its accuracy. Any opinions or estimates constitute the author's best judgment as of the date of publication, and are subject to change without notice. The author explicitly disclaims any liability that may arise from the use of this material.
Disclosure: I/we have no positions in any stocks mentioned, and no plans to initiate any positions within the next 72 hours.
I wrote this article myself, and it expresses my own opinions. I am not receiving compensation for it (other than from Seeking Alpha). I have no business relationship with any company whose stock is mentioned in this article.