AN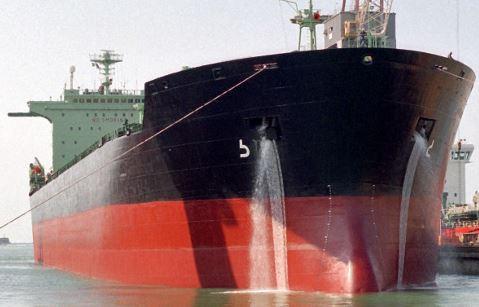 SALT Overview
Scorpio Bulkers (SALT) is a dry bulk pure play, with 33 vessels currently on the water and an additional 16 newbuilds with scheduled deliveries through mid-2017. SALT also has 3 short-term time-chartered vessels on the roster. SALT was initially a private-equity darling, but saw its share price destroyed due to a horrendously timed leveraged bet on a dry bulk recovery. This oversized bet led to several bouts of massive equity dilution and the dry bulk markets continued to worsen.
Following their recent equity offering, SALT has approximately 50M shares outstanding for a market capitalization of roughly $156M.
2019 Notes (SLTB) Overview
The prospects for a dry bulk recovery looked very strong in the summer and fall of 2014. In September 2014, SALT sold $65M in 5-year exchange traded notes, with an interest rate of 7.5% on a par value of $25. These notes were extremely well received and SALT was able to subsequently increase the offering size to $73.625M. The notes trade on the NYSE under the symbol "SLTB."
The notes traded close to par value ($25) until summer 2015, when SALT began to crank out massive losses and began to shed assets to keep the balance sheet strong. The notes crashed down to $9.36 in December 2015, before falling even further to an all-time low of $7.85 in February 2016. At $7.85, with a 7.5% coupon, and a $25-par maturity on 15 September 2019, the yield-to-maturity ("YTM") was nearly 60%.
In late February, credible rumors emerged that SALT might sell their entire fleet and cash out equity investors. I seized on this opportunity to load up on SLTB at $9.10, and issued a trade alert to Value Investor's Edge subscribers. If the rumors panned true, SLTB could be $25 in just a few months. If the rumors panned false, there was little downside risk. I believed SLTB was worth at least $15 on these prospects.
The full fleet sale was indeed a rumor, but SALT released impressive Q4-15 results, substantial financial improvements, and wisely followed up with a $63M equity raise at $3/sh. These moves have taken insolvency off the table, and the odds of default for the 2019 notes have nearly vanished. Value Investor's Edge subscribers and I got these notes for a 50%+ YTM, but they still offer 25%-30% payout and the majority of the risk has been taken off the table.
Previous Bearish Coverage & Reversal
I've been a vocal bear on SALT since June of 2015 at nearly $21/sh. My most recent comprehensive public research on SALT was published on November 3rd, when they traded over $15. I didn't short directly as Safe Bulkers (SB) looked like a better play, primarily due to the high volume in options.
The primary reason for shorting SALT was their massive credit over-extension due to heavy ordering of higher-valued assets while utilizing high leverage. When dry bulk vessel values crashed, SALT essentially was stuck on a sort of 'margin call,' and would be forced to execute both a fire sale of assets and a panic dilution. Additionally, SALT had signed several TC-in ship lease deals, which virtually guaranteed a cash flow drain of several million per month. The majority of the bear thesis panned out exactly as scripted, but SALT has now survived the storm (albeit with nearly 90% losses over the past year), and is now a strong speculative play on a dry bulk recovery. The following price graph shows 1y performance, red 'x' for bearish reports and green 'x' for bullish reports.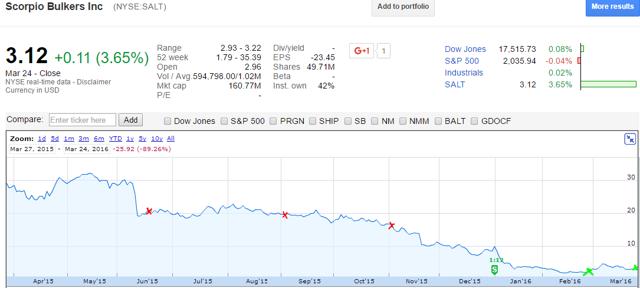 Additionally, the CEO spent $430k to purchase shares at $2.98 in the open market last week. This is in addition to heavy insider buying by the founding Lolli-Ghetti family, which has now surpassed 15%.
Conclusion
I'm moderately bearish on the mid-term prospects for the dry bulk market, as shown through a plethora of coverage on related names such as Navios Maritime Holdings (NM), Safe Bulkers, and Diana Shipping (DSX). However, when the prospects change, I am open to changing my opinion.
I have recently initiated a position in SALT at $3/sh and SLTB is my #1 portfolio position with a basis of $9.10. I believe SALT is worth at least $5/sh, with a decent floor due to its NAV value of around the same. Even if the markets remain horrendous for several years, I believe the risk of default on the SLTB notes is now extremely low. Given recent changes, my price target for SLTB is $20/unit.
Editor's Note: This article covers one or more microcap stocks. Please be aware of the risks associated with these stocks.