Overview
I own J.B. Hunt Transport (NASDAQ:JBHT) with an initial position at $75/share. While nowhere near the lows set in January, this still reflects a return of over 14 percent. J.B. Hunt is a great company to own based on its dominance in the intermodal market, combined with a strong presence in dedicated contracted services and capacity solutions.
For investors, J.B. Hunt is a fairly easy company to follow, get a handle on the business and set expectations. Below is a slide from a presentation in March 2016 which provides management's guidance for the year. The revenue and operating income ranges provide a midpoint near 10 percent respectively, and the interest expense increase is fixed. The intermodal business segment is clearly the most substantial and will be the focus of this article.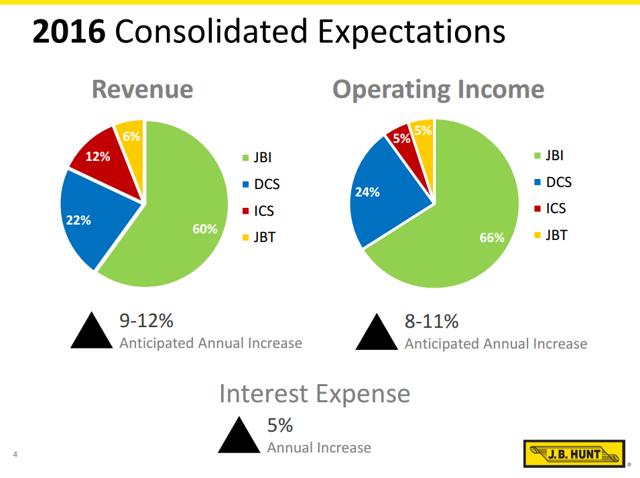 Not only is it simple to take these assumptions to get a clear idea of diluted EPS, but there are good sources of information to consider which relate to the intermodal business segment. These are primarily seaport TEU traffic and Class I rail operator container traffic.
The West Coast seaports including Los Angeles and Long Beach are strong drivers for J.B. Hunt's intermodal business segment. During the first two months of 2016, both seaports witnessed TEU traffic growth near 30 percent for loaded import/exports. On the East Coast, Savannah and Virginia witnessed TEU traffic growth of 5 and 8 percent respectively for loaded import/exports.
During the first 11 weeks of 2016, BNSF (NYSE:BRK.A) (NYSE:BRK.B), Norfolk Southern (NYSE:NSC), CSX (NASDAQ:CSX) and Canadian National (NYSE:CNI) witnessed container traffic growth of 13, 8, 6 and 4 percent, respectively. These four Class I rail operators reflect the substantial majority of J.B. Hunt's rail business. Ironically, Union Pacific (NYSE:UNP), Canadian Pacific (NYSE:CP) and Kansas City Southern (NYSE:KSU) had the worst performing container traffic at 1, 0 and negative 5 percent, respectively.
This sets J.B. Hunt up to perform towards the higher end of management's guidance for the intermodal segment, with the potential to exceed estimates. With the substantial majority of revenue and operating profit generated from this segment, this bodes well for the consolidated estimates.
J.B. Hunt is up 18 percent YTD during 2016. The current valuation is at a premium for the truckload industry, but J.B. Hunt's unique business structure and market leadership has commanded a premium historically. Today's price leaves room for modest price appreciation if the company meets the high-end expectations, and could still offer double-digit returns if estimates are exceeded; investors should consider the stock price as a moderate buy.
Container Traffic Drives Growth
Per J.B. Hunt's annual financial filing, the company has major contract agreements with BNSF and Norfolk Southern. The company also provides domestic intermodal container capacity for CSX and has signed recent agreements with Canadian National and Kansas City Southern.
Intermodal traffic performance for J.B. Hunt was driven by the company's eastern network, and to a lesser extent, transcontinental loads. Container traffic performance for BNSF during 2015 was flat, suggesting that the domestic side outperformed international containers; with J.B. Hunt driving this growth. East Coast rail operators including Norfolk Southern and CSX had mixed container traffic performance during 2015 of flat and 8 percent respectively. This similarly displays J.B. Hunt's market leadership.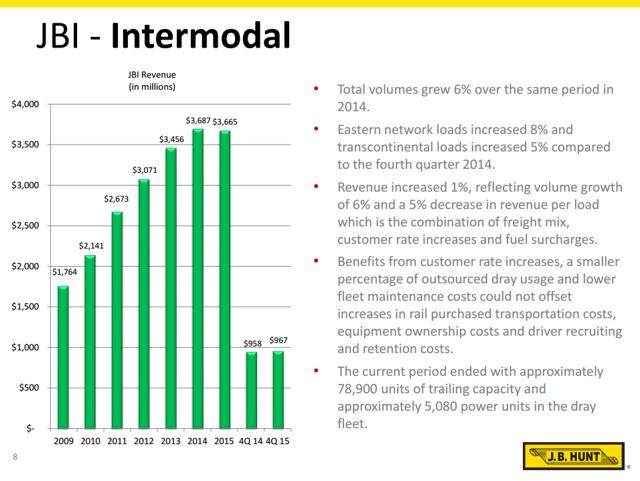 As stated above, 2016 is off to a more robust start compared to 2015. Judging from the fact that some rail operators underperformed J.B. Hunt's traffic performance, it would not be surprising to see the company beat traffic estimates for the first quarter 2016.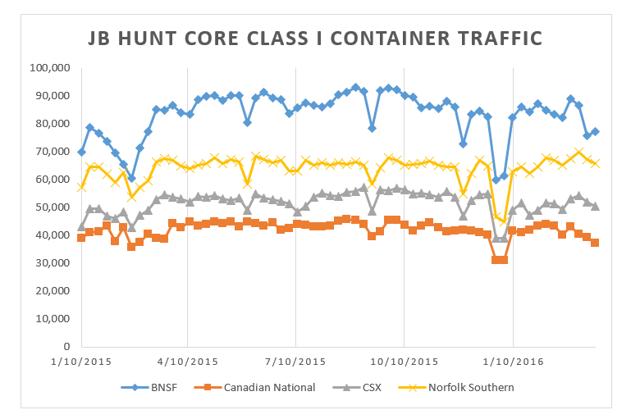 Source: Weekly Class I rail traffic and personal database
The same story is evident at major West Coast and East Coast seaports. Not all data is in for February, so there are other major seaports on the East Coast to consider including New York/New Jersey and Charleston. Oakland and the Northwest Seaport Alliance also witnessed substantial growth over the first two months.
Highway conversion has continued to drive intermodal growth. But many rail operators are looking work with trucking companies to connect as a last-mile transport need. J.B. Hunt provides the best of both worlds as the company owns substantial revenue equipment including drayage tractors, containers and chassis.
Despite a moderate decline in capex for 2016, J.B. Hunt is committed to growing the intermodal business segment with the addition of more trucks and a substantial increase in containers and chassis. This capex budget is a clear indication of the strength of the company's market position, and the fact that 2016 should see solid demand. All of these pieces are aligned nicely to support management's guidance for the year.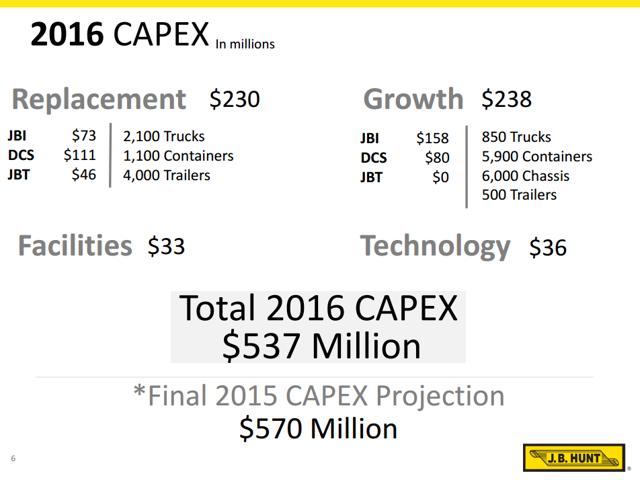 Valuation
As of March 25, 2016, J.B. Hunt trades at roughly $86/share. This equates to a P/E ratio of 23.5 times 2015 diluted EPS and a forward P/E ratio of about 21.5 times diluted EPS estimates. Based on this, I do not see a lot of upside for investors; $90/share is probably about as high as the company could be justified during 2016.
J.B. Hunt's EV/EBITDA level is near all-time high levels at 13; EV/sales and P/B are also near all-time highs. This is primarily due to the substantial increase in leverage the company has undertaken couple of years. EBITDA has grown at about 13 percent while long-term debt has increased by nearly 50 percent. Despite this, the company's leverage ratios remain stable.
For 2016, analysts are expecting diluted EPS at $4.01. Based upon the previously discussed traffic trends, it would not be surprising to see J.B. Hunt beat these estimates by 5 percent or so towards the $4.25/share level. This would place today's price closer to 20 times earnings, maybe giving investors an opportunity for $92-95/share.
This move will most likely occur after the first-quarter earnings announcement, assuming the company exceeds guidance. Investors should expect the company to approach the $90/share level in the event an earnings beat occurs at the 5 percent or higher mark.
Investor Perspectives
J.B. Hunt has a formidable intermodal business segment that has established agreements with 5 of the 7 Class I rail operators. The company provides the largest amount of capacity including tractors and chassis. The 2016 capex budget will once again provide for robust growth in revenue equipment to meet demand expectations.
Investors looking to own J.B. Hunt or management current positions should consider that the stock is trading at historically high premium level at the moment. This does not mean that the price could not rise 5-10 percent further. However, this will be largely predicated on the company's ability to beat earnings estimates throughout the year. As such, a moderate buy recommendation is justified.
Disclosure: I am/we are long JBHT, CNI.
I wrote this article myself, and it expresses my own opinions. I am not receiving compensation for it (other than from Seeking Alpha). I have no business relationship with any company whose stock is mentioned in this article.