For a general overview of American Tower Corporation (AMT), please see my previous article from February 10, 2016. In this article I will simply be providing a basic update of some relevant events and developments affecting AMT since that time. I will provide a more comprehensive report after the 1Q16 earnings call in May.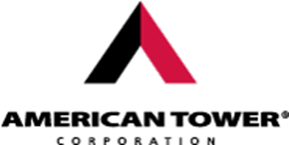 To begin with, a very short recap of AMT's 2015 and 4Q15 results:
During 4Q 2015, property revenue was $1.25 billion, a 21% increase year over year. For full-year 2015, property revenue grew 17% to $4.68 billion. AMT is guiding to $5.61 billion in property revenue in 2016, which is an increase of approximately 20% year over year. The company continues to target annual dividend increases to common shareholders of at least 20% and expects a slight increase over the 2015 payout ratio of 36%.
The company announced that it has reorganized for reporting purposes and will be reporting in five segments going forward: U.S. property, Asia property, EMEA (Europe, Middle East, Africa) property, Latin America property, and Services.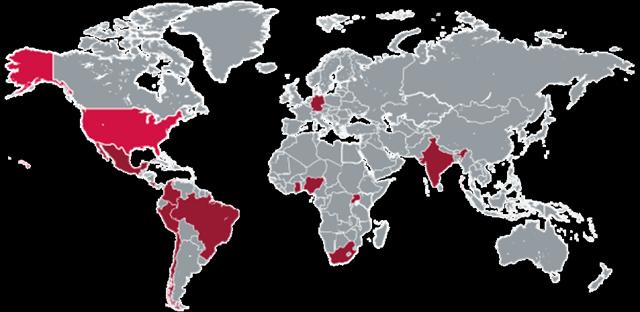 (American Tower Asset Locations… or a modestly solid strategic position for a 3-4 person game of Risk.)
Core U.S. revenue growth was 5.2% for the year and international revenues were up over 12.5%, with both Latin America and India seeing 10% improvements and EMEA seeing a company best 13% increase. (AMT 4Q15 and Full Year 2015 Earnings Call Transcript- Seeking Alpha)
As with almost any expanding, asset-focused company, American Tower is carrying a significant amount of debt - approximately $16.7 billion as of 1Q16. However, the maturity dates for this debt are fairly evenly spread out over the next decade, with only $2.5 billion coming due before 2020. While it is impossible to overlook such a huge number and it is obviously possible for any company to take on too much debt, it's also important to realize that this is not operational debt, but is similar to a commercial mortgage. The debt is being used to purchase assets that will generate revenue and appreciate in value over time. The determining factor as to whether the debt will eventually be paid is whether the company is using the debt to acquire the appropriate assets to bring to market.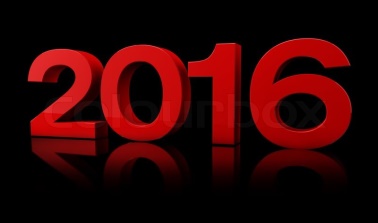 American Tower Corp has had a solid beginning to 2016, with the following positive developments:
Continued Dividend Increases and Share Price Appreciation
On March 9, 2016, AMT announced a 4.1% increase in dividend payments to shareholders, from $0.49/share per quarter to $0.51/share per quarter. This continues a recent trend of solid dividend increases - the dividend for 4Q2013 was $0.29/share per quarter, so the current dividend represents a 76% increase in dividend payments over the most recent two-year period.
As of this writing, the price of AMT stock is $100.35/share and provides a 2.03% yield on a $2.04/share annual dividend. Since hitting a 52-week low of $83.07/share on February 11, AMT stock has risen steadily to its current level. (I could point out that the price of AMT stock had been steadily declining for nearly two months until my last article on February 10 and has essentially been on a continuous upswing since, but that might create what is known as a "false correlation." But still…)
REIT Reclassification
In September 2016, the S&P Dow Jones indices will reclassify REITs from their current designations as components of the financial sector into their own real estate sub-category. This is anticipated to benefit REIT equity prices (including AMT) for several reasons, the most impactful of which is likely that "U.S. equity funds are significantly underweight and would need to buy more than $100B of REITs just to get to a market-neutral position." AMT is one of the five largest REITs in the market and, therefore, is one of the REITs most likely to experience a price bounce, according to some analysts. (Seeking Alpha- REIT Reclassification)
Spectrum Reallocation
The FCC will be conducting a Broadcast Incentive Auction beginning on Tuesday March 29, 2016, in which "Broadcasters" (i.e. television and radio stations) will make their unused spectrum available for bid to "Mobile Broadband Providers" (i.e. cell companies). By reallocating the spectrum not being used via television and radio to cellular carriers, the overall amount of spectrum available for use by carriers will be increased and, eventually, the amount of infrastructure assets required by the carriers also will need to be increased. Most tower assets can physically accommodate 3-4 separate tenants - AMT's U.S. portfolio has an average of 1.4 tenants per tower, leaving significant room for additional growth.
James D. Taiclet, American Tower Chairman, President and Chief Executive Officer, on Q4 2105 earnings call, February 26, 2016:
"… across the carriers largely what's happening is… additional spectrum and additional equipment is being placed on to existing contracted tower space. And as you see AWS spectrum and… WCS spectrum (an even higher bandwidth)… you are going to see those (lease) amendments continue and we've got a really nice pipeline of those already. It does take a few weeks and months to get deployment schedules in place and equipment actually installed and billing, but the pipeline is really strong…
"On the other hand, as you go into these higher bands and you apply carrier aggregation and other approaches to adding those bands into your networks, ultimately you are going to need a more dense network (sic), sites closer together, because as you go higher up in bandwidth, you go shorter in effective radius. And if you are trying to create a consistent customer experience and you want to use 700 MHz and 1.9 GHz in the handoff or even on the same transmission site, you are going to have to design to that highest bandwidth. Therefore, sites are ultimately going to have to be closer together over time."
Significant Increase in African and Indian Assets
AMT is purchasing approximately 1,350 communications sites in Tanzania from Bharti Airtel of India. (March 21, 2016). While this may not be the largest deal in the largest market, it is evidence of a strongly developing relationship with Bharti Airtel, which is the largest cellular provider in India (and the third largest provider in the world, with over 325 million subscribers).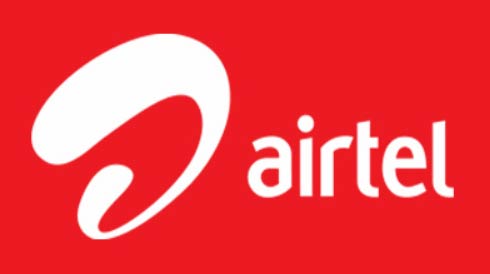 In 2015, AMT also acquired approximately 4,700 tower locations in Nigeria from Bharti Airtel, making this the second large deal between the two companies. Also in 2015, AMT acquired a 51% stake in Indian tower company Viom Networks from Indian conglomerate Tata. Viom Networks controls approximately 41,000 towers in India, which will be added to the 15,000 locations already owned by AMT in India to give AMT a tremendous scale in one of the largest and fastest growing cellular markets in the world. The deal with Bharti for assets in Africa could potentially pave the way for additional deals between the two companies in Bharti's home market of India over time. In much the same way that AMT purchased Verizon's tower assets in the United States (which helped Verizon raise cash and lower operating expenses), the African transactions may assist Bharti to expand operations in other markets - potentially providing additional opportunities for AMT to pick up more of Bharti's Indian tower assets.
James D. Taiclet, American Tower Chairman, President and Chief Executive Officer, on Q4 2105 earnings call, February 26, 2016:
"… in India, the largest free market democracy in Asia, we have signed a transformational deal with Tata and its current partners in Viom, which will take our tower count there from 15,000 to over 57,000.
"The transaction is strategic for ATC (Note: ATC is a wholly owned subsidiary of AMT), not simply because it increases our tower count, but because it enables us to build even deeper business relationships with high quality, multinational mobile network operators, such as Airtel, Vodafone, Idea, Tata, Reliance and Aircel, which will all be bringing the mobile internet to India's 1.2 billion people."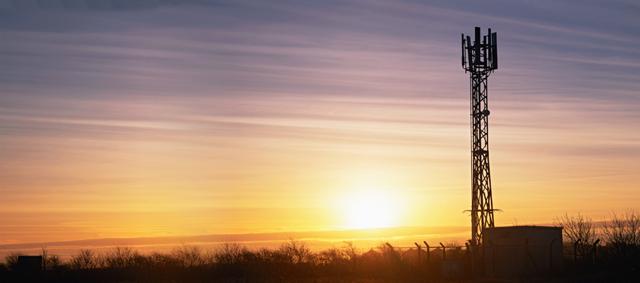 AMT Tower Asset: Eye of Sauron in West Picklefordshire, Mordor.
Finally, let me leave off with a couple of additional quotes from AMT CEO James D. Taiclet from the 4Q15 earnings call that I believe are of high significance in conceptualizing the future growth and evolution of both American Tower Corp as well as the telecommunications infrastructure market in general:
"When you look at the topologies and population densities where towers are the primary source of the infrastructure, those places tend to be suburban, rural and corridor type areas of transportation. Dense urban and suburban environments are not a tower heavy sort of environment because of the real estate costs (that) exist for commercial and residential buildings… therefore, you have rooftops primarily serving urban and dense urban (areas).
"So, we are not in the dense urban environments, where it does make a lot more sense to install alternative technologies. But in suburban, (transportation) corridor, and rural environments where 95% of our tower base is located and 85% of the U.S. population lives, the traditional upgrade cycle… is still in place and will continue to be in place over the next number of years, we believe.
"… we are, simply, in the multi-tenant communication real estate business. And in large part, over the recent history of mobile deployment, that has been largely tower based. We continue to seek other multi-tenant real estate opportunities in the communications space. And I also would offer that we are in the multi-tenant small cell business.
"We are the number one indoor small cell independent operator in the United States with over 300 locations (examples include stadiums and racetracks)… And we're ready to grow that business. We have already grown it 30% last year… we do have a limited set of outdoor DAS (Distributed Antennae System) properties which we feel are going to become multi-tenant, but they are slower ramp up…but we're really focusing on where we think the tenancy ramp up is highest, and that's towers and indoor small cells right now." (emphasis added)
Conclusion
AMT appears to be running on all cylinders. The ever increasing consumer demand for data usage will undoubtedly lead to the need for more and more bandwidth capacity, which will require additional physical infrastructure to bring the bandwidth to market. This demand is not localized to one area of the world, but is global in scope. While it is true that a certain amount of consumer demand will be met via the use of satellites and small cell networks, there will almost certainly be a need for the stability and local signal power that is provided by a tower asset, regardless of location. Although AMT is carrying a fairly significant debt load, there appears to be a tremendous amount of cash flow that will be unlocked over time and returned to shareholders. This is not a get rich quick type stock. But if you are willing to buy and hold for a few years, I believe American Tower could be one of those fantastic companies that offers both significant dividend AND equity appreciation, and could be one of the pillars of your portfolio.
Disclosure: I am/we are long AMT.
I wrote this article myself, and it expresses my own opinions. I am not receiving compensation for it (other than from Seeking Alpha). I have no business relationship with any company whose stock is mentioned in this article.
Additional disclosure: The author is not a professional or licensed investment or financial advisor and the preceding article is intended for informational purposes only. It is not to be taken as "buy, sell, hold", or other specific investment or financial advice of any type. Before making any investment/financial decisions, investors are advised to conduct their own research to their own satisfaction and are solely responsible for the decisions and actions they take- the author bears no responsibility for any gains or losses of any investment decision made of any type based on this or any other article written by the author.