Last December, I wrote about the shaky prospects for the seasonal trade on home builders. Sure enough, iShares US Home Construction (BATS:ITB) has not performed this badly on an absolute or relative basis, as measured from the end of October, since 2009.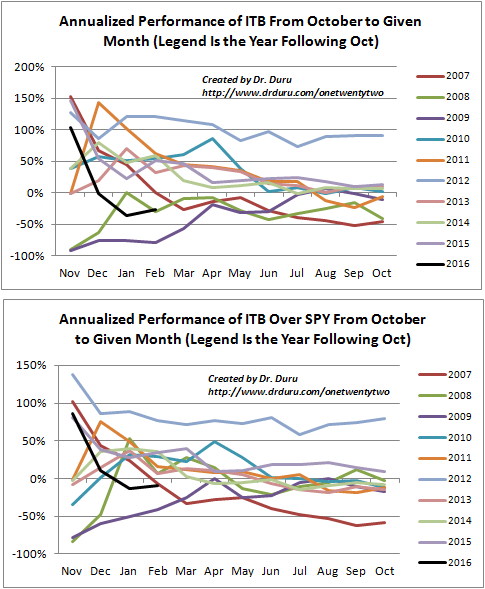 The 2016 seasonal trade for iShares US Home Construction is off to a poor start.
Source for price: Yahoo Finance
When I wrote about the shaky prospects for this trade, I pointed to likely headwinds from the market's expectations on rate hikes from the U.S. Federal Reserve. Those rate expectations have swung wildly in 2016 from a market that pushed out the next rate hike to 2017 to the current market that just pushed the first rate hike back to July, 2016.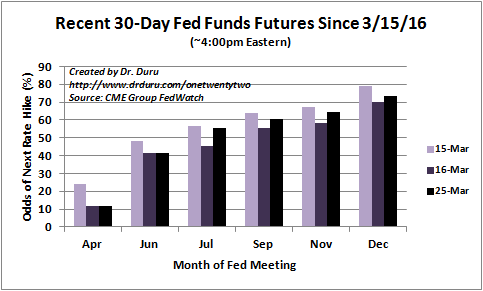 Across most of 2016, expectations for the next rate hike are slowly returning to levels last seen right before the Fed announced its latest policy on March 16th.
Source: CME Group FedWatch
Given these changes, I cannot blame ITB's problems on interest rates per se. Indeed, ITB, along with the S&P 500 (NYSEARCA:SPY) has rallied along with expectations for an earlier and earlier date for the next rate hike.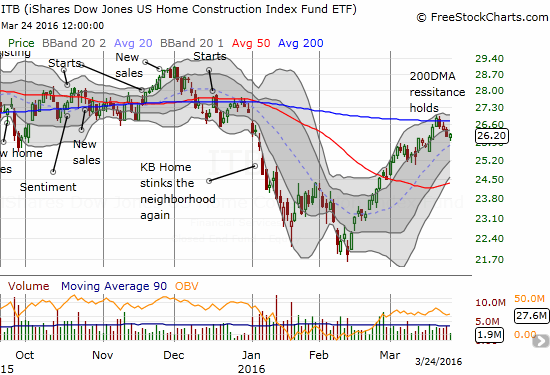 Resistance held firm on ITB this past week at its 200-day moving average (DMA).
Source: FreeStockCharts.com
If the market can rally along with increasing rate expectations, I have to assume economic expectations are at work. That is, the parallel moves represent growing confidence in economic prospects. As a cyclical sector, the stocks of home builders were hit particularly hard as economic fears rose sharply in the new year. Since the February 11th bottom in the stock market, ITB has greatly out-performed the S&P 500 20% to 11%. When I observe such a swing, I immediately assume economic expectations are changing rapidly. To confirm this conclusion, I looked to Google Trends as one proxy for assessing the interest in, and thus presumably the fear of, recession.
In the charts below, I used the search word "recession" filtered by the Business and Industrial category for the U.S. only. The first chart goes back to 2010 - the results from 2008 and 2009 swamp everything else. The second chart focuses in on the past 12 months to demonstrate how the recent peak in recession fears neatly coincided with the recent bottom of the S&P 500 (and by extension ITB).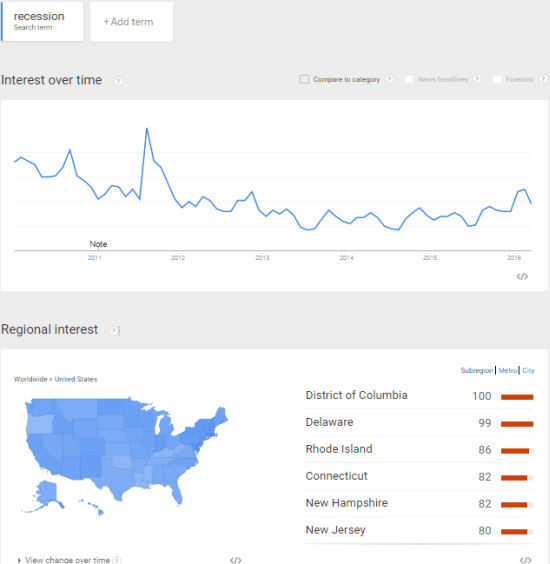 After several years of cooling off, recession fears suddenly turned upward in early 2016.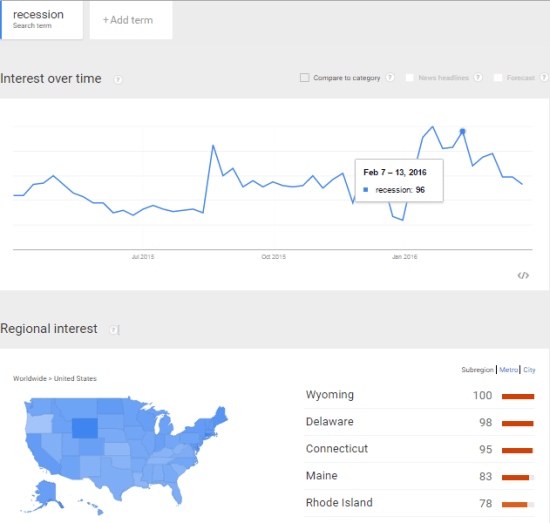 The recent peak in recession fears came in mid-February as the stock market printed its last bottom in price level.
Source: Google Trends
I do not know what to make about the complete change in recession fears by U.S. region. Since 2010, Washington D.C. led the Northeast in economic concerns. In the last 12 months, Wyoming suddenly emerged to replace Washington D.C. I offer up the data in case someone has some insight here…
Anyway, a more directly quantitative view of recession fears comes from economists at the University of California, Riverside and the University of Oregon - Marcelle Chauvet and Jeremy Piger respectively. The Research Division of the Federal Reserve Bank of St. Louis (NASDAQ:FRED) publishes a delayed series of their recession probabilities. Here is the description:
"This recession probabilities series from University of California, Riverside economist Marcelle Chauvet and University of Oregon economist Jeremy Piger is a monthly measure of the probability of recession in the United States obtained from a dynamic-factor Markov-switching model applied to 4 monthly coincident variables: non-farm payroll employment, the index of industrial production, real personal income excluding transfer payments, and real manufacturing and trade sales."
The first chart below shows that over the past 12 months the odds of a recession, as small as they are, have "soared" to the highest level of the series. The larger series going back to the 1960s puts these small odds in proper perspective. The shaded areas show recessions which are of course not recognized until well after they have occurred. This lag is what makes these probabilities useful even though they show a sharp rise only when recessions are just about or have already started. In other words, do not expect much advanced warning from this series. The last data point is December, 2015.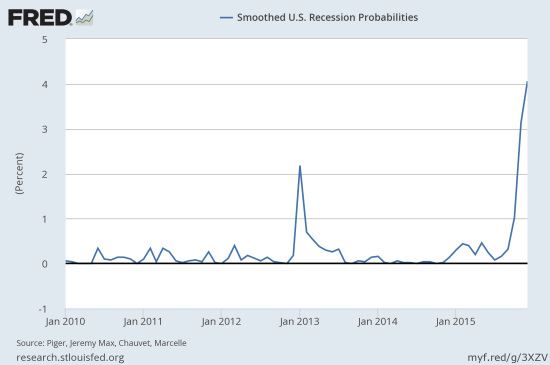 The recent odds of a recession have "soared" to levels not seen from 2010 to now.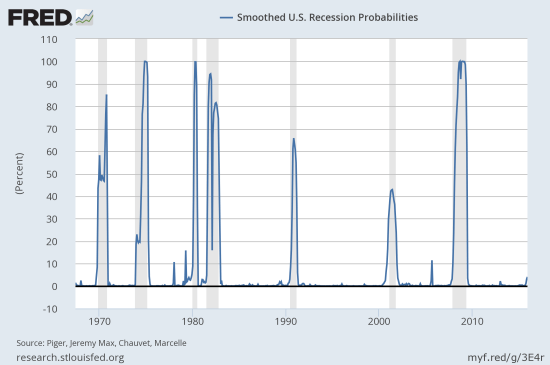 However, the odds of a recession are far smaller than recent episodes leading into or during what in retrospect was officially called a recession.
Source: Piger, Jeremy Max and Chauvet, Marcelle, Smoothed U.S. Recession Probabilities [RECPROUSM156N], retrieved from FRED, Federal Reserve Bank of St. Louis, March 27, 2016.
While the data points for the first months of 2016 are not yet available, I think it is safe to say that the market exhibited extreme sensitivity to the increase of recession odds from near zero. This sensitivity is instructive given the weak connection between bear markets and recessions.
As I have discussed in my Housing Market Reviews, I have noted a slowing momentum in the housing data. From December, 2015 to February, 2016 one new component has flashed a sign for caution. Given my skepticism about the odds of a recession, I took advantage of the recent dip to refresh and/or greatly increase positions in the stocks and call options of home builders (I also used other indicators tied to measuring extremes in the stock market). However, both the technicals and the fundamentals have now motivated me to trim positions and protect some profits.
So, I go into the end of the seasonal trade on home builders underweight my preference for this sector. I now eagerly look forward to the results of the Spring sales season for confirmation or correction of my current positioning.
Be careful out there!
Disclosure: I am/we are long ITB.
I wrote this article myself, and it expresses my own opinions. I am not receiving compensation for it (other than from Seeking Alpha). I have no business relationship with any company whose stock is mentioned in this article.