Johnson & Johnson (NYSE:JNJ) is a truly excellent company that can be found in many portfolios. It currently makes up 4.5% of my taxable dividend growth portfolio and for good reason: consistency. Johnson & Johnson has managed to grow it's dividend for 53 consecutive years and if history is any guide they'll be announcing another raise in one month's time. This plants them firmly as one of premier Dividend Champions.
Every $1 invested in Johnson & Johnson a decade ago has grown at a 9.29% annualized rate to a value of $2.43. An investment two decades ago has grown 10.40% annually and is now worth $7.25. A $1 invested three decades ago is now worth $61.16 which is good for a 14.69% annualized rate.
It's been nearly 4 months since I last analyzed Johnson & Johnson and its investment potential (Previous analysis can be found here). At the time shares of Johnson & Johnson had risen around 7% in a rather short time period to around $101. We've seen another 6.5% gain since February 11th removing much of the value proposition.
Shares of Johnson & Johnson closed trading on March 24, 2016 at $108.31 providing investors a current yield of 2.77%.
What About The Dividend?
Many investors own Johnson & Johnson for its dependable and steadily rising dividend. Historically the track record has been excellent. The following chart shows the annual dividend payment from 2001 through 2015.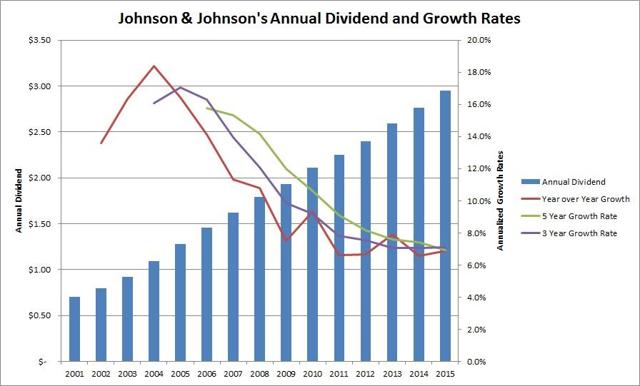 Dividend growth has slowed considerably since the early 2000's. In the early 2000's annual dividend growth was in the mid to upper teens year after year, but has since slowed to around the 6-7% level. Going forward Johnson & Johnson should continue to deliver 5-8% raises annually.
Historic Metrics
The health care industry allows for fairly consistent growth since, in general, the state of the economy doesn't effect peoples decision regarding their health. That's why you see consistent growth from year to year.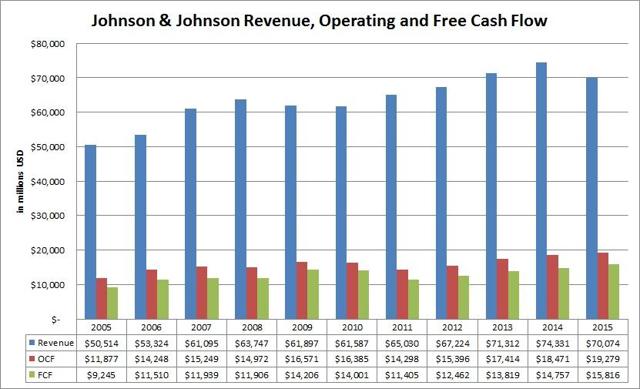 The truly astonishing thing about these numbers is the scale that we're dealing with. Johnson & Johnson generated over $70,000 M in revenue in 2015 and converted that into over $15,800 M in free cash flow.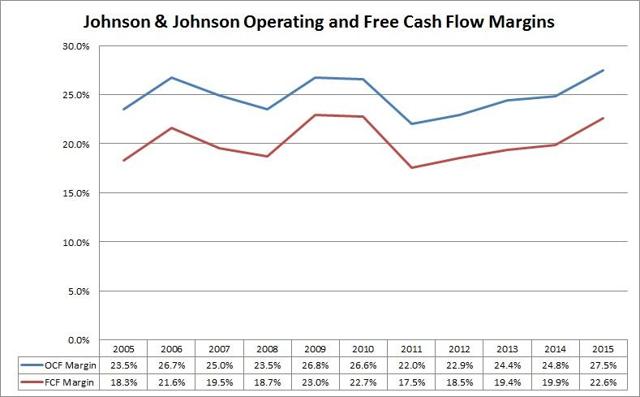 Johnson & Johnson is a cash conversion beast. Over the last 3 years Johnson & Johnson has averaged a 25.6% operating cash flow margin. The 5 year average works out to 24.3% with the 10 year average at 25.0%. The operating cash flow margin is consistent and high which bodes well for investors.
Likewise regarding the free cash flow margin. The 3 year average works out to 20.6% with a 5 year average of 19.6% and a 10 year average of 20.3%. Whenever I find a company that can convert over 20% of revenue into free cash flow I'm interested.
I also like to look at a few variations of free cash flow. By looking at several variations of free cash flow I can see just how much cash is still available for other uses for the company.
Free Cash Flow, FCF - The traditional calculation for free cash flow of operating cash flow less capital expenditures.
Free Cash Flow after Dividend, FCFaD - FCF less the total amount of cash paid to shareholders via dividends.
Free Cash Flow after Dividend and Buybacks, FCFaDB - FCFaD less the net total cash "returned" to shareholders via share buybacks.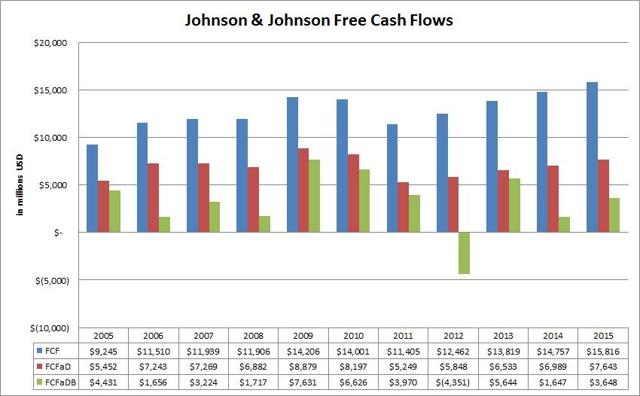 Like I mentioned earlier, Johnson & Johnson is a cash flowing machine that consistently grows all 3 free cash flows. Even after accounting for share buybacks and dividends Johnson & Johnson is in excellent shape and generates plenty of excess cash to improve the balance sheet and make acquisitions.
The following table shows the rolling 3 year annualized growth rates for revenue, operating cash flow, capital expenditures and free cash flow as well.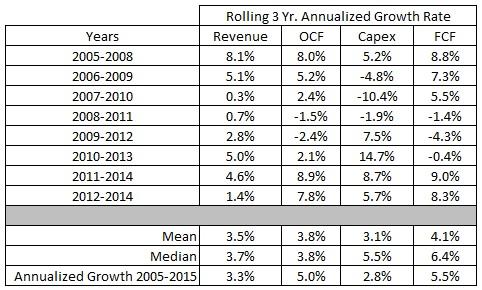 The steady upward rise is apparent across all of the metrics which makes Johnson & Johnson an excellent investment candidate.
Pegging A Value for Johnson & Johnson
As Warren Buffett said, "Price is what you pay, value is what you get." The current share price only tells you what the most recent transaction occurred at, but nothing in regards to the value of the company. To be a successful investor over the long haul you must come up with a reasonable value for the company in question and then look at the share price to determine if it makes sense to purchase.
I wanted to run through a discounted cash flow analysis in order to see where Johnson & Johnson stands. Before we get started let's run through some general information and assumptions.
The current share price is $108.31
Revenue for 2016 will grow 2.1% compared to 2015 and revenue for 2017 will grow 4.4% compared to 2016 according to analyst estimates.
Revenue will grow at a 3.5% annual rate for years 2018 through 2025 and at 2.5% annually in perpetuity.
Operating cash flow is generated at the lesser of the 3 year, 5 year and 10 year average from above or 24.3%.
A discount rate or required rate of return of 9.0% will be used.
Diluted weighted shares outstanding were 2,800 M at the end of 4Q2015.
Case 1 - Minimum OCF Margin / Minimum FCF Conversion from the 3 year, 5 year and 10 year averages from above or 24.3% and 80.4%, respectively.
Case 2 - Maximum OCF Margin / Minimum FCF Conversion from the 3 year, 5 year and 10 year averages from above or 25.6% and 81.2%, respectively.
Case 1: Minimum OCF Margin & Minimum FCF Conversion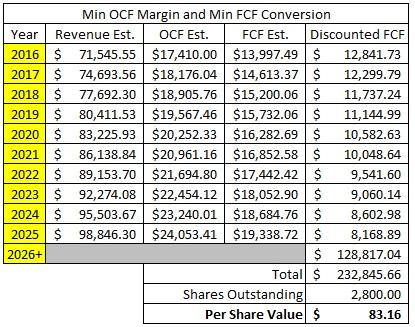 Case 2: Maximum OCF Margin & Maximum FCF Conversion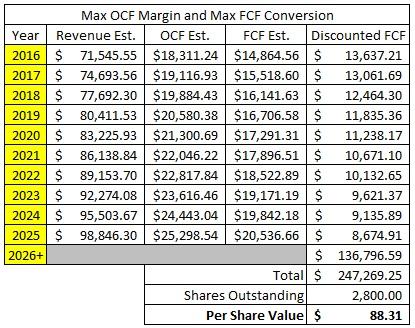 In both cases shares appear to be overvalued by 30% and 23%, respectively. That's not very encouraging if you're looking to add shares to your portfolio.
Issues With The Model
No one knows exactly how the future will play out so investors are forced to make assumptions in order to value a company. While the model is sound that doesn't meant there's not issues that need to be addressed.
Issue #1:
This assumes a flat operating cash flow margin and free cash flow conversion over the entire period. In reality those metrics will vary from year to year. If the margins improve the per share value will increase. Likewise if the margins decrease the value will drop.
Johnson & Johnson grew revenue by 3.3% per year for 2005-2015 while growing operating cash flow by 5.0% per year and free cash flow grew at a 5.5% annual rate. They can shift growth initiatives to higher margin business segments or strive to reduce operational expenses in order to keep the free cash flow growth outperformance.
Issue #2:
This model largely hinges on revenue growth assumptions. If revenue growth can outpace the assumed rates then the value will increase. The 3.5% annual growth through 2025 is in line with the historic growth rates since 2005 and seems reasonable. However, the perpetuity growth rate is almost 30% lower at just 2.5% and could understate future growth.
Johnson & Johnson is already a behemoth in the health care industry with a market cap approaching $300 B and annual revenues over $70 B. Their size could very well limit the future percentage growth possibilities of the company in the future.
Issue #3:
There's also the big issue of whether we should account for currency exchange effects. For fiscal year 2015 foreign exchange was a 7.5% drag on global revenues. On a currency neutral basis, revenue for 2015 would have been $75.76 B compared to the reported revenues of $70.08 B.
Using the currency neutral revenues as the starting point increases the fair values for Case 1 and Case 2 to $89.17 and $94.70, respectively. Shares would still be overvalued, but the premium would only be 21% and 14%, respectively.
Issue #4:
This also assumes that investors require a 9% return. Not every investor requires the same kind of returns. For some a 6% return is enough. Others need a 12% return.
Johnson & Johnson is a quality company and investors recognize that through a premium valuation. The benefits of building spreadsheet models is that it's very easy to see what kind of returns investors are expecting.
At the current share price of $108.31 investors are expecting 7.5% - 8.2% annual returns across the four discounted cash flow analyses.

Conclusion
Johnson & Johnson is a wonderful company and operates in the health care industry which will continue to see growth over the long term. Based on the discounted cash flow analysis presented here shares are trading at a 14-30% premium to fair value.
Shares are far from a screaming buy on a purely value oriented basis and there's definitely not a margin of safety present either, aside from the conservative assumptions used in the analysis.
However, one also has to consider that the likelihood of Johnson & Johnson going to $0 falls pretty into the "slim to none" category. Johnson & Johnson is one of the three remaining companies with a AAA credit rating. So investors should be willing to accept lower returns from Johnson & Johnson on a risk-adjusted basis.
Management also has over $18.5 B (Cash + Short Term Investments - Short Term Debt - Long Term Debt) at their disposal to use on acquisitions that will continue to grow the company.
As long as investors recognize the tradeoff between value and its relationship to future returns shares could actually still represent a buy despite the overvaluation.
Disclosure: I am/we are long JNJ.
I wrote this article myself, and it expresses my own opinions. I am not receiving compensation for it (other than from Seeking Alpha). I have no business relationship with any company whose stock is mentioned in this article.
Additional disclosure: I am not a financial professional. Please consult an investment advisor and do your own due diligence prior to investing. Investing involves risks. All thoughts/ideas presented in this article are the opinions of the author and should not be taken as investment advice. Information from this article was sourced from Yahoo Finance and Johnson & Johnson's SEC filings. All chart/images presented in this article were created by the author unless otherwise noted.