Barrick Gold (NYSE: ABX) says its Veladero mine in Argentina had three cyanide leaks during 2011-12 that were contained by the mine's control system, after local media published a government document describing the spills.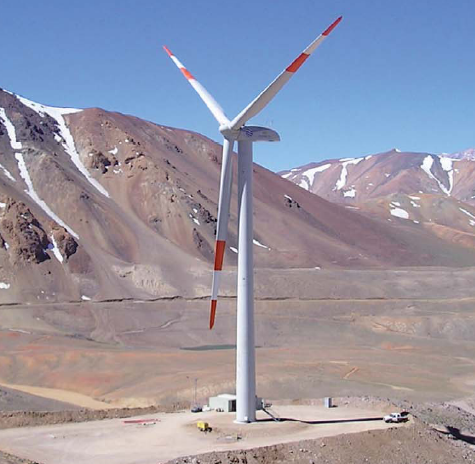 The Veladero mine is located in the San Juan Province of Argentina in the highly prospective Frontera District. The property is located at elevations of 4,000 to 4,850 meters above sea level, approximately 374 kilometers northwest of the city of San Juan.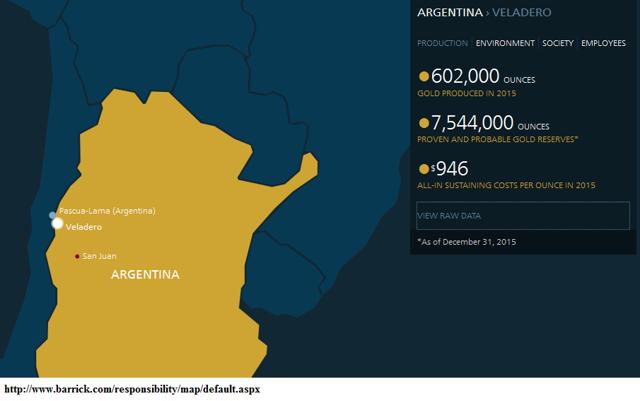 Veladero is a conventional open-pit operation:
" An excavation or cut made at the surface of the ground for the purpose of extracting ore and which is open to the surface for the duration of the mine's life."
The ore is crushed by a two-stage crushing process and transported via overland conveyor and trucks to the leach pad area. Run-of-mine ore is trucked directly to the valley-fill leach pad.
Veladero produced 602,000 ounces of gold in 2015 at all-in sustaining costs of $946 per ounce1. Proven and probable mineral reserves as of December 31, 2015, were 7.5 million ounces of gold2.
Gold production in 2016 is expected to be 630,000-690,000 ounces at all-in sustaining costs of $830-$900 per ounce.
Cyanide solution is used in the leaching process at the mine:
"Since the 1890's, cyanide has been used to recover gold from gold bearing ores. And today, over 115 years later, most of the worlds gold is recovered with cyanide playing a large part in the beneficiation of the yellow precious metal."
Barrick Gold Corp.'s spokesman told Reuters that the three cyanide spills that happened during 2011-12 were duly reported to the appropriate authorities and didn't represent a potential risk to the environment".
The three leaks happened well before last September's Veladero cyanide spill, for which ABX was fined $9.8M by Argentina's San Juan province for mining code breaches.
The leak was caused by a defective valve and prompted a court order that forced ABX to temporarily halt pumping the cyanide solution used in the leaching process.
The tests conducted by the United Nations Office for Project Services and the United Nations Environment Programme in October 2015 showed that the spill had not contaminated local water supplies.
Barrick reported US$569,492,000 AISC at Veladero mine in 2015, the fine of $9.8M represents 1.7% of total AISC at Veladero mine in 2015.
Barrick expects to produce approximately 0.66m of ounces at a AISC of $865 at Veladero. Assuming that Barrick will sell at least all of the gold it will produce in 2016 at $1,250.00 (an estimate) per ounce, the company will generate inflow cash of $825m (=$1,250.00 x an average of 0.66m of gold produced in 2016), the amount of $9.82m will represent approximately 1% of the inflow cash that the company must cash out at Veladero because of the fine.
Not even a tickle on Veladero's budget, figure the fundamentals of the company that is operationally and financially better positioned than other peers like Goldcorp (NYSE:GG).
If we take into account Graham's test of a 2-to-1. Barrick has a sizable cushion of working capital that - on average - should sustain the business through hard times: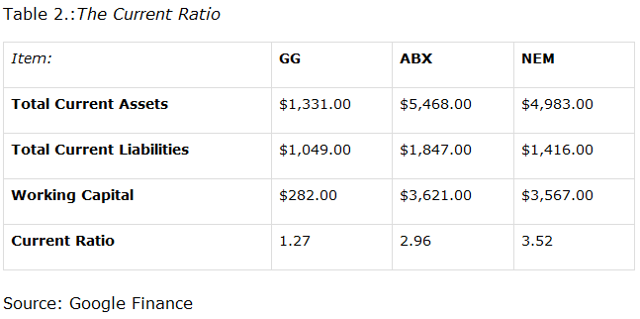 Gold mining stocks that are cyclical companies have to keep cash reserves to ride out cyclical downturns. Barrick has stockpiled cash well in excess of what it may need in the short term: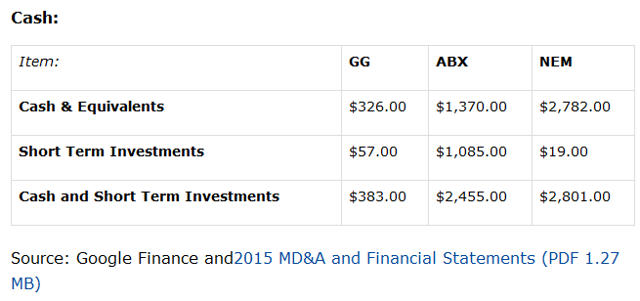 It is wise to keep extra cash even though is costly:
Sitting on cash can be an expensive luxury because it has an opportunity cost.
But in the case gold will not trade at its abnormal high levels again in the near future (see here), the company wants to keep cash in view of a possible increase of sales at a slower pace (less production) as a result of operating at higher grade mines rather than lower grade.
In my opinion is right to keep some extra cash to reinvest in the development of projects and try to get rid of high cost assets (and/or assets that might have little impact on ebit because of the risks related to currency exchange rates) which impact on the operating cost structure may be amplified if the price of gold will not continue its rally we have seen since the beginning of the year (interest coverage ratio = ebit / interest expense).
ABX seems to have a worst debt situation than its peers:

ABX is more indebted than the others but it has less difficulties than the others when it has to pay interest expenses on outstanding debts.
The company has the potential and is making the right moves to reduce debts.
Today the stock opened at $13.56 per share, down $0.005 (-0.04%).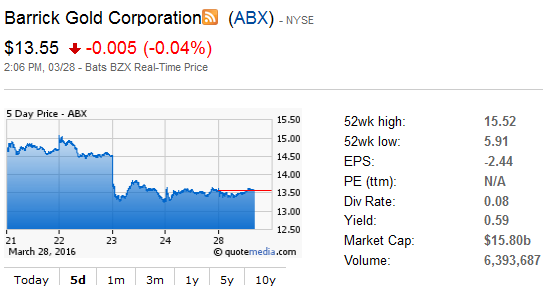 A volume of 6,393,687 shares have been traded on the New York Stock Exchange until now.
Disclosure: I/we have no positions in any stocks mentioned, and no plans to initiate any positions within the next 72 hours.
I wrote this article myself, and it expresses my own opinions. I am not receiving compensation for it (other than from Seeking Alpha). I have no business relationship with any company whose stock is mentioned in this article.