The Third Avenue Focused Credit Fund (MUTF:TFCIX) became a very unfortunate example of how quickly things can spiral out of control when a high-risk asset class either goes bad, falls out of favor, experiences a liquidity crunch or some combination of all three factors. The Focused Credit Fund looked to invest in the low graded debt of highly leveraged companies hoping that they could rebound financially themselves or take advantage of a favorable economic cycle. The strategy worked well in the fund's early years amid the Fed's zero interest rate policy. From the fund's 2009 inception through roughly the middle of 2014, investors reaped an 80% total return. The fund was in the top 1% of high-yield funds in 2013.
But then things went south quickly. Credit spreads began widening rapidly with most below investment grade debt seeing their spreads more than double from the beginning of 2014 to their peak in early 2016.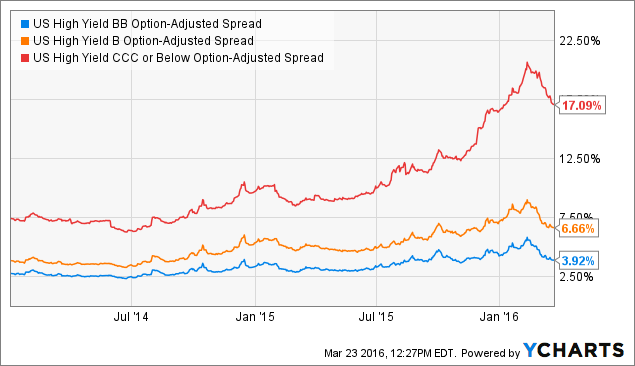 US High Yield BB Option-Adjusted Spread data by YCharts
Investors began running for the exits as values started to plummet but by then the number of sellers far outweighed the number of buyers. In order to meet redemption requests, the managers would have had to sell at far below market value prices in order to raise cash for redemptions. Instead, they decided to freeze redemptions from the fund altogether and wait for order to be restored. In December, Third Avenue announced that it would close the fund altogether and return fund assets to shareholders once it could do so by selling its securities in an orderly fashion.
Sometimes it takes gut punch examples in order to remind investors of the delicate balance between risk and reward. The Focused Credit Fund collapse serves as such a reminder. For market watchers and for those unfortunate individuals who were forced to deal with this firsthand, there are a few lessons to be learned going forward.
There's danger in chasing high yields
Anybody chasing past performance probably saw a lot to like with this fund. Focused Credit returned a total of 36% from the beginning of 2012 through the end of 2013. The dividend yield at the end of 2013 was sitting at about 7.6%. On the surface, those numbers probably looked pretty enticing but much of the new money flowing into the fund probably didn't fully understand what it was buying.
Many high yield bond funds tend to focus on the higher end of the below investment grade market. Focused Credit was just the opposite. Of the fund's fixed income holdings, almost half are in bonds rated CCC or lower. Another 40% have no rating at all. This wasn't just a junk bond fund. It was junk even by junk bond standards.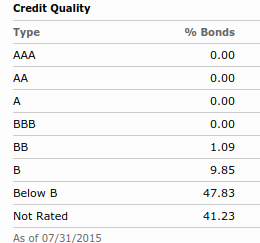 This was a risky fund by any measure. When the economic environment was advantageous, securities prices were bid up in anticipation that a recovery was in play. When liquidity dried up and this distressed debt became difficult to sell, the bottom dropped out. Investors need to approach a high yield with a higher degree of due diligence and skepticism.
Yes, funds can prevent you from withdrawing your money
It's a very rare occurrence but a mutual fund putting a freeze on withdrawals is not unheard of. It generally just requires approval from the SEC first.
This happened a few times during the 2008 financial crisis when a number of funds were forced to halt withdrawals. The biggest was the Reserve Primary Fund, a money market fund that "broke the buck" and was about to experience a run on assets. A withdrawal freeze is usually a last-ditch effort to prevent a fire sale but rarely stops a pending collapse.
Is there a chance this spreads to areas outside of high yield bonds?
I agree with Reuben Gregg Brewer's notion that we shouldn't assume this type of activity is limited to the high yield market. Mortgage-backed securities took a similar path during the financial crisis when investors finally realized that the notes within these securities were bad. Liquidity on a lot of the MBS market dried up and the individuals that were able to sell had to take pennies on the dollar.
Energy companies haven't been immune either. Companies like Cliffs Natural Resources (NYSE:CLF) have wanted to dump idling and non-performing assets for years. That company's Wabash iron ore assets have been shuttered since 2014 while management waits for an acceptable price to unload it.
The Fed has done what it can to keep liquidity high and money flowing but there's not much more it can do outside of unleashing another round of QE.
Conclusion
Is the high yield market the newest version of the MBS in that these mutual funds and ETFs are just pretty wrappers for a portfolio of garbage? Not really. Third Avenue always disclosed that it was junk it was investing in but it seems unlikely that a lot of investors knew just how junky the fund's securities really were.
The old axiom of knowing what you're investing in is obviously true here but the bigger takeaway is understanding the calamity that can ensue when the market turns on a particular sector or region. The results could be swift and severe and could happen anywhere.
Disclosure: I/we have no positions in any stocks mentioned, and no plans to initiate any positions within the next 72 hours.
I wrote this article myself, and it expresses my own opinions. I am not receiving compensation for it (other than from Seeking Alpha). I have no business relationship with any company whose stock is mentioned in this article.