In my first article in this series I introduced readers to a new investing strategy of mine. I'm currently utilizing my nine year old "step" daughter to help me invest and so far the results are great. She convinced me to buy Apple (NASDAQ:AAPL) in February and so far that has been a success. Her keen eye and logical reasoning for investing then led her to Nike (NYSE:NKE) and we purchased that company in mid-March at $61.80. Now in April she wants Under Armour (NYSE:UA) and I've no good reason to convince her otherwise.
Pretty much everybody in the developed world is already aware of what Nike does, children are no exception. The company has had an incredible last couple of years as they've transformed themselves into a growth company to face off against Under Armour.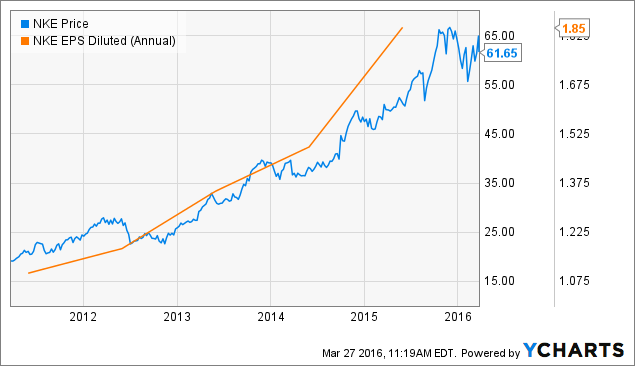 NKE data by YCharts
The success of the company and concerns investors have are well covered on Seeking Alpha in a number of quality articles. When it comes to asking a 9 year old what company they want to buy though, you'll likely never hear about cash flows, P/E ratios, or valuations. Despite a lack of technical evaluation it is almost impossible to argue with a child when it comes to investing, you may be surprised how "right" they usually are.
Spending time around kids, especially your own, can be enriching and educational. For the past three years I've coached her in soccer and this year we decided to jump into basketball and I was able to coach that as well. The time in the car to and from practice was when we had our meetings. On one such drive we arrived at the conclusion that we would purchase Apple. Being a family who owns something like 13 Apple products it isn't surprising she landed on that company, but her justification was sound nonetheless. She noticed that Apple products last a long time and work well but they improve the new versions enough to convince us to buy them. Good enough for me; shares purchased at about $96 in February.
On another of those 15 minute drives in early March to the local YMCA for basketball practice we had another conversation about investing, it went pretty much like this:
Dad: What company did you want to look at to buy this month?
Kid: *Thinking hard* Is Nike a good company to buy?
Dad: Well sure, they sell a lot of stuff and even pay a small dividend. Why do you want to buy Nike?
Kid: Everyone at school wears Nike stuff and almost all the kids on the team wear it too, even Mom has Nike shoes.
Dad: Great point. Sounds good to me. We will look into it.
And there it was, a strong case for a long-term investment in Nike in what was probably just twenty words from a nine year old girl. The conversation of course went further than that with me forcing her to consider tougher questions and playing devil's advocate. One question was what other company makes stuff like Nike and she responded with Under Armour and Champion (NYSE:HBI). We counted the amount of kids in the gym wearing Nike, Under Armour, and Champion and Nike was the clear winner with Under Armour a not-so-distant runner up. Champion had a good share but not enough to compel her to look into the company further. What struck me was the socio-economic diversity of the kids at the YMCA and the large number of parents willing to pay a premium for Nike and Under Armour branded clothes and shoes. With her mind made up it was now time to focus on some fundamentals for both companies.
Nike and Under Armour operate in the same space, athletic apparel and footwear. Historically Nike has been heavier into the footwear and Under Armour into apparel but both companies are now hoping to chip market share away from the other in those categories. For Nike's last fiscal year which ended in July of 2015 footwear accounted for $18.3 billion of the $27.8 billion in revenues. Apparel was just $8.6 billion of that total. On the other hand Under Armour sold almost $678 million in footwear and $2.8 billion in apparel out of $3.8 billion in revenues. Nike clearly dominates their competitor in revenues earned but the rapid growth of Under Armour should not be ignored.
The growth of Under Armour has been nothing short of incredible. The company has had 21 consecutive quarters of at least 20% growth, that is a five year rip and they aren't showing any signs of slowing. In 2010 the company had just $1.6 billion in revenue, 2015 saw a total of $3.9 billion. This growth has earned the company a premium valuation from the market and today they are trading at a 74.2 P/E. This rich valuation seems well earned, and long term the business looks extremely attractive.
Nike hasn't been a slouch when it comes to growth either. The company saw its revenues by 10% in FY15 and 9% in FY14 even with currency impacts. In direct to consumer sales alone Nike saw sales by 25% and 22% in those years respectively. The amount of growth for a company already well established has encouraged investors and earned the company a P/E of 29.4, well over their 20 year average of 21.4. The rise in the "athleisure" clothing sales gives plenty of room for both companies to grow.
In a recent article put out by Forbes the athleisure market is broken down and the rapid growth outlined. One only needs to look around to recognize this. Jeans have seemingly been replaced by yoga pants and basketball shorts. Casual dress shoes are losing closet space to sneakers. The beauty of this is that people who haven't exercised in years are contributing to this market. My kid made her decision to seek out Nike and Under Armour because she observed this trend amongst her classmates and once she opened my eyes to it I started noticing it as well. While it may just be one personal observation what has struck me is the mixing of brands. My soccer players will wear Nike cleats with Under Armour shorts, and this can be seen off my soccer field as well.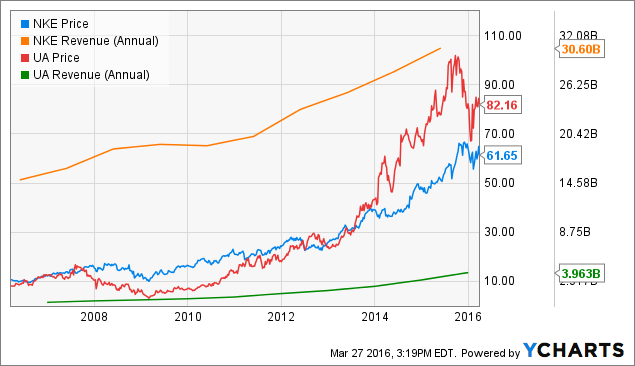 NKE data by YCharts
With both companies showing incredible growth inside of an also growing market segment I'm inclined to agree with my kid on this one. With a position already in Nike I'm looking at Under Armour for April but would like to see how the stock split plays out before making a final decision. So far I'm pleased with her and will likely keep her on retainer for advice. So far she has expanded my investing approach and forced me to consider quality companies I otherwise would have written off. Even if the investments we decide on together don't work out, the real return comes in just spending an hour or so a week with her talking about something we have both come to enjoy. This is an activity that is just ours and as she grows older every day chances to connect with her shrink. I appreciate you all reading, and I wish you all success.
Disclosure: I am/we are long NKE.
I wrote this article myself, and it expresses my own opinions. I am not receiving compensation for it (other than from Seeking Alpha). I have no business relationship with any company whose stock is mentioned in this article.