Introduction
Newmarket Gold (OTCQX:NMKTF) is the 'new' Crocodile Gold. Whereas Crocodile Gold tended to disappoint people, Newmarket Gold has done pretty well and of course, a large part of the success is due to the weak Australian dollar. As the company's mines are located in Australia, the weak Australian dollar basically means Newmarket's local costs in Australia are quite low when expressed in US dollar, increasing the operating margin.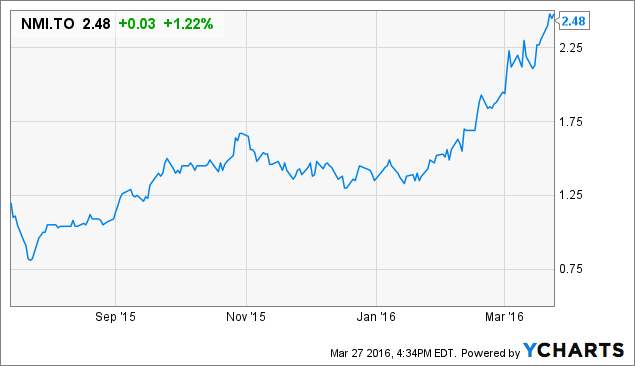 NMI data by YCharts
Newmarket's primary listing is on the TSX where it's listed with NMI as its ticker symbol. That's the most liquid listing for Newmarket (although I know the company is looking to get an ASX-listing as well). The average daily trading volume is in excess of 1.4 million shares, so that's pretty good!
2015 paved the way for a debt-free 2016
Newmarket released its results for FY 2015 right in time before the PDAC conference in Toronto in March. That's a strategy that has been used widely by several mining companies to make sure they attract quite a bit of attention during the conference.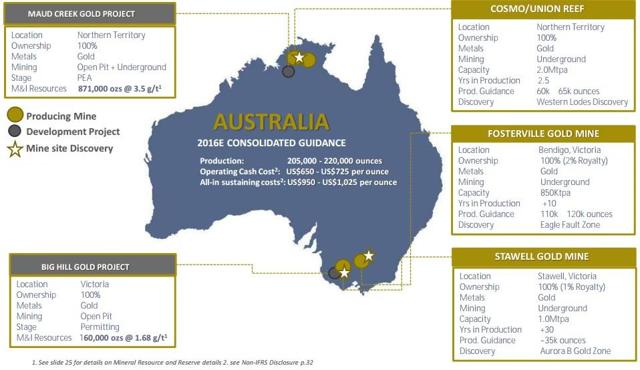 Source: company presentation
And indeed, Newmarket did have good news as the full-year production rate reached a record high at 222,671 ounces of gold which even beat the original guidance. Newmarket had expected to produce 205,000-220,000 ounces of gold at an AISC of $970-1020/oz. So, the production came in at a higher level than the upper part of the guidance, and as the AISC ended up pretty close to the lower end of that guidance (at $987/oz), I think it's safe to say Newmarket can be pretty happy with its performance.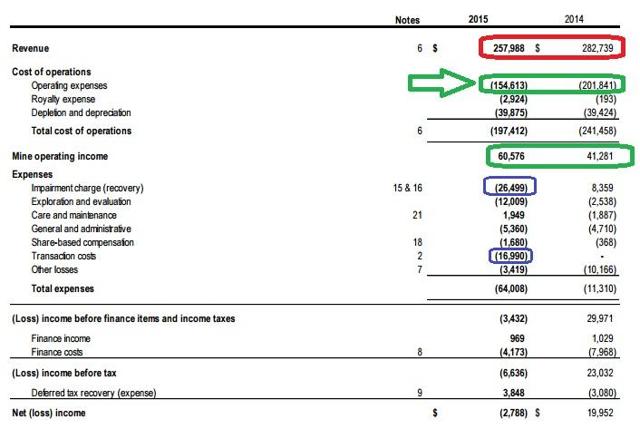 Source: financial statements
Of course, the lower gold price had an impact on Newmarket's top line, as the company is presenting its financial results in US dollar rather than Australian dollar. But when you look at the total amount of operating expenses (which fell by $47M) you'll really start to understand the important impact of the cheap Australian dollar, as the 'pure' operating expenses fell by almost 25%! This caused the operating income to increase by almost 50% to $61M, again, despite a high single digit percentage lower revenue. Even more impressive is the operating margin which increased from 15% to 23.4% and that's really, really good for a gold producer. The power of the cheap Australian dollar!
The bottom line is showing a net loss due to $17M in transaction costs associated with the transaction with Crocodile Gold.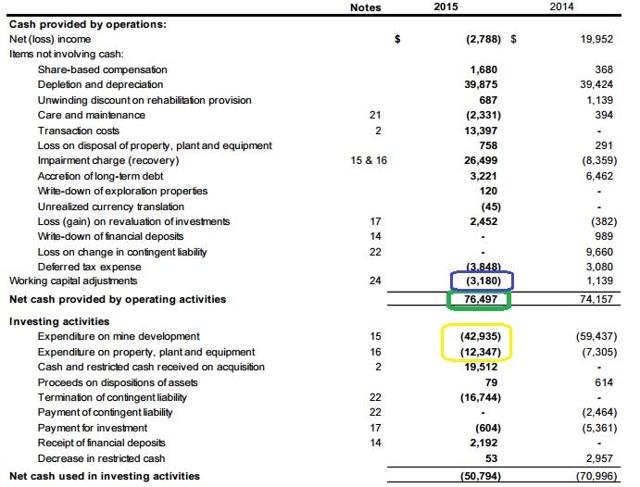 Source: financial statements
I already was impressed by the income statement, but the cash flows are (if possible) even nicer to look at. The company's adjusted operating cash flow was $79.5M and as the total capex (including $12M in exploration) was just $55M, Newmarket's adjusted free cash flow was approximately $25M. Not bad for a company that was trading at just US$150M at the end of last year!
The new reserve update at Fosterville is excellent, but be aware of a stronger Australian Dollar
So, I think we can conclude 2015 was a great year, both production wise and cash flow wise, but it's always interesting to look forward to the future as well. In 2016, Newmarket Gold expects to produce 205,000-220,000 ounces of gold at an AISC of $950-1025/oz. So basically the guidance is more or less in line with the original guidance for last year, so it's not impossible the company wants to underpromise and overdeliver once again.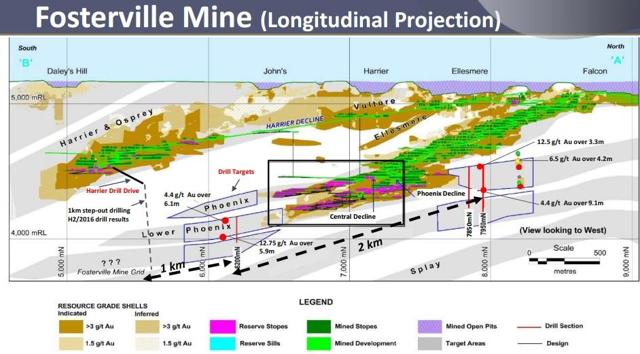 Source: company presentation
Newmarket will also continue to invest in exploration activities at and around its existing operations, and the 2015 drill program has already resulted in an updated resource and reserve update at the Fosterville mine, where more than half of the consolidated production rate is being produced.
The total mineral reserve at Fosterville increased to 244,000 ounces, a 34% increase despite having mined in excess of 100,000 ounces. That's an excellent achievement and it does indicate (and confirm) the Fosterville mine isn't empty yet and could provide Newmarket Gold with some very nice additional years. It's also important to notice the average grade of the Fosterville reserves increased to 6.95 g/t from 5.55 g/t.
Not only did the reserve grade increase, so did the average grade of the 2.12 million ounces in the measured and indicated resources. The increase was less outspoken but still impressive as the average grade increased from 3.89 g/t to 4.39 g/t.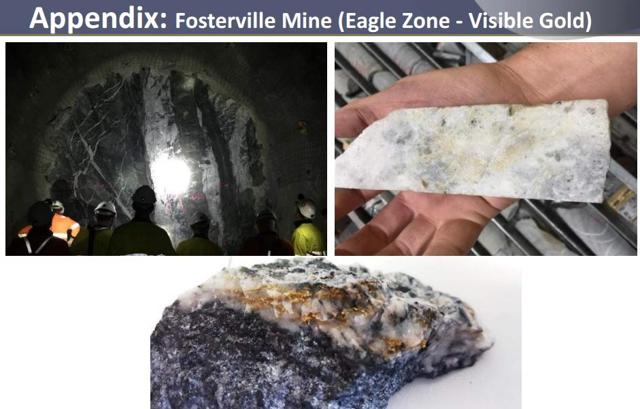 Source: company presentation
Newmarket is on track for another excellent performance this year, but you should definitely keep an eye on the value of the Australian dollar. The only reason why the company is this profitable is the weak Australian dollar. The mid-point of this year's guidance is US$990/oz on an all-in sustaining basis, based on an USD:AUD exchange rate of 1.333, meaning the AISC in AUD is expected to be A$1316/oz. That's fine, but keep in mind that for every cent on the dollar the AUD appreciates, the AISC (in USD) increases by approximately US$10/oz. (AU$1316 * 0.76 = $1000). So should the Australian dollar gain some momentum again and move to an USD/AUD exchange rate of 1.25, the mid-point of the production cost guidance would increase by 6% to in excess of $1050/oz). So, Newmarket shareholders should be keeping their fingers crossed for a continuously weak Australian dollar.
Investment thesis
Newmarket is doing very well, and I think shareholders can look forward to another year with $25M in free cash flow this year for a free cash flow yield of 8-9%. That's great, and what makes the story even better is the fact Newmarket should be debt-free by now. It had some convertible debt on the balance sheet, but this was converted into common shares, cleaning up the balance sheet.
In fact, I'm expecting Newmarket to report a net cash position of $40M+ by the end of this quarter. As long as the Australian dollar remains weak, Newmarket Gold should be bought on weak moments!
Disclosure: I am/we are long NMKTF.
I wrote this article myself, and it expresses my own opinions. I am not receiving compensation for it (other than from Seeking Alpha). I have no business relationship with any company whose stock is mentioned in this article.
Editor's Note: This article discusses one or more securities that do not trade on a major U.S. exchange. Please be aware of the risks associated with these stocks.