The announcement of the failure of Fispemifene has sent the stock of Apricus Biosciences (NASDAQ:APRI) tumbling. From reaching a high of $1.44 prior to the Easter Weekend (which in itself might be suspicious if results had leaked), the stock dropped to open at $.65. Looking at this failure, it's a good time to review the Good and the Bad with APRI.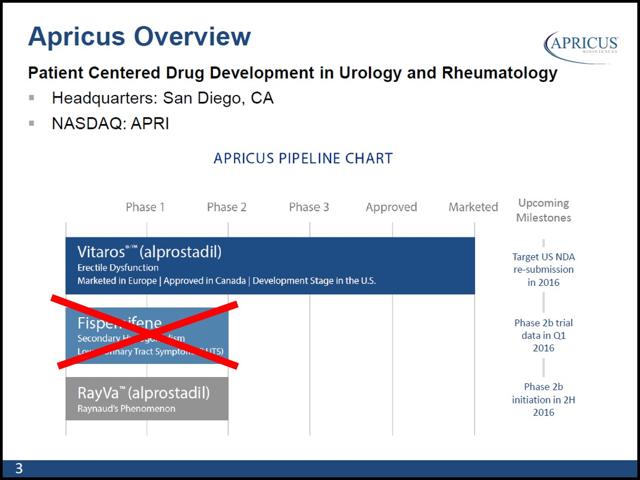 The Good
The company has seen the growth of Vitaros continue to grow in markets outside the US, where it is currently approved. Since launching in 3Q14 with just over 7K units sold, the company has grown to 330K units during 4Q15, with 741K units sold during 2015.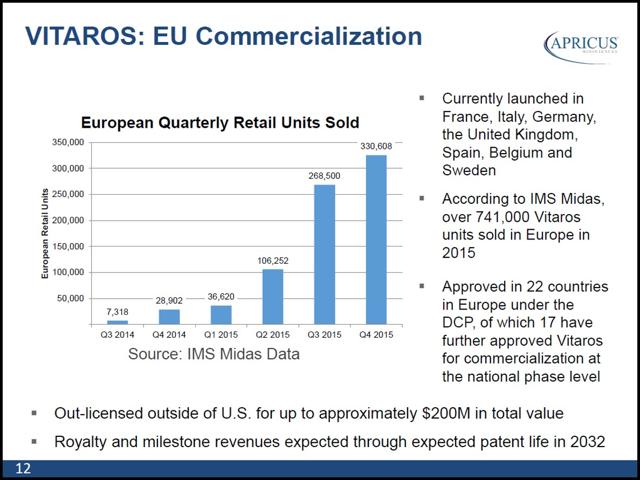 (Source: Company presentation)
Whole the growth has slowed from last quarter, it is still showing positive momentum. During the Question and Answer portion of the last earnings call, CEO Rich Pascoe was asked about this momentum and whether it was sustainable or not:
Juan Noble: Yes. Hi, good afternoon. Just a quick question on Europe and you gained something like 20%, 23% sequentially, now I know all of these things are based, probably just something that's changed in Europe, but how long do you think that 20% sequential growth rate is sustainable?

Rich Pascoe: … We expect that the drug will continue to grow in Europe through two mechanisms, one just the organic growth that we're seeing through the partners that have launched, and secondly, and probably you know, even perhaps more importantly, additional launches that we would expect in Europe and even Latin America, as we go forward… Right now we're not going give any real guidance on revenue or growth rates. But clearly we're excited about the performance thus far. We're seeing some nice results coming out of Europe and we expect that those trends will continue directionally.
The continued growth in sales has helped to drive the bottom line, with the company reporting revenue "comprised of $2.3 million of license fee revenues, 299,000 in royalty revenues and $80,000 in sales of product to our commercial partners."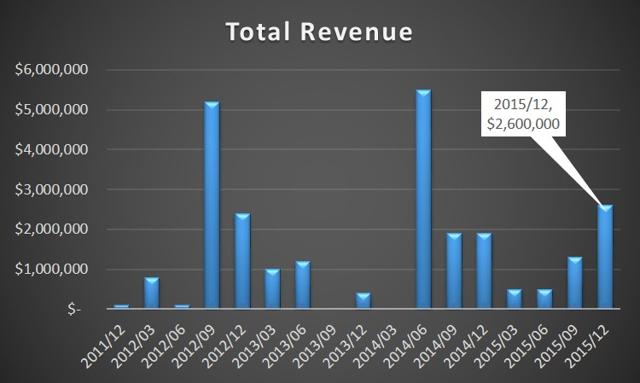 In addition to Vitaros, the company still has trials out for RayVa, which seems promising. Initial results from the 2a study were positive. The target audience is small, but there is currently no other approved therapy for Raynaud's phenomenon in the US.
Secondary Raynaud's phenomenon, affecting approximately 500,000 in the United States, is driven by an underlying medical condition, such as scleroderma, lupus or rheumatoid arthritis. Symptoms are severe and patients risk associated fingertip ulcerations. There are an estimated 100,000 adult patients with scleroderma in the United States, of which approximately 90% have secondary Raynaud's phenomenon.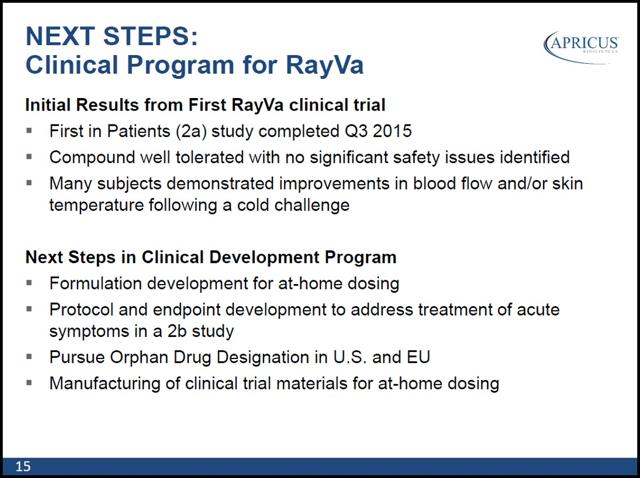 (Source: Company presentation)
The Bad
And now the bad…the failure of Fispemifene. On Monday March 28 th, the company reported that "Fispemifene Failed to Achieve Statistical Significance in Key Clinical Benefit Endpoints Despite Increase in Testosterone Levels". Going forward the company would instead focus on the development of Vitaros in Europe, the resubmission for approvals in the US from the FDA, and the development of RayVa.
The market reaction was swift with shares falling 50% on opening with a huge sell off. The company had touted the potential of the drug and paid a hefty sum to be able to develop it in both licensing fees and research and development:
In October 2014, the Company entered into a license agreement and stock issuance agreement with Forendo Pharma Ltd. ("Forendo"), under which the Company was granted the exclusive right in the United States to develop and commercialize fispemifene, a tissue-specific selective estrogen receptor modulator ("SERM") designed to treat symptomatic secondary hypogonadism, as well as chronic prostatitis and lower urinary tract symptoms in men.

In exchange for the license, the Company issued to Forendo approximately 3.6 million shares of common stock with a value of $5.9 million based on the Company's closing stock price on the date of the agreement and made an upfront cash payment of $5.0 million. The Company made an additional payment of $2.5 million to Forendo in April 2015 pursuant to the terms of the agreement…
In total, R&D expenses totaled $14.7M during 2015, but not all of that can be attributed to Fispemifene as the company has other projects running. However, in the four quarters prior to the acquisition of Fispemifene, the company had $6.7M in R&D expenses, so R&D likely totaled an additional $8-10M. In total, the failure was a disaster for shareholders that the company will have to recover from.
Financially, the company isn't in a bad spot right now.
As of March 4, 2016, subsequent to the second closing of our January 2016 financing, we had cash and cash equivalent of $9.7 million, with our cash on hand, access to additional capital under the existing committed equity facility with Aspire Capital and ongoing cash flows from Vitaros, we believe that we have an appropriate level of cash to fund our based operations through the third quarter of 2016.
Prior to the announcement of the failure of Fispemifene, the company believed it had enough funds to make it through 3Q16. Now that the project has been written off, R&D expenses should dramatically decrease, and there should be enough funds to take the company through the end of the year.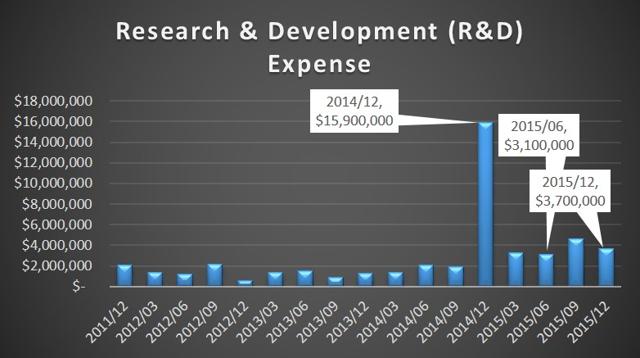 Since the acquisition of Fispemifene, quarterly R&D costs have averaged close to $4M per quarter. Investors should expect to see those expenses fall closer to the $1-2M per quarter range. With close to $10M in cash, investors should be good through the end of the year, but should be cautious of additional dilution around October or November.
Conclusion
All is not lost for investors, as the company does have a commercially viable product in Vitaros and the potential with RayVa…however the beatings are likely to continue. There is the potential that Wall Street will wake up tomorrow and realize that it overreacted in the sell off and the stock begins to claw its way back up. Prior to the acquisition of Fispemifene the company traded around $2, but investors will have to be patient to see those numbers again.
Disclosure: I am/we are long APRI.
I wrote this article myself, and it expresses my own opinions. I am not receiving compensation for it (other than from Seeking Alpha). I have no business relationship with any company whose stock is mentioned in this article.
Editor's Note: This article covers one or more stocks trading at less than $1 per share and/or with less than a $100 million market cap. Please be aware of the risks associated with these stocks.