Concordia Healthcare's (NASDAQ:CXRX) Q4 headline numbers came in line with expectations. However, the stock headed lower by 13% on the news. This article explores what has changed for the company.
AMCo was off a great start. North America segment however fell apart as revenue declined by 20% from $91mm in Q3 to $75.4mm in Q4. Management listed the reasons below:
Generic competition for Dibenzyline
Divesture of Covis' Injectables: Fortaz®, Zantac® and Zinacef®
Plaquenil supply constraints
Lumpiness in product orders from buyers. Buyers filled up inventory in Q3
Based on the drugs mentioned, it seems that all the problems are related to the Covis acquisition. Some of these problems are temporary such as supply chain issues and lumpy orders (accounted for $5mm revenue miss together). Management said the North America run-rate revenue should be around $81mm and there is no reason for investors to doubt company's ability to return to those levels in the 2nd quarter. What worries investors the most in my opinion is the approximately $10mm drop in revenue from generic competition for Dibenzyline.
Dibenzyline was the second largest drug in the Covis portfolio and represented 17% of the revenue. Concordia paid $1.2bn for Covis financed mostly through debt issuance. Two major concerns are raised: 1. How durable is the rest of Covis' drug portfolio? 2. More importantly, is Mark Thompson any good at making deals?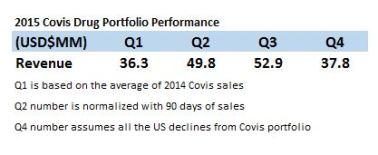 Covis revenue jumped up big in Q2 since the acquisition. Concordia probably has taken some price hikes though Management denied it and said the difference was due to revenue recognition methods. Management mentioned that investors should expect low single digit growth from their North American business going forward. With that assumption, the Covis deal looks like a horrible investment so far. My rough estimation is that Covis portfolio could only generate $120mm in annual EBITDA moving forward. $1.2bn in purchase price will not likely to yield 20% IRR Mark Thompson had mentioned many times in the public.
As the first shoe drops, investors have to wonder are there more shoes to worry about. Mark Thompson did not seem to be aware of the potential competitive pressure for any of the drugs in his portfolio. Covis was purchased at the end of April and they lost a key drug Dibenzyline in less than 6 months! With proper due diligence, it is common sense that you would have some idea about pending generic application filling or changing market environment. Management called incoming competition "expected" in Q4. But Mark himself repeated many times in the past that Dibenzyline along with other Covis portfolio drugs are "well established products with stable revenue streams".
Loss of Dibenzyline is not detrimental to the company's financial health in the near term. But further deterioration could hurt shareholders dramatically given the current leverage ratio. In addition, company put out a very ambitious 2016 annual guidance. Any hiccups from NA (North America) business would certainly derail that. Mark seems to have lost some luster after this quarter. Many Bay Street Analysts labeled him as this intelligent pharma investor and a great leader. It would be unfair to judge him based on one deal. But I cannot regard him as highly as before.
A couple words on guidance. Company is facing an uphill battle in my opinion to achieve the $625mm EBITDA (mid-point) in guidance for several reasons.
Slow start to the year in Q1 as same problem persists. Additionally, one Analyst mentioned a drop in Donnatal script counts. Mark said it is because the sales team was off the field for two weeks for training and corporate activities. Note the company did add significant number of Sales Reps to boost Donnatal sales
Inability to raise drug prices in the US
A lot of the growth will come from AMCo acquisition. Management's unwillingness to offer more insights on the upcoming new drugs hurts investor confidence
Declining British pound is likely to drag on AMCo's performance. GBP has declined close to 7% thus far this year due to Brexit talks and delayed rates raise. I think GBP is currently at oversold territory and due for a rebound as the underlying UK economy is still relatively strong to the rest of the Europe. To note, AMCo has 85% of their profit from direct sales and UK contributes the lion share of the pie
With all that said, there are some positives
AMCo looks terrific so far. It had robust growth in the past few years and is likely to keep the momentum going. Unlike other acquisitions, this one is less of a black box. You could easily find AMCo annual reports on google
Diversification - Mark's best decision was to rush into multiple deals and therefore diversified its drug portfolio significantly. Generic competition and bad deals do happen from time to time, and will definitely happen again in the future. The best defense for such a scenario is diversification. AMCo basically saved Concordia from Valeant-like disaster this quarter
Valuation looks very cheap - Needless to say, this company is trading at the basement price. The entire Pharma sector is at steep discount from historical level. The market could make an U-turn on a brink of an eye. If we purely look at this quarter's numbers, the valuation should not have changed as poor US performance was offset by AMCo. However, the market is discounting MT's deal making ability and leadership skills, which could be reflected in future cash flows. More on valuations in a bit
Recommendation:
Hold. It is a sell if Concordia does not have AMCo. AMCo provides some safety net for the business. Based on this quarter's earnings, AMCo's standalone valuation should be at least $3.5bn (EBITDA of $350mm and 10x). Yes, it is the same price Concordia paid for a few months ago. Q4 results impressed and higher margin is on the way, offset by lower multiple due to the market environment. Realistically, AMCo could be worth more given its 15%+ growth rate. In other words, AMCo could easily cover all the debt and leave some $5~6USD per share value in the worst case scenario. That takes out the bankruptcy possibility.
At the current share price of $25ish USD, the real question is: is Concordia North America worth $20 USD, given $5 from AMCo. Concordia NA is a wild card and I try not to guess. Instead, I'll put some numbers together for your own reference.
Assumptions: $324mm in NA revenue (management announced run rate $81mm per quarter), 70% in EBITDA margin, and 10% tax rate. Debt is paid off by selling AMCo. So no interest expense. You arrive at Concordia NA EPS of close to $4 per share.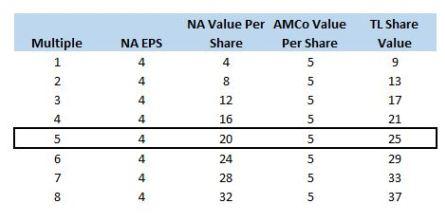 At $25USD, the market is pricing Concordia NA at 5x EPS or 5 years of cash flows of $4 per share. Keep in mind some drugs will survive longer while others shorter. I think a lot of conservatism is already built into the current share price. You are basically purchasing a US pharma company without any leverage for 5X P/E. If the stock ever drops to $17USD or $23CAD ($5 AMCo + 3x NA EPS), I think that will make the stock a strong buy as most people would agree that NA drug portfolio could generate at very least 3 years of cash flows.
Investors will benefit from AMCo's upside in the long run. Inability to hike prices prevents the company from making accretive deals in the US. However, Concordia could still do well if it is able to identify undervalued assets. In addition, AMCo significantly broadens CXR's acquisition targets.
Disclosure: I am/we are long CXRX.
I wrote this article myself, and it expresses my own opinions. I am not receiving compensation for it (other than from Seeking Alpha). I have no business relationship with any company whose stock is mentioned in this article.