GoNow Doctors (parent American Caresource Holdings) (OTC:GNOW), a small-cap healthcare provider, has been on my radar for a long time. So far, I've written three articles on the firm. It provides urgent care facilities.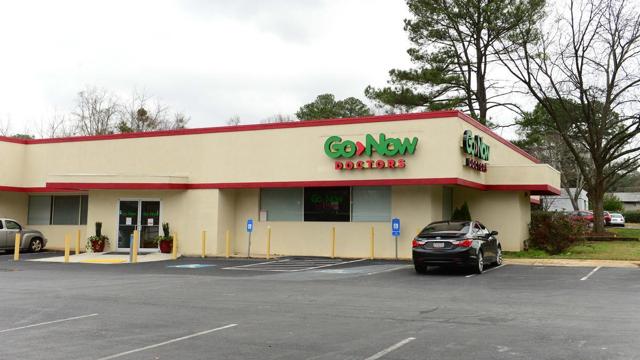 I wrote my first article on GoNow Doctors back in December 2014. This firm is a perfect example where a few fundamental issues were going wrong, which repeatedly brought it in a tough spot. Back then, almost 16 months ago, I saw no reason why this firm should have been valued over $1. No surprise here, the firm has moved lower ever since.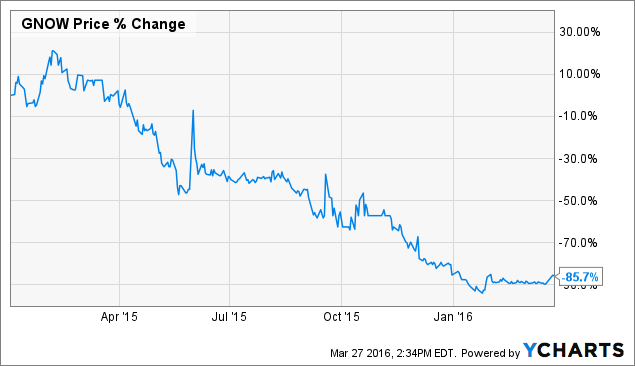 Now sometimes an investment thesis works out exactly as planned: GoNow is such an investment thesis where everything went as expected. Part of being an investor is to realize what went wrong and what went right while investigating a firm. In the case of GoNow, it was simply having issues with profitability. If you spend more than you earn, you'll hit your head against the wall time and time again.
Now, a significant time later, we are looking at the current state as that's how it goes in the business industry. This article will act as an update and extension on my former articles covering this small-cap healthcare stock.
GoNow Doctors - Timeline Update
As the line chart clearly shows, GoNow Doctors has suffered significantly. This was in line with expectations, based on a variety of bad fundamentals. The firm has been unable to increase its profitability, and it has been racking up quite the amount of quarters where it was posting negative profits. Furthermore, the firm has had an expensive cost house (lease/staff). Let's now look at what happened the last few months.
9th Dec. 2015
GoNow Doctors finished the funding for its acquisition of Medac Health Services. The funding was paid by a 7.5$ million offering on the market. The CEO is quoted:
"The Company intends to continue its expansion efforts in the South and Southeast and that the Company's growth strategy is timely because the urgent care industry is one of the fastest-growing segments of the healthcare market. Upon the intended sale of its legacy business, the Company will be the only pure-play, publicly-traded urgent care company in the United States."
Obviously, diluting shares is not good news for shareholders if nothing is being done with the additional cash. GoNow Doctors has seen a history of diluting additional shares (for obvious funding reasons).

Source: GuruFocus.com
8th Jan. 2016
The firm changed its CEO to Adam. S. Winger
12th Feb. 2016
The firm received positive news from the NASDAQ with regards to an extension. This extension lasts to 16th May 2016. As GNOW is no longer compliant, in order for it to be compliant, it should regain compliance with a $2.5 million stockholders' equity requirement (see link here). The last quarterly report of GNOW:

Source: Latest GNOW quarterly report
Stockholder equity shows a negative number. How can that be, one might ask. Since shareholder equity is simply assets - liabilities, one can think of many ways how this can happen. From impairment charges to decrease in goodwill to currency depreciation (currency X on asset side, currency Y on liability side) and so forth. In the case of GNOW, I believe this is an accumulation of losses from prior years. The loss in this case is seen as a liability until cancellation.
4th March 2016
The company announced an interim CFO.
15th March 2016
The firm entered into an agreement with Harbert Realty Services to build and develop up to 10 GoNow Doctors locations throughout America.
17th March 2016
The firm finalized arrangements to reduce its operating expenses related to the lease of its headquarters.
28th March 2016
On the 28th of March, GoNow Doctors announced its annual results over 2015. It mostly serves as an update of what the firm is currently trying to do in order to turnaround its business. Revenue increased by a factor of 2.5 while operating costs increased by a factor of 2.2.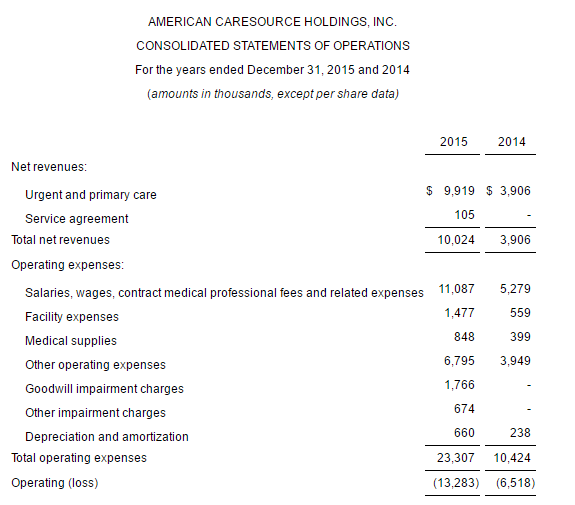 Source: GoNow Annual Report
Urgent Care Industry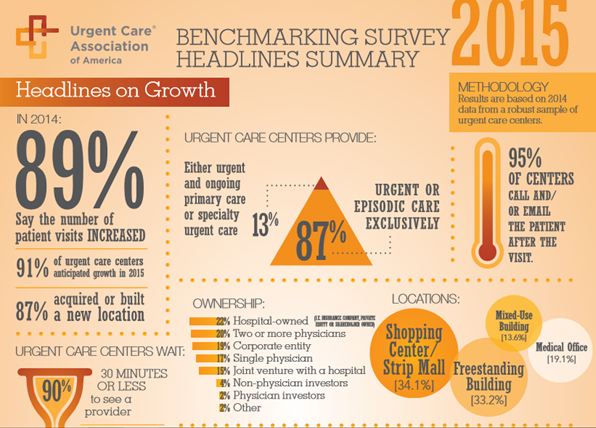 Source: Urgent Care Association
It's hard to deny that this urgent-care industry is growing in the USA, with nine out of 10 care facilities anticipating growth in 2016. It just might be the next big thing. I'm sure the debate between urgent care and ER will continue to move in the right direction as healthcare costs are anticipated to explode in the future.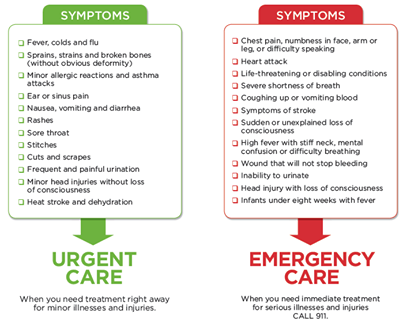 Source: Urgent Care AFC
Summary
Mistakes have been made, and it's now time for checking which plasters to use to stop the bleeding. In every segment, a potential turnaround is possible. This counts for a small cap as well as a large-cap stock. The turnaround story is not there yet, but in this article, I've given the latest updates on what GoNow is currently doing to maintain its business. And it's hard to deny the firm isn't trying with the change of the management and lowering costs.
I will revisit the GoNow Doctors investment thesis in the coming months. If we ignore the firm itself, it's hard to deny that the underlying market is growing.
I do not hold positions in GNOW.
Disclaimer: This article provides opinions and information, but does not contain recommendations or personal investment advice to any specific person for any particular purpose. Do your own research or obtain suitable personal advice. You are responsible for your own investment decisions. This information is not a recommendation or solicitation to buy or sell securities, nor am I a registered investment advisor.
Disclosure: I/we have no positions in any stocks mentioned, and no plans to initiate any positions within the next 72 hours.
I wrote this article myself, and it expresses my own opinions. I am not receiving compensation for it (other than from Seeking Alpha). I have no business relationship with any company whose stock is mentioned in this article.
Editor's Note: This article covers one or more stocks trading at less than $1 per share and/or with less than a $100 million market cap. Please be aware of the risks associated with these stocks.