By Contributing Analyst Sean Reilly
Activision Blizzard Inc. (NASDAQ:ATVI) is currently holding at around $31.05. Like the rest of the market, it has taken a short-term hit from macroeconomic events such as the current faith, or lack thereof, in the Chinese markets. Activision is attractive to us for a number of reasons. The Activision merger with Vivendi Games (best known for its game studio, Blizzard Entertainment) in July of 2008 proved to be incredibly beneficial for the company. In the years since, the studio has become one of the largest video game producers in the world. Activision owns popular game franchises such as Call of Duty, Guitar Hero, Tony Hawk's Pro Skater, and Candy Crush Saga, among others. More popular titles are published under Blizzard as well; they are World of Warcraft, Hearthstone, Heroes of the Storm, and Starcraft I and II. Its release of the title Destiny on September 15, 2015 was the single most downloaded game on the release date in PlayStation history.
ATVI recently joined the S&P 500 on August 28th, 2015, securing its position and validating its competitiveness against companies like Electronic Arts (NASDAQ:EA) and Microsoft (NASDAQ:MSFT). There is promising prospect for growth for ATVI, especially if one considers the company from a fundamental and futuristic perspective. Blizzard is releasing a new franchise in the spring of 2016: Overwatch. It is anticipated to be one of the biggest first person shooters because it captures many different consumer backgrounds. The game designers created it with both the casual and hardcore gamer in mind. Not only that, but the eSports scene is rapidly growing and continues to flourish around the world, and it will prove to be synergistic with Overwatch's release. Activision Blizzard is also producing a movie series based on its title, World of Warcraft, to be headed by a former Disney executive, Nick van Dyk. In comparison with other companies' future prospects in the sector, ATVI is the clear leader.
Fundamentals
Firstly, let's talk fundamentals. At a market cap of $27B, it is a large-cap stock with solid historical returns. Below is a table of useful data to compare with ATVI's main competitors: Microsoft, EA (Electronic Arts), and Take-Two Interactive Software (NASDAQ:TTWO).
Market Cap ($)

Revenue ($)

Net Income ($)

Profit to

Earnings

Ratio

Annual Dividends per Share ($)

Dividend Yield (%)

ATVI

22.47 B

4.887 B

1.094 B

20.26

0.23

0.75

MSFT

404.8 B

88.08 B

11.41 B

35.95

1.60

1.91

EA

19.03 B

4.273 B

652 M

29.12

-

0

TTWO

2.959 B

1.337 B

-297.5 M

17.41*

-

0
Sources for data cited at the end of this article.
*A forward P/E was used in the case of TTWO, as a P/E was not available for reference.
** Data based on trailing 12-month totals.
At first glance, MSFT looks like the dominating stock here. It's got a solid dividend yield and a consistent, large net income. However, its potential for growth is easily thwarted by ATVI. Its main competitors lack the potential that ATVI possesses. There are a few factors that have led to this conclusion:
ATVI's P/E ratio is far lower than MSFT and EA. In this light, Activision seems to be using its revenue more effectively than its competitors, which has indeed shown to be true by its recent acquisitions and mergers, which will be discussed more in depth below.
ATVI's dividend is on its way to becoming a force to be reckoned with. EA is a company of similar market cap and revenue, and it doesn't pay out any dividend at all.
ATVI produces twice the net income that EA does with about the same amount of revenue, which proves how cost effective its gaming model is - which will be discussed below as well, and it does indeed pay off fruitfully in its fundamentals.
Finally, TTWO stands on the other side of the spectrum. It is a smaller company that is producing a negative net income but is included on this table because it owns the popular game producer, "Rockstar Games", which created the lucrative "Grand Theft Auto" series.
Overall, I see ATVI as a middle ground between two extremes in this sector. It still has a significant amount of room to grow because of the catalysts discussed below, but it has its consistent revenue stream to fall back on in times of economic uncertainty. Activision's bread and butter is in the subscription and video game sales business, and it is good at what it does. It is not like TTWO which could be seen as the riskiest investment of the four due to its shaky fundamentals and negative net income; TTWO is also slightly newer to the market, and stocks like these are known for taking a turn for the worse when the going gets rough.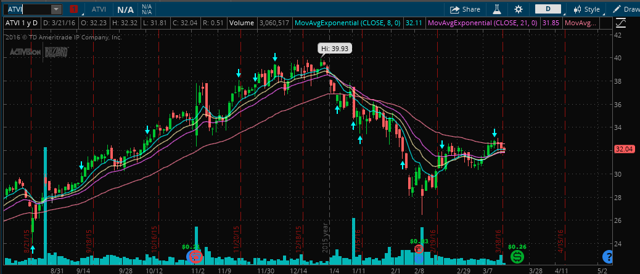 The chart above reveals Activision's short-term dip in the market as of early March. As the market slowly recovers, I believe that ATVI will make a powerful comeback as it enters the new year.
ATVI Stands Tall Against its Competitors (4)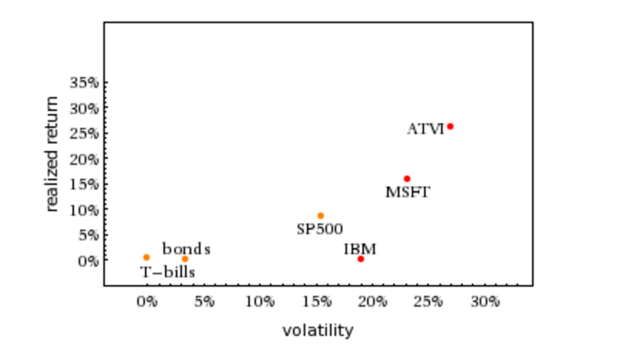 As the chart above reveals, ATVI has a significant edge over its competitors on this graph, which is over a scale of 5 years. Although it is important to recognize the volatility of the stock, observe MSFT: it has almost the same amount of volatility, and significantly less realized return (about 10%) over a 5-year period. Other than MSFT, the S&P and IBM (NYSE:IBM) are miles away from ATVI in terms of returns over this period.
One indicator that has proved to be useful for us is the EBITDA profit margin ratio. I've decided to use this one over others because of its flexibility in analysis. However, this is indeed a double-edged sword. Many times the data used can be altered to hide things that really affect outlook, or reveal positive numbers that don't really exist. In my analysis and in the calculations below, I have included every expense relevant for the "depreciation and amortization" section from the respective 10-Ks for each of the companies; I have included royalties fees and other not-so-minor expenses that may tip the scale unfairly in one direction if left out.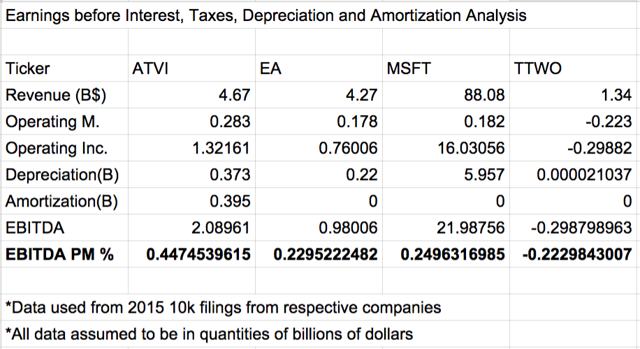 The above chart reveals the most important aspects about how each of these companies fundamentally structure their costs and expenses relative to their revenue. With Activision farthest to the left, it clearly has a dominant lead over its competitors. Its EBITDA Profit Margin ratio is approximately .44, versus approximately .22 for EA and MSFT. Essentially, what this means is that in the most recent year, ATVI was about twice as efficient with its capital as opposed to EA. One can think of the EBITDA profit margin ratio as a measure of a company's core profitability. The higher a company's EBITDA margin, the lesser the company's expenses cut into its net income or EPS.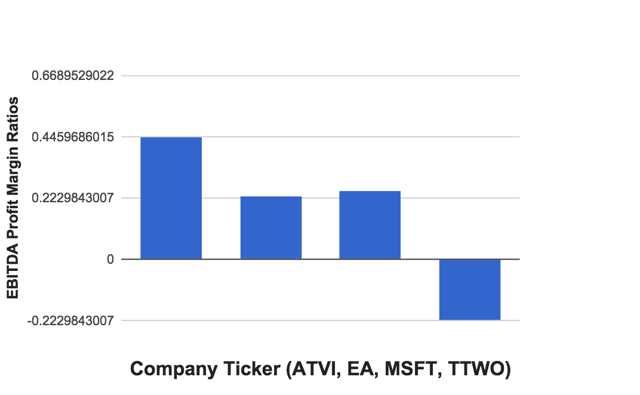 Based on the above fundamental analysis of Activision versus its competitors, I believe ATVI to be the strongest investment in this subsector of the technology market. However, this is not to say that EA or MSFT are necessarily bad investments. They will certainly benefit slightly from the catalysts of growth described below, but not to the extent that we believe Activision will.
First Catalyst for Growth: Activision's Presence in eSports
The eSports scene has skyrocketed in the past decade, with revenues generated reaching $194 million in 2015. The industry growth of eSports has, and will continue to have, a major impact on Activision Blizzard. Newzoo, a games market research company, recently reported that by 2017, eSports will double according to a "conservative scenario". It already rivals live sports in terms of popularity. Activision Blizzard is leading the way with its hiring of former CEO of ESPN and the NFL network, Steve Bornstein. Not only that, the senior vice president of its new eSports branch is Mike Sepso, a pivotal co-founder of the organization "Major League Gaming". The eSports world is just starting to take hold of the world, with an audience of approximately 134 million in 2015. The eSports industry could very well reach $1 billion in 2017. GameIndustry reports, "[Game industry growth] could be extremely rapid if it hits critical cultural mass in Europe and North America. Potentially, that could see even faster acceleration as it attracts brands and sponsorship looking to reach the extremely valuable marketing demographic which eSports seems to attract". Many games in eSports are already being picked up by blue chip American companies like Coca-Cola (NYSE:KO). I see the growth of eSports reaching this critical mass shortly. It will be short time when larger companies realize that the advertising potential through eSports is extremely undervalued and try to capitalize on it. At the end of the day, Activision Blizzard will be there to take the revenue stream gathered by not only the promotion of its own products through eSports but also in the significant amount of advertisement revenue that can be gained on a global scale. eSports will continue spread in the Asian, European, and American markets; I see it becoming a dominating force in the entertainment industry within 5 years.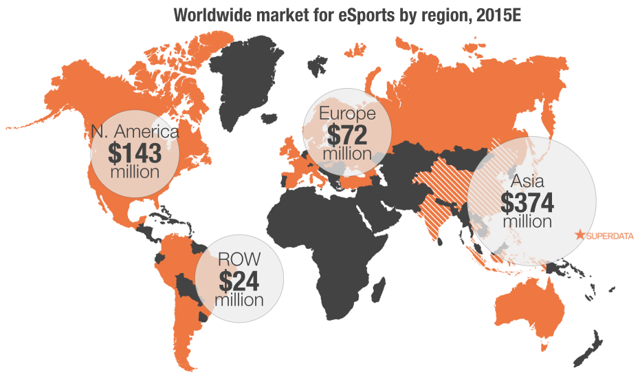 Second Catalyst for Growth: Movie Release and other Media (6)
Activision plans to release a series of movies based on the MMORPG "World of Warcraft" and has plans for movies for its franchises "Call of Duty" and "Skylander" as well. The China Film Group, according to Hollywood Reporter, has made an "eight-figure" investment in Legendary Entertainment, which will be responsible for producing the Warcraft movie itself.
Although, it is important to be realistic about the prospects of venturing into the entertainment industry. In a conference, co-President Nik van Dyk said, "We're not in the film and television business, we're in the franchise, intellectual property business".
That being said, there are many different options for television shows and movies when one considers how many story branches exist in the flurry of "Call of Duty" games as well as others like "Skylander". When it really comes down to it, the synergy between these movies and the underlying video games that they represent could be very healthy for Activision.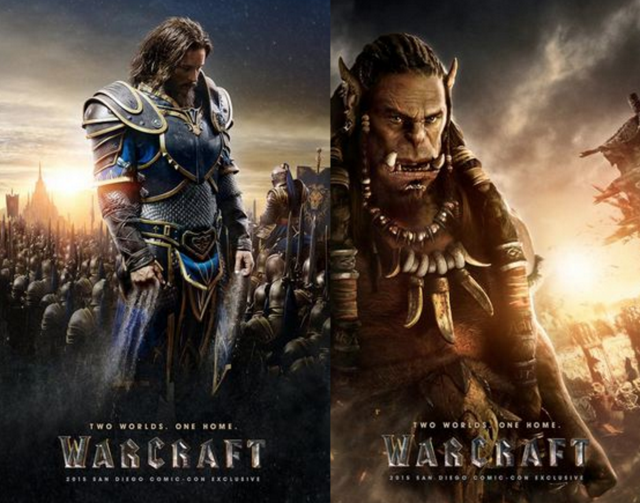 If Activision's marketing team plays this correctly (and we trust they will), they will offer discounts or promotions on subscriptions or other media along with a purchase of a movie ticket. This would not only produce revenue from the movie itself but also bring interest back into the games themselves.
Third Catalyst for Growth: The Spring 2016 Release of "Overwatch" (7)
"Overwatch" is an upcoming first-person shooter that Blizzard (subsidiary of ATVI) has announced for the release in the Spring of 2016. The game is designed to capture a wider audience of gamers, including the more serious gamers who prefer a lot of depth, intricacy, and challenge when they play while also appealing to the casual gamers who just want to sit down and destress after a long day. Co-Founder Michael Morhaime said, "Our goal with Overwatch is to create an awesome FPS experience that's more accessible to a much wider audience while delivering the action and depth that shooter fans love".
Overwatch is truly a genre-breaking game in that it combines many varieties of play styles and types of gamers. Because of this, I definitely see Overwatch taking a large foothold in the eSports industry on its release. One of Activision's main design intentions for this game was to precisely balance the game dynamics, including the various maps and characters, among other things. Balancing is always a huge issue for games when they enter the realm of competition, because a poorly balanced game can create a very one-sided and boring live-broadcasted show. However, in the case of Overwatch, the beta testing has really shown how much potential this game has.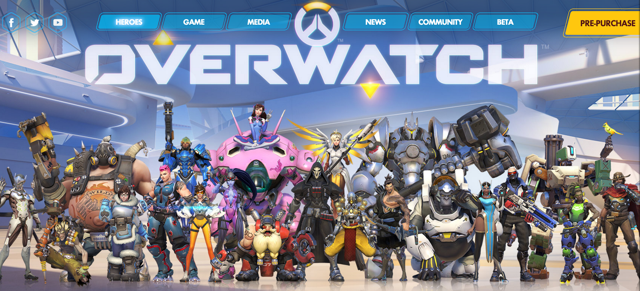 Overwatch itself may have a very successful return on its own, but it will truly synergize with the online community and the growth of eSports (described above). Although eSports is not necessarily where the major revenue is generated, it can have a massive effect on the popularity of a game, as seen in the past with the hit titles "League of Legends" and "Starcraft".
Overwatch also plans to have optional microtransactions for in-game content; the benefits of microtransactions are discussed below. Although the marketplace is different (console games versus mobile gaming), the concept remains the same.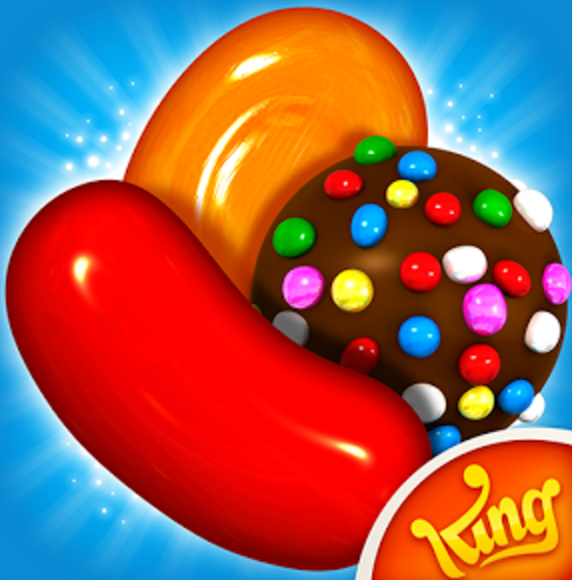 Fourth Catalyst for Growth: Microtransactions in Video Games and the Acquisition of King Digital (8)
At first glance, it looks like ATVI is out of its mind for paying close to $6 billion for a company that makes mobile games. However, the revenue that King Digital (BATS:KING) produces through its major title series, "Candy Crush", is projected to pay for itself in a matter of a few years. According to research done by research firm Newzoo, "The deal also gives the U.S. company a major presence in the mobile market, where games sales are expected to grow 21 percent this year to $20.6 billion". Activision Blizzard has its proverbial eggs diversified across every subsector of the entertainment industry and continues to thrive because of it. In the case of the acquisition of King Digital, we think it was a steal. Here's why.
As a former gaming addict, unfortunately, I can attest to just how profitable microtransactions can be. For those unfamiliar with the concept, it's quite simple. As opposed to the original way companies profit off a game or product by simply selling it at a certain price in a binary event, microtransactions are typically offered in games that are free-to-play and occur much more frequently.
Although no revenue is initially generated by the download of the game itself, the potential for profit from microtransactions in today's gaming world heavily outweighs the outdated standard of simply selling a game to make a single instance of profit. In fact, in a discussion that Tommy Palm (A "Candy Crush" Developer Guru) had with IGN recently, Palm stated, "The microtransaction [system] is so strong and it's definitely a much better model than the traditional"; he discussed playing games "as a service" in which new content was produced for the same game over many years. In this way, gamers would grow an attachment to the game and inevitably spend more money on it in the long term. This analysis hits the nail on the head with ATVI's main games that truly milk microtransactions: Hearthstone and Candy Crush Saga. This also saves the company the trouble and considerable expenditures involved with creating new games or franchises from the ground up. The beauty of games like Hearthstone and Candy Crush are that they frequently produce smaller updates that keep the user interested in newer content - and this inevitably creates a larger amount of microtransactions and net revenue for the company.
Hearthstone and Candy Crush Saga's addictive nature spans across all age groups, including children and adults alike. Compared to other video game titles that may have a more specific target audience (think "Call of Duty" for teenagers, or "Dora Saves the Mermaids" for younger children), Candy Crush Saga's design appeals to virtually every human and their psychological disposition to crave reward and instant gratification.
Psychiatrist Dr. Dinah Miller in a Time Magazine article said, "Perhaps the most genius element of Candy Crush is its ability to make you long for it. You get five chances (lives) to line up the requisite number of candy icons. Once you run out of lives, you have to wait in 30-minute increments to continue play. Or, if you're impatient, you can pay to get back in the game - which is why it's bringing in so much revenue". The key point there is when she mentions that "it makes you wait"; the creators of this game have designed it so that it purposely gives you just enough satisfaction to enjoy the game, but cuts you off as soon as you've been reeled in. It also creates a long-term relationship with the player, because a consistent use of the game daily has shown to be far more effective than simply "binge playing" a game and never touching it again. Not only that, but the game even taps into the social realm of people's lives by giving people the ability to challenge each other and compete. When someone sees that they've been challenged by their good friend to a round of "Candy Crush", many will set down whatever they're doing and take a quick break and play.
All of these factors and more are why "Candy Crush Saga" and "Candy Crush Soda Saga" have remained on the Apple App Store's Top 10 Grossing Apps at positions 5 and 8. Not only that, but "Candy Crush Jelly Saga" remains the number 1 game on the Top 10 free applications, ahead of Facebook (NASDAQ:FB) Messenger, Instagram, and Snapchat.
In an article released by VentureBeat, they discuss the effect of microtransactions on a country to country basis: "While 79 percent [revenue produced by microtransactions] is a huge chunk of a market, the U.S. actually still has a sizable audience paying an upfront price for apps. That's especially true compared to markets like China and Japan. Distimo found that a massive 94 percent of the revenue generated in the app stores in those countries comes from microtransactions in free-to-play games". There's clearly a ton of room for this industry to grow. I believe the U.S. will soon reach the percentages that Japan and China have already achieved.
So, what does this mean for the future of Activision in terms of the microtransaction industry?
Activision acquired King for approximately $5.9 billion. According to a Wall Street Journal article, Activision said it is paying $18 a share, a 20% premium to King's previous price of $14.96. Activision is using $3.4 billion in cash, plus a $2.3 billion loan, to pay for the deal. Although Activision's year-over-year growth is negative, the revenue produced by Candy Crush will completely supplement the loan in a matter of a few years. Not only that, but the potential for sequels and new franchises in this industry would mean a significant and fruitful payoff for Activision.
Conclusion
We remain bullish on Activision in the term of 2 to 3 years because of the growth catalysts described above, as well as its solid positive fundamental position in the technology sector when compared with its peers: MSFT, TTWO, and EA, among others.
Sources:
Fundamentals and Data
Data
ATVI 10-Q (For EBITDA calculation): Here
EA 10-K (For EBITDA calculation): Here
MSFT 10-K (For EBITDA calculation): Here
TTWO 10-K (For EBITDA calculation): Here
Microtransactions
Palm discussing with IGN about Candy Crush Saga: Here
Time magazine and the addictiveness of Candy Crush: Here
Acquisition of King (WSJ): Here and Here
VentureBeat talking % Revenue on a country to country basis: Here
eSports
Future of eSports Revenue in 2017: Here
eSports World Map: Here
Hiring of Steve Bornstein and Mike Sepso: Here
Movie Releases
Summary: Here
Spring 2016 Release of "Overwatch"
Description of Game: Here
Website for Overwatch: Here
Wikipedia Page for Overwatch: Here
Disclosure: I/we have no positions in any stocks mentioned, but may initiate a long position in ATVI, EA, FB, MSFT over the next 72 hours.
I wrote this article myself, and it expresses my own opinions. I am not receiving compensation for it (other than from Seeking Alpha). I have no business relationship with any company whose stock is mentioned in this article.