On March 31 the USDA will release its stocks and prospective planting reports. Our previous article, CORN: An Attractive ETF Alternative to Cash focused on the corn market and the Teucrium Corn Fund ETF(NYSEARCA:CORN) . This article focuses on the likely impact of the prospective plantings report on soybeans and wheat markets and specifically the Teucrium Soybean Fund ETF (NYSEARCA:SOYB) and the Teucrium Wheat Fund ETF (NYSEARCA:WEAT). SOYB provides investors unlevered direct exposure to the Chicago Board of Trade (CBOT) soybean futures market. WEAT provides investors unlevered direct exposure to the CBOT wheat futures market. There are certain additional investment risks associated investing in the ETF rather than the corresponding futures markets that we will discuss later in the article.
Both SOYB and WEAT are interesting at the current levels. Other commodities such as Crude Oil and Gold are in multi-year sell-offs and recently formed potential bottoms. The grain complex is no different. Both SOYB and WEAT are at attractive levels here from a risk-based perspective. We are looking now for indications that will drive the grains higher.
Soybeans
With the expected 2015/2016 US ending stocks near a 9-year high, there is not too much excitement surrounding soybeans. This certainly shows on the futures charts. Soybeans have been range bound for the past 7 months as shown in Chart 1 of the July futures contract. Chart 5 shows corresponding price action for the SOYB ETF, which has been trading between $17.00 and $18.50. The forward curve for the next year is essentially flat, affirming the market's neutral outlook.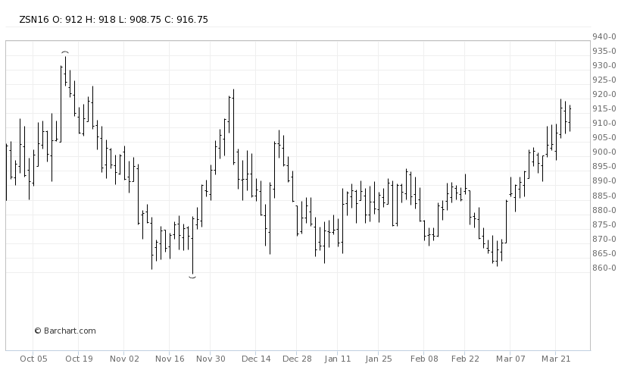 Chart 1: data source Barchart.com
High ending stocks keeping price low
Ending stock estimates of 460 million bushels equates to over 12% stocks/use ratio ending stocks. This is a significant improvement over recent years and is helping keep prices range bound.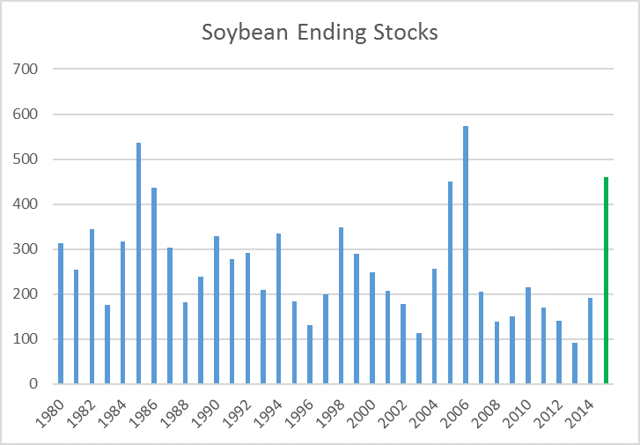 Chart 2: data source USDA
Estimated planted acres seem reasonable
At an estimated 82.7 acres planted, this is comparable with last year's 83.3 bushels per acre. Figure 1 shows the March USDA WASDE report. Weather problems last year forced some producers to switch to soybeans because soybeans have a shorter growing season and are planted later than corn. With low grain prices, some producers are looking to plant soybeans instead of corn because of lower input costs. Also with the ability to fix nitrogen in the soil, soybeans reduce fertilizer costs the following year. However, fertilizer has been coming down in price into the first quarter. Many producers have delayed their fertilizer purchases until spring to take advantage of these lower prices. So there are many dynamics coming into play on the decision to plant soybeans or corn.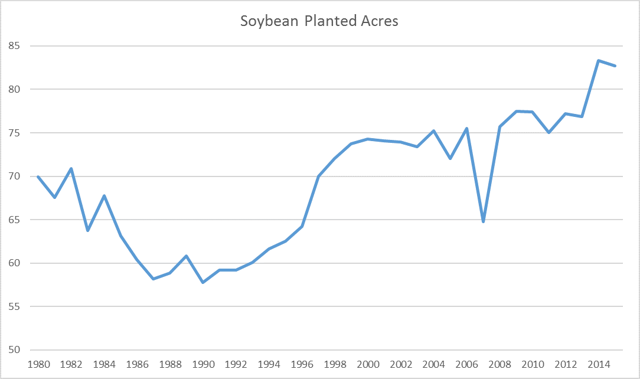 Chart 3: data source USDA
At 82.7 million planted acres (second-highest ever) and 48 bushels/acre yield (highest ever), it seems all the good news that can come from the supply side is already priced into the markets.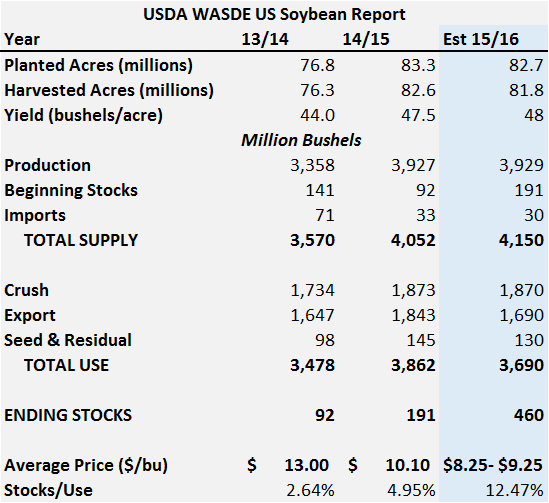 Figure 1: data source USDA
Potential for weather scare later in the season
Chart 4 shows the trendline yield for soybeans. The current season trendline yield is about 45.4 bushels/acre. This trendline yield is near our Monte Carlo simulation, which expects a yield of 45 bushels an acre. So there is some room for supply to be reduced but we won't see that now in this report. We will see it only if there are weather scares later in the planting season. Weather issues can potentially drive yields closer to our 45 bushels/acre number or lower.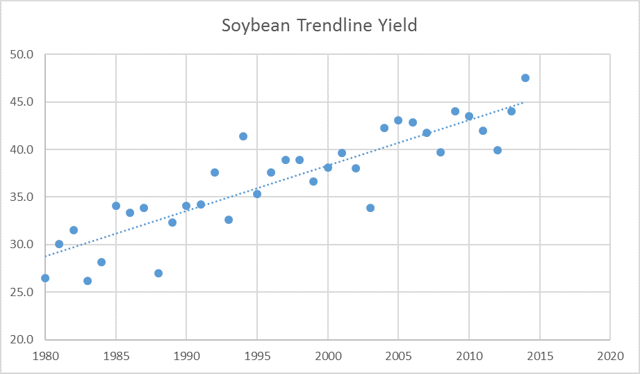 Chart 4: data source USDA
You can see from the chart below that SOYB has mirrored the soybean futures and has been range bound for the past 7 months.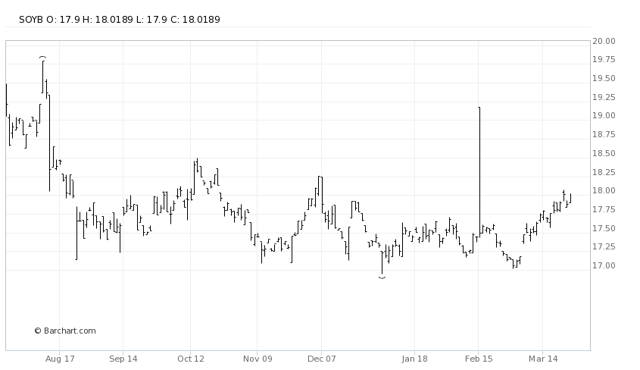 Chart 5: data source Barchart.com
Wheat
Figure 2 shows the USDA WASDE wheat report. The winter wheat plantings are already known, so this report is not as volatile for wheat. So we don't expect any big reactions in the WEAT ETF to this report.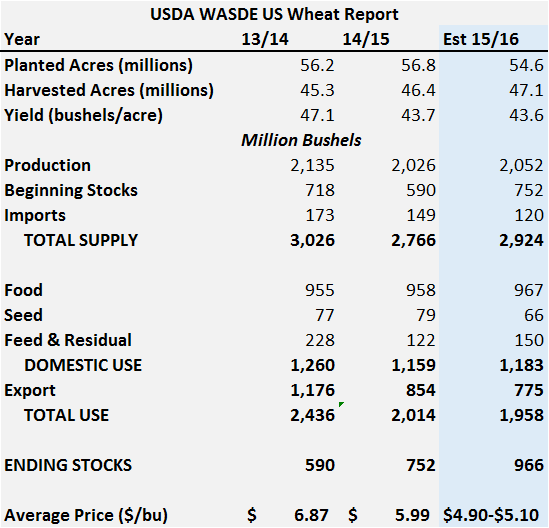 Figure 2: data source USDA
WEAT has continued to work lower into early March. We are waiting to see if the recent low will be taken out, or if the market has stopped making lower highs and lower lows.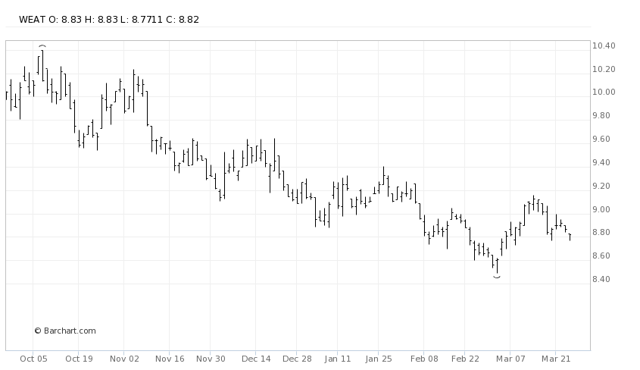 Chart 6: data source Barchart.com
Additional Risks associated with commodity ETFs
Commodity ETFs have certain risks that come from holding long futures contracts rather than the physical commodity. Because futures contracts have certain expiration dates, the owner of the futures contract must roll the contract to a subsequent contract month to avoid taking physical delivery of 5,000 bushels of wheat. This roll, as we will explain, is the where the risk comes in.
The WEAT ETF is designed to hold an index of wheat futures contracts. Specifically, WEAT will hold 35% of its funds in the second to expire CBOT wheat futures contract (July 2016), 30% of its funds in the third to expire CBOT wheat futures contract (Sep 2016), and 35% of its funds in the December CBOT wheat futures contract following the third to expire month (Dec 2016). Starting May 10th, WEAT will roll its July 2016 futures contract to Dec 2017. The current price of the July 2016 wheat futures contract is $4.71 and the Dec 2017 wheat futures contract is $5.45, a difference of $0.74. When subsequent futures contract months are more expensive than prior contract months, this is called a contango (The opposite is backwardation). Chart 7 shows the wheat futures forward curve.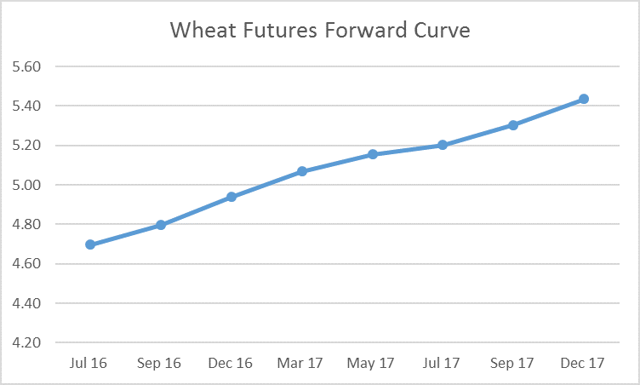 Chart 7: data source Barchart.com
The mechanics of the roll is the fund will sell all of its July 2016 contracts and subsequently buy the Dec 2017 contracts. Since the Dec 2017 contact is currently $0.74 higher than the July 2016 contract, if the price difference remains the same on the roll date, the fund will purchase about 16% fewer shares. Because only 35% of the shares are being rolled, the drag on the fund will be about 5.5%. This drag in a contango market lowers the WEAT investor's return and is the additional risk that is present.
For SOYB, the forward curve is basically flat so there is negligible gain/loss from the impact of a roll currently. It's important to understand that this roll drag is neither good nor bad, but rather just a function of the mechanics of the market structure and how these ETFs are designed. The structure of a market changes over time so it's important to understand these mechanics and how they may impact your position either positively or negatively.
Conclusion
SOYB and WEAT are both near multi-year lows due to relatively high expected ending stocks in both commodities. We think the good news is priced in, making the risk to the upside. These high ending stocks are keeping prices low and therefore relatively attractive. However, we don't expect any surprises in the upcoming USDA Prospective Plantings Report that will alter this scenario short term.
Disclosure: I am/we are long "CORN" "WEAT".
I wrote this article myself, and it expresses my own opinions. I am not receiving compensation for it (other than from Seeking Alpha). I have no business relationship with any company whose stock is mentioned in this article.
Additional disclosure: The information contained in this article is taken from sources believed to be reliable, but is not guaranteed by AgTrades, LLC, nor any affiliates, as to accuracy or completeness, and is intended for purposes of information and education only. Nothing herein should be considered as a solicitation to trade commodities, equities, or a trade recommendation by AgTrades, LLC. Futures, equities, and options trading involves the risk of loss. Past performance is not indicative of future results.