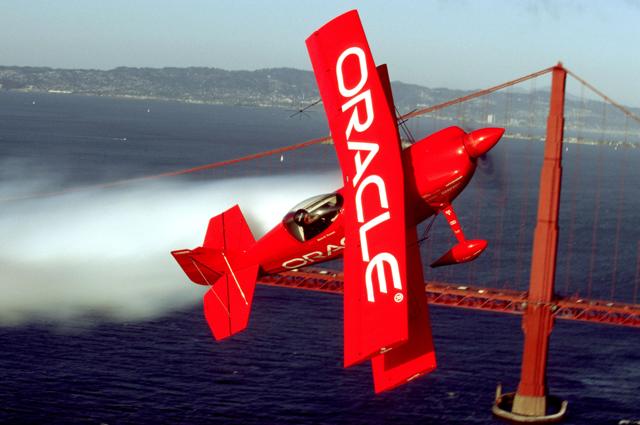 Oracle's (NYSE:ORCL) third-quarter results were a mixed bag for the company, as revenues declined across the board with the exception of its cloud services.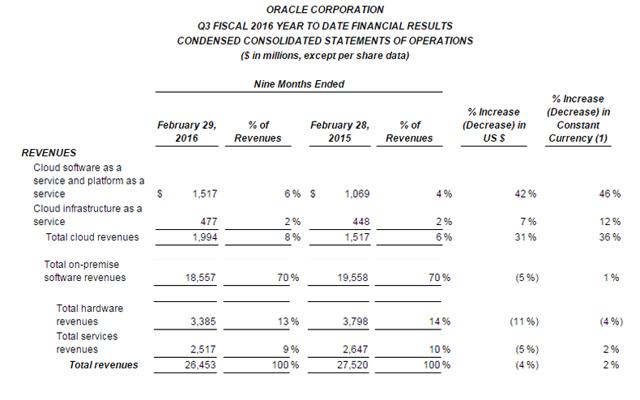 Source: Oracle
Except for cloud, the sales decline was across the board. Total cloud revenues were up 31% while software sales declined by 5%, hardware by 11% and services by 5%. To be fair, to the company, things don't look that bad when you look at the sales growth numbers on a constant-currency basis because total sales were actually up by 2%.
The main takeaway from these figures is that the company is shifting its focus from traditional hardware and software sales to cloud-related services - significantly, Software-as-a-Service and Platform-as-a-Service. I'll also show later Oracle is exploring every possible way to exploit the aggressive two-digit growth in the cloud market.
To help make this point even clearer, this is what its CEO Safra Catz had to say during the third-quarter earnings release:
"The move to cloud is a generational shift in technology that is the biggest and most important opportunity in our company's history. We embarked on this transformation over 10 years ago, when we began rewriting all of our software to enable our customers to leverage our solutions as cloud solution. We now have the most complete set of cloud services in the industry with more than $11,000 of our customers around the word already using these cloud services to help run their business."
What makes it even more obvious that Oracle is actively pursuing success in this segment is the way its capex reporting is broken out into cloud and non-cloud components during the third-quarter earnings call. It is evident that the company is depending heavily on this segment to compensate for losses in software and hardware revenues.
With nearly $2 billion in cloud revenues, Oracle is still far away from the top dogs Amazon (AMZN), Microsoft (MSFT) and IBM (IBM) - though definitely in a better place than Google (GOOG) (GOOGL) and Rackspace (RAX).
Cloud-based income now accounts for 6% of its total sales; and if the company can play its cards right, it can very easily close the gap with its software sales, which is currently nine times that of its cloud segment.
Oracle's Cloud Edge
Oracle does have its own advantage in the cloud space, however. It may not have the kind of clout in Cloud Infrastructure-as-a-Service (Cloud IaaS) that Amazon or Microsoft have, but it has a very strong presence in Software-as-a-Service (SaaS) and Platform-as-a-Service (PaaS). The former is also where Salesforce.com (CRM) leads the way with its CRM cloud offering.
I don't believe Oracle intends to take Amazon's AWS or Microsoft's Azure head on in a fight for Infrastructure-as-a-Service (IaaS) dominance. It seems to be leveraging its software expertise to tap into the SaaS market. ORCL's expertise is in building ERP (Enterprise Resource Planning) and HCM (Human Capital Management) tools, and this is where further cloud growth will come from as far as I can see.
I believe its direct competition will be with Salesforce.com on the SaaS front, and IBM's analytics and big data solutions on the cloud, as well as its PaaS offering, Bluemix. Oracle's own PaaS solution - Oracle Cloud Platform powered by the Oracle Cloud Machine - already has significant uptake in the industry, with majors such as Cognizant (CTSH) already seeing transformative results after using the service (primarily the HCM applications) for several years. In fact, Cognizant, having one of Oracle's largest cloud customer bases, has recently acquired KBACE, a key cloud partner of ORCL, to support its ever-growing customer movement into the cloud.
The Uptake Challenge
For every company operating a cloud vertical, the biggest challenge has always been getting new clients to use the service.
In every case, there is always a period of hard sell and aggressive marketing and branding before a service gains traction. Office 365 had to go through this, and so did Salesforce.com. In fact, with Salesforce.com, uptake seems to be such a huge challenge that the company regularly spends up to 50% of its gross revenue on marketing and sales. I've written about this in my recent piece called Salesforce.com: The Big Profitability Challenge
Both of these services from Microsoft and Salesforce.com are extremely robust and have strong software and integrations that users can take advantage of, but the uptake challenge remains.
For Oracle, value bundling might be just the thing it needs to overcome the uptake hurdle. For example, convincing an existing ERP customer to try its marketing service on the cloud might be easier than acquiring a standalone marketing cloud customer. Similarly, it may well be easier to ease an HCM customer into using an analytics-based cloud product.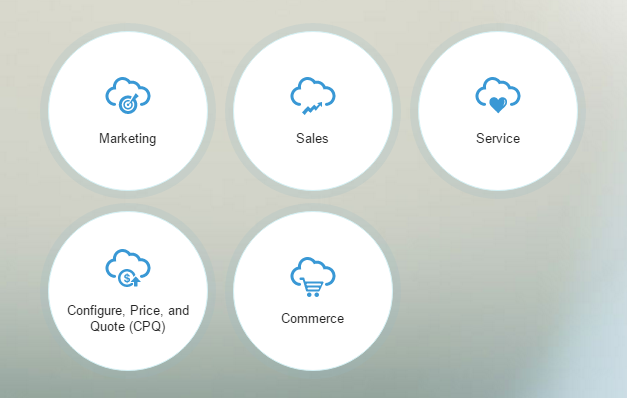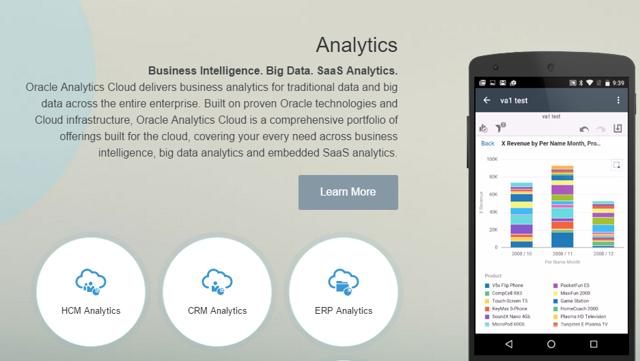 Sources: Oracle
Higher Uptake Doesn't Always Equate To Stronger Top-Line Growth
Another downside to this segment - even if it solves the adoption rate problem - is the fact that this is not necessarily a cost-saving service, and will take time for growth to contribute to the top line in any significant way.
For example, IaaS is a no-brainer when it comes to saving money. The service provider is offering a much cheaper - and often more secure and faster - way to host data and manage it. With SaaS, on the other hand, the prospective customer needs to be convinced that spending more money on a cloud application can lead to higher productivity and savings in the long run.
It's like trying to sell an ice lolly versus an ice lolly maker. Get a tangible benefit now or invest in something long term that can keep giving you benefits over and over again.
That's exactly why Salesforce is spending so much on marketing and sales, and Microsoft is bundling Azure for free to get people to convert to Office 365 - and vice versa.
Moreover, with the stiff competition in the SaaS space, the cost of doing business will keep increasing until a point of scale is reached. Whether that's in the form of higher spend on sales or giving away something for free along with the service, the fact remains that it takes money to get clients to sign up, and even more to keep them signed in.
Investor-Speak: The Rocky Road Ahead
With these core challenges to contend with, the road ahead promises many ups and downs for Oracle. With just short of $2 billion in cloud revenues, it still has a long way to go before that part of its business can carry the burden of software and hardware losing traction year over year. I see its Cloud IaaS segment blowing hot and cold, but that's just a reflection of where its core strengths lie; or don't lie, to be precise.
With cloud bringing in just 6% of overall revenue as of the last quarter, investors should note that it's too early to see the bottom-line impact from this segment. To put this in perspective, IBM's cloud revenue is $10.2 billion against a total revenue of $81.7 billion - or 12.4%; even market leader AWS is an 8% contributor to Amazon's $108 billion in annual revenue for 2015 - even though it has no other significant cloud presence outside of AWS.
As for the Q4 guidance, Oracle CEO Catz said the following on a constant-currency basis:
SaaS and PaaS revenue is expected to grow 57% to 61%.
Cloud IaaS revenue is expected to grow negative 1% to positive 3%.
Total cloud and on-premise software is expected to grow between 1% and 2%.
Total revenue growth is expected to range from negative 2% to positive 1%.
For now, the company is still reliant on its core software and hardware businesses. Until that changes, Oracle will be forced to go down the road less traveled. It has a shiny new torch to help light the way, but pitfalls and stumbling blocks aren't going to move aside to make it easier for the company.
Please follow me for real-time alerts on exclusive interviews with top tech executives from IBM and other companies. First interview series coming soon!