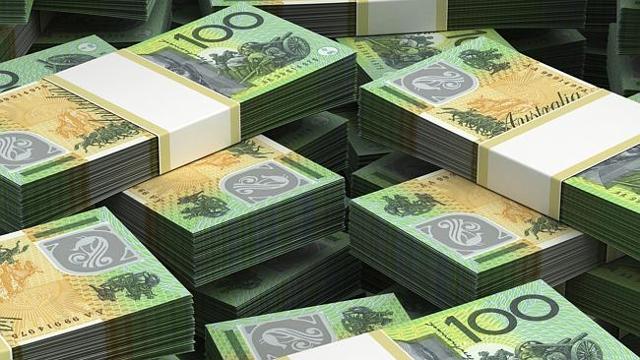 It is early days, but last week was one of the most positive weeks in a long time for traders that are shorting the Australian dollar as it started to show some weakness after a strong rally since the middle of January. This came as quite a relief for us considering we have been shorting the Australian dollar for some time now. The erratic behavior of many currencies caught us out in the short-term, but we have always remained confident in their long-term trajectories.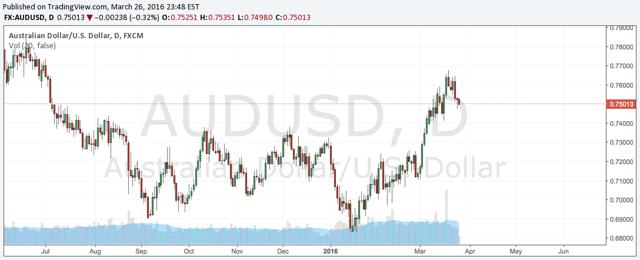 Sourced from DailyFX
As the chart above shows, the Australian dollar dropped some 1.7 percent last week. We believe this is just the start of so much more and expect declines to start to ramp up in the next month or two.
What will be the catalyst for further declines?

Sourced from Trading Economics (Local times shown)
In just over a week, the Reserve Bank of Australia will meet to discuss its next move with interest rates. There is a lot of pressure on the bank to take them lower than the historic low of 2 percent.

Sourced from the Australian Stock Exchange
As you can see above, the market has priced in just a 7 percent chance of a rate cut coming at this meeting. This means that should the Reserve Bank of Australia cut rates, it will come as an almighty surprise that would almost certainly drag the Australian dollar lower with a lot of selling pressure on it.
The Governor of the Reserve Bank of Australia, Glenn Stevens, recently spoke about how the Australian dollar "might be getting a bit ahead of itself." Hinting that something needs to be done to bring it down. Governor Stevens has been criticized for attempting to talk down the currency in the past, so there may be little he can do asides from cutting rates.
Waiting for the Federal Reserve to make its move.
We suspect, however, that unlike the New Zealand central bank which acted first, the Reserve Bank of Australia may wait one more month to see the hand of the Federal Reserve at its next meeting late in April. There are many, ourselves included, that believe that Janet Yellen and the Federal Reserve will raise rates at its April meeting. If the Reserve Bank of Australia is confident that Yellen will raise rates it may hold fire. It has very few weapons in its arsenal, so to use it unnecessarily could be a bad move.
We are confident the Federal Reserve will raise rates in April following St. Louis Fed President James Bullard's comments last week. He appeared to criticize the Federal Reserve when he said that "Not following through on a proposed action can damage a policymaker's credibility." On an interview with Bloomberg, Mr. Bullard also stated that a rate hike "may not be far off." Whether it is April's meeting or not, we will have to wait and see. We feel the economy can cope with a rate hike at this point and expect to see one on April 27. Especially if Friday's non-farm payroll number is a good one again. The consensus is for 205,000 jobs to be added, and if this is achieved or bettered, it could be a clear signal of things to come. We expect the Australian dollar will react to this result and could be pushed lower on a good one .
All the way down to 65 cents U.S.
Our long-term forecast for the Australian dollar to drop to 65 cents U.S. is still on. This is a decline of 8.7 percent from the current level. We feel heavy selling pressure has begun to develop and will continue to build as the month moves on. There could be a bounce if the non-farm payroll figure is below expectations, but macroeconomic factors should bring it back down soon after.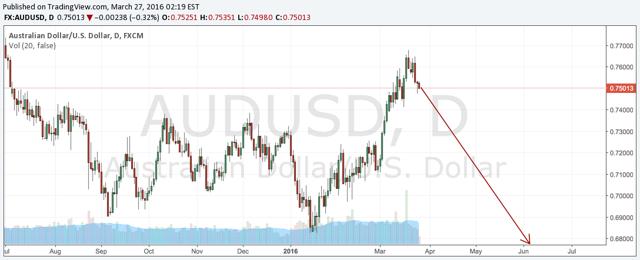 Sourced from DailyFX
We use futures contracts for our trading, but to make this trade without a futures account, it is possible for traders to short the CurrencyShares Australian Dollar Trust ETF (NYSEARCA:FXA). Additionally, those that wish to leverage up a little with 2x leverage can use the ProShares UltraShort Australian Dollar ETF (NYSEARCA:CROC) which does just that.
Best of luck with all your trading!
Disclosure: I/we have no positions in any stocks mentioned, and no plans to initiate any positions within the next 72 hours.
I wrote this article myself, and it expresses my own opinions. I am not receiving compensation for it (other than from Seeking Alpha). I have no business relationship with any company whose stock is mentioned in this article.
Additional disclosure: Short AUD/USD futures.