We are long-time investors in Starbucks (NASDAQ:SBUX) and despite a disappointing start to 2016 which sees the shares down almost 3% year-to-date, we are very optimistic on a market-beating performance this year. We believe there is a lot of growth ahead for the company and for this reason have been, and will continue to be, topping up our position on any dips that are presented to us.

There are few companies we frequent as much as we do Starbucks. In our opinion the company has succeeded in becoming the third place. Whether it is social or business, we find ourselves in store most days and potentially more than once. This also goes for when we are overseas. It is always a relief to see the Starbucks green in the distance when you're in an unfamiliar city. We know exactly what awaits us in store and this level of consistency on a worldwide scale is incredibly impressive.
Despite what we read in the media, we feel the changes to its rewards program were the right thing to do. There is little point pushing the mobile order and pay service in order to limit queuing if you have people attempting to play the system by paying for their items in multiple transactions. So we don't believe much damage was done there in reality. The company may have lost a few customers here and there to rivals, but it was potentially making a loss on some of these so no real damage will be done. In fact, if queues are now shorter it could be a boost to the top line.
The expansion into Italy is a very interesting one. We, like many, are quite skeptical on the move. Although it was Italy that inspired Starbucks, it doesn't appear as though Italy is inspired by Starbucks. Management does seem to understand this and labeled the announcement as "With Humility and Respect, Starbucks Turns its Eye Toward Italy." This shows us the company is not just opening stores without thought, it will be methodical and partnering with Percassi will give it every chance of success. Italy has extremely high levels of youth unemployment, which gives Starbucks the opportunity to make a difference with many young lives. This could be a great way of connecting with the local population and building lasting relationships.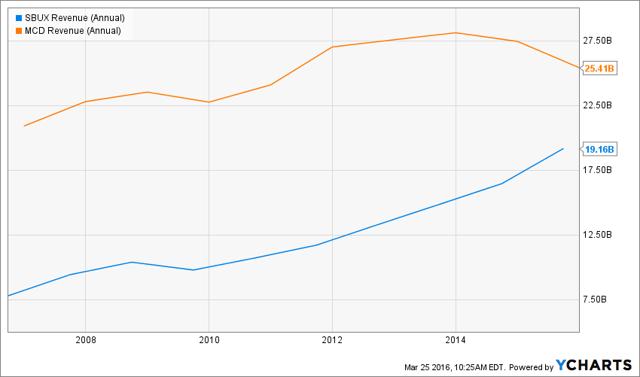 Expansion into Italy could help Starbucks continue its incredibly revenue growth shown above. It would not come as a surprise to us to see it eventually pull in more revenue than McDonald's (NYSE:MCD) one day. Despite the strong US dollar, it has continued to grow its revenue at a time when other company's with a strong international presence have struggled.
The recent announcement that the company will be selling Nespresso compatible pods as well as its K-Cups is a fantastic move in our view. K-Cups are very popular in the United States, but Nespresso was the world's most popular single-serve pod producer prior to JAB acquiring Keurig. We do expect Nespresso to grow in popularity in the United States in the future as Nestle turns its attention to the market. Late last year it ran its adverts starring George Clooney in the US for the first time, whereas internationally they have been airing for many years. We expect single-serve coffee to support revenue growth in the future.
It has been said many times, but China will be the biggest driver of revenue. The growth there is outstanding. The company's plan to open 500 stores there in 2016 is part of its broader plan to operate a minimum of 3,400 stores in the country by 2019. This will be a 70% increase on the 2,000 stores it has in operation at present, which we are sure you would agree is very impressive.
We do have a slight concern with its international segment, though. Time will tell if it is worthy of being concerned or not, but the recent terrorist attacks in both Belgium and Indonesia have appeared to target Starbucks stores. If people start to feel concerned that they could be targeted by visiting a Starbucks store, it could possibly cause a decline in sales in certain regions.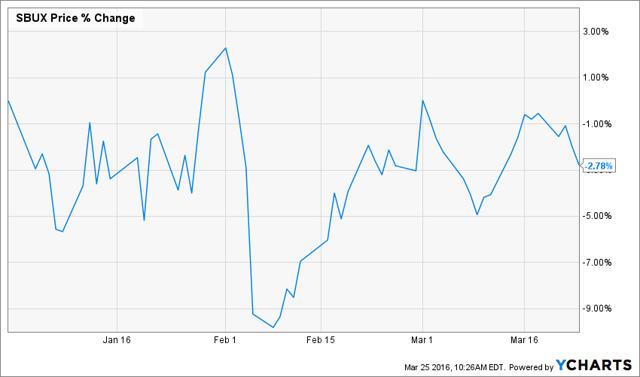 As you can see above, the share price really hasn't gone anywhere this year so far. This for us makes it a great time to top up or open up a position. The share price could yet drop lower depending on the overall market, but we have little doubt that it will continue to climb up towards $100.00 within the next five years.
We forecast earnings to come in at $1.91 per share in FY 2016. This is a touch ahead of consensus, but we are feeling very bullish on the company. We feel comfortable with the share trading at 35 times earnings. In time we would like to see this slide down towards 30 times earnings, but whilst growth is strong we feel it justifies the premium.
At 35 times earnings we have a target price of $66.85, which would be a return of 14.5% from the last close price. This for us is a compelling reason to buy the shares now, but the long-term growth the company will provide shareholders is what compels us most. Without doubt, Starbucks is a buy and hold for life investment.
Disclosure: I am/we are long SBUX.
I wrote this article myself, and it expresses my own opinions. I am not receiving compensation for it (other than from Seeking Alpha). I have no business relationship with any company whose stock is mentioned in this article.