One of our most successful investments in the last few months has been our position in Urban Outfitters, Inc (NASDAQ:URBN). It was late in December and the company was being ridiculed for its acquisition of a pizza company. Well, just over three months' later things are looking a lot brighter for the company with the pizza acquisition playing out well in our opinion.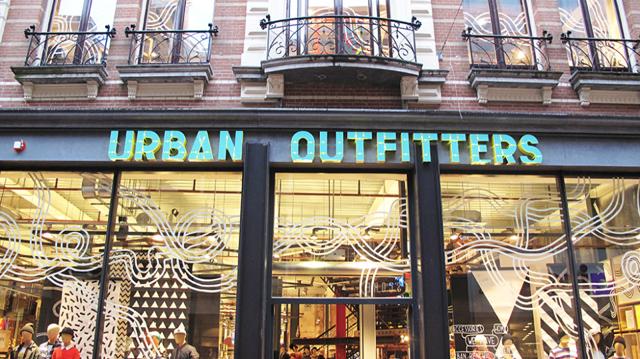 We picked up shares in Urban Outfitters because we felt the company was well-connected with the millennial generation and had great ideas of enhancing it. One key thing that researchers say millennials are looking for is an experience. By creating a great in-store experience we felt the company could become a key fixture of the millennial shopping habit.
This appears to be working with the company reporting a strong beat on the bottom line in its fourth quarter results. The market was expecting 56 cents, but management pulled off a great quarter with 61 cents of earnings per share. The top line was a miss by around $10 million, but the market didn't seem to be fazed by this. Nor were we.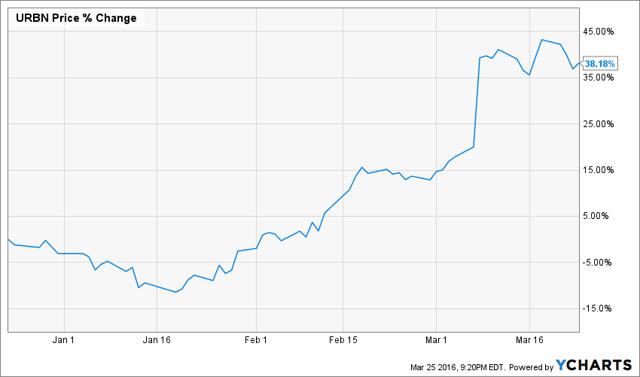 As you can see above, these results mean that we have now been fortunate enough to see the share price climb over 38% since we last spoke about it. A fantastic gain that we are very pleased with. But we are not selling our shares any time soon and continue to hold on tightly to them. We are quietly confident that the share price still has further to climb and that this turnaround is just getting started.
Millennials have around $1.3 trillion of spending power in the United States according to reports. With so much competition in the industry, a retailer really needs to stand out. The company may not be able to compete with the likes of H&M (OTCPK:HNNMY) or Zara (OTCPK:IDEXY) on price and stock keeping units, but they can win by offering consumers something different. We think Urban Outfitters have achieved this. The store layouts, pizza, locations, and product assortment are all fantastic and should encourage strong levels of foot traffic.
We expect to see the company perform well in 2016. Last time we spoke about how management felt there was a lack of "newness" in fashion at the time. We pointed out that Urban Outfitters is a follower and therefore unable to dictate fashion trends. But now, as new fashion trends break through we believe this will help support top line growth.
We mustn't forget to mention the progress we are seeing in its Anthropologie segment. This segment accounts for 41.86% of total sales and has been growing strongly. Nor should we neglect the Free People brand. It is largely overshadowed by the other two key brands but is growing at such at high rate that it is time to sit up and take notice.
Free People grew its sales to $609.5 million in 2015, from $530.8 million in 2014. This is just short of 15% growth year over year. As a percentage of total sales, it went from 15.97% to 17.7%. Management added 13 new stores in fiscal 2016 which increased its store count to a total of 114 stores. We expect this to continue growing at a similar rate for the next few years, supporting further sales growth in the segment and its overall contribution to total company sales.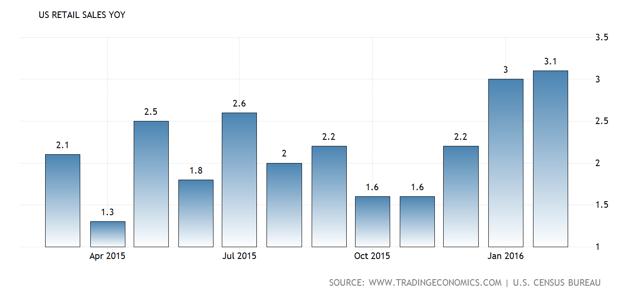 With increasing levels of disposable income in the United States, we expect it to push retail sales in the United States up year over year by a good rate. All things considered we are still very bullish on the future prospects of Urban Outfitters and see significantly more upside ahead in the next twelve months. This makes it well worth holding onto your shares in our opinion.
Although the shares have climbed over 38% since we last spoke about the company, they are by no means overvalued now. In fact, we see them as being about fair value. But as the company starts to pump out some great earnings we believe it will climb in line with them. Shown below you can see how the price to earnings ratio has jumped back up to what we deem to be about fair.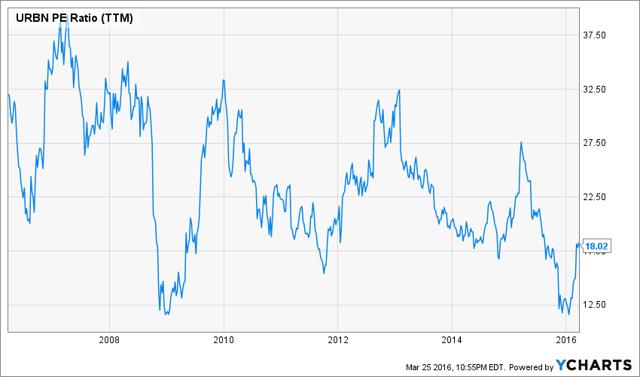 We forecast earnings per share to come in at $2.00 for fiscal 2017, representing an increase of 12.35% year over year. This will be fuelled by the continued strong performance of its three key brands taking advantage of the increase in disposable income and rising spending power of the millennial generation.
At 18 times earnings this produces a price target of $36.00, which means upside of 11% from the last close price. So, as you can see, despite the huge gains since late December there is still plenty more left in the tank for investors today.
Disclosure: I am/we are long URBN.
I wrote this article myself, and it expresses my own opinions. I am not receiving compensation for it (other than from Seeking Alpha). I have no business relationship with any company whose stock is mentioned in this article.