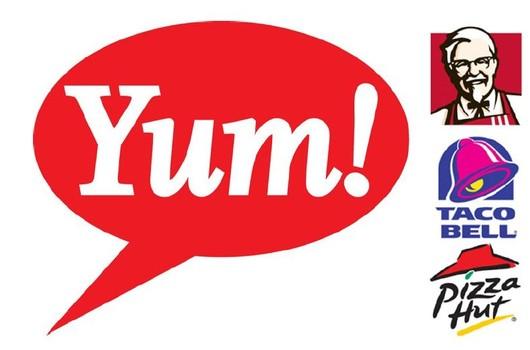 Yum! Brands (NYSE:YUM) is the parent of very popular fast food chains KFC, Pizza Hut and Taco Bell. The stock had been punished in 2015 as it dropped around -30% from peak to trough due to woes over decreasing sales in China which generates a huge part of Yum's revenues. Yum! Brands had recently announced that they would be spinning off the China division which would eliminate any concerns over the Chinese economy which has clearly slowed last year. I think Yum! Brands is a fantastic stock with a gigantic moat of terrific products as KFC itself is one of the most powerful fast food brands in the world and will continue to be for many decades to come. The China spin-off will unlock huge value for investors as U.S. sales have been doing fantastic and I believe the risk is significantly lower if China is removed from the spun off into another segment.
Yum Brands' China spin-off will lessen risk associated with China
Later this year Yum Brands will separate its China business from regular operations into Yum! China and Yum! Brands. Currently, I believe that Yum! Brands is undervalued as its operating margin has increased by 12.3% in its most recent quarter year over year. Yum! also is trading lower than its industry average P/E ratio as well as P/S ratio at 27.2 and 2.6 times respectively compared to 27.7 and 2.7 times respectively. Despite this impressive valuation, there is still some headwinds facing the company as Yum's revenue has dropped an average of 1.3% over the last three years and its net profit margin has decreased to just 7% as of Q4 2015. This contraction is due to the slowed sales in its Chinese business as the Chinese economy has drastically slowed and the Chinese demand for fried chicken has really fallen last year. Over 75% of Yum's Chinese revenue comes from KFC as the brand continues to expand across the country. I believe that Yum! Brands will unlock huge value for shareholders because the brand is still reporting very solid sales growth numbers when you disregard the China factor.
Yum Brands has strong sales growth in its non Chinese business
Yum had impressive sales growth in the United States in 2015 as KFC sales increased 2% and Pizza Hut sales jumped 1%. Each restaurant also reported increased same store sales which is very promising as it appears the marketing in the U.S. has paid off. Fast food is still very strong in the United States and I suspect this trend to continue going into 2016 as I believe the U.S. market is more stable and fast food is a huge part of American culture, so huge that even if a recession did happen in the next few years, Yum! Brands' American business would not be affected as bad - it would actually encourage Americans to start eating at cheap fast food restaurants over expensive upscale restaurants and healthy organic food choices. In this way Yum! Brands in America can be treated more of a consumer defensive than a consumer discretionary, thus the stock deserves a premium over other discretionary stocks in the market.
Valuation and Conclusion
Yum has a fantastic share repurchase program in place and plans to buyback $6.2 billion worth of shares this year, this is a huge deal for shareholders as it will return a huge amount of cash back to them. When combined with the fact that the China risk is being excluded, it looks like Yum investors can sleep well at night knowing the turmoil in China will not affect their investment once the spin-off is in place later this year. I believe the China spin-off will unlock huge value and Yum! should be on the radar of every investor because I believe the stock will start to soar as we get closer to the much anticipated spin-off in 2016. The spin-off will allow each business Yum! and Yum! China to specialize in these two different markets and drive sales growth in each of these locations. The China issue of 2015 has caused Yum! to be oversold and I believe investors should pick up shares of Yum! immediately as the China headwinds will soon no longer be a concern for investors and the spin-off will be a huge tailwind for the stock to soar in 2016.
Disclosure: I/we have no positions in any stocks mentioned, and no plans to initiate any positions within the next 72 hours.
I wrote this article myself, and it expresses my own opinions. I am not receiving compensation for it (other than from Seeking Alpha). I have no business relationship with any company whose stock is mentioned in this article.