Earlier this month, I published an article on Seeking Alpha in which I covered the disparity between oil prices today and what the futures curve suggests the picture will look like a year from now. In that article, I stated that the narrowing of the contango that we've been seeing in the oil market is concerning for me and it should be concerning for some investors who own the United States Oil ETF (NYSEARCA:USO), as well as for investors in companies like Linn Energy (NASDAQ:LINE) / LinnCo (NASDAQ:LNCO), Breitburn Energy Partners (NASDAQ:BBEP), Approach Resources (NASDAQ:AREX), and Memorial Production Partners (NASDAQ:MEMP). In what follows, I will revisit this picture and see how, and if, my thoughts have changed.
A look back in time
In my last article on the topic, I posted the graph below, which shows the futures curve of oil using futures prices as of the time that I wrote the piece. As a note, I've changed the scale of this version of the graph to accurately depict it with a $0 possible low for oil as opposed to the scale I used before so that investors aren't overly taken with the appearance of the futures curve soaring. Between April of 2016 and April of 2017, an investor could make a gain of $7.07 per barrel by buying crude at $37.92 and selling it for $44.99, a profit that is virtually guaranteed if proper precautions are taken, representing an annual return of 18.6%.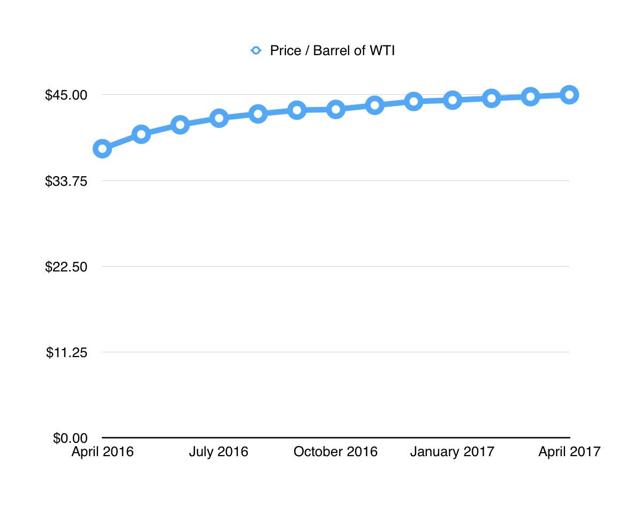 Although this sounds attractive, it doesn't factor in the storage, transportation, and insurance costs associated with storing oil during that timeframe. In general, this number is estimated to range between $6 and $8 per barrel each year, suggesting that the actual return by employing this strategy really isn't all that great. The logic I employed here was that, if the contango was that small, it may be signaling a bearish outlook for crude prices, at least near-term in nature. This is due to the fact that there would be no financial incentive from buying crude today and storing it, potentially causing demand (at least for now) to fall and/or suggesting that Mr. Market sees something unappealing on the horizon. Today, that outlook is far worse.
The futures curve has narrowed... again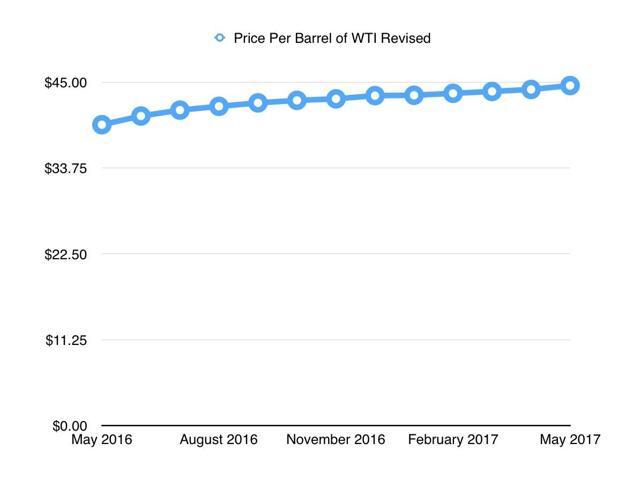 In the graph above, you can see what the futures curve looks like now. For investors wanting to buy crude now and who desire a guaranteed return, the purchase price would be $39.43 per barrel (based on WTI pricing for the month of May) and the sale price in May of 2017 would be $44.56 per barrel. This implies a gross gain of $5.13 per barrel, which is a profit of 13%. Although this may look good from an initial standpoint, it's well below the $6 to $8 range required just to pay storage, transportation, and insurance costs. In the graph below, you can see what the two futures curves (today's versus my previous one) look like when placed together.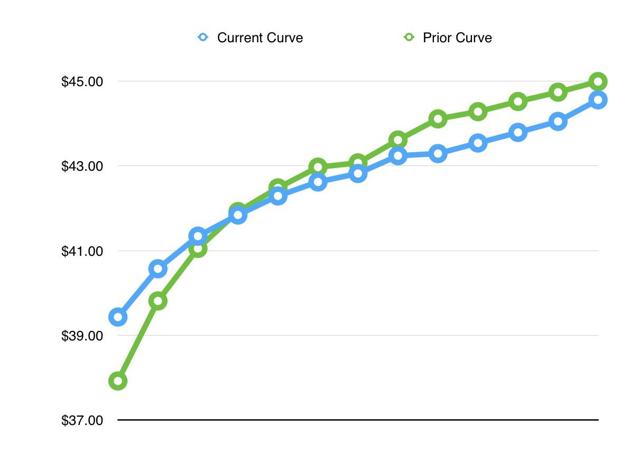 To put things in a different perspective, I created the table below, which looks at the month-to-month pricing for WTI between May of 2016 and May of next year. In it, you can see the month-to-month increase in price for crude as well as the percentage increase, with aggregate annual data provided at the bottom of the table for both approaches.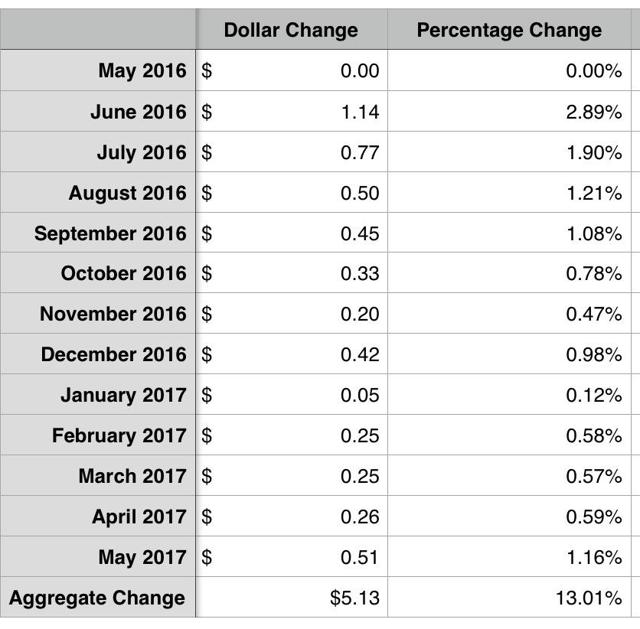 Based on the data provided, it seems as though the picture doesn't look all that great near-term. Using the futures curve, investors can see that there's really no incentive for investors to buy up oil and keep it in storage so there could end up being some downside pressure. There may, however, be another explanation for this but I'm not quite sure how realistic it is. In my last article, one of my readers made the counterpoint that, instead of Mr. Market pricing in pessimism on a near-term basis, it may actually be factoring in current demand for crude, which has been quite high in the U.S. thanks to soaring motor gasoline demand.
You see, if we look at the past four weeks this year compared to the same period last year, motor gasoline demand currently stands at 9.373 million barrels per day, up 7% compared to the 8.756 million barrels reported last year. Despite this much more being produced by refineries in recent months, the past few weeks have seen the amount of motor gasoline in storage decline, meaning that the demand-side of the equation is attractive to say the least.
Takeaway
Right now, Mr. Market is certainly more bullish on crude for this very instant based solely on where prices are compared to where they were (under $27 per barrel) earlier this year. However, that very short-term optimism has not converted into optimism for the next few months. Rather, if you look at things from a purely price perspective, it wouldn't be surprising to see the oil market see some resistance or even some downside absent a major shock (war, OPEC cutting, etc...).
While the theory does exist that high demand for motor gasoline may be causing a push in demand today that could justify the narrowing of the contango, we have to keep in mind that this should only happen in a world where crude is not in a state of surplus since you can look just about anywhere and find a barrel of oil. While I am worried on a near-term basis about what oil prices may do, though, none of this changes my long-term outlook for oil. After seeing such a large drop in rig counts and after seeing that oil is not economical at current prices for many producers, I am still very, very bullish moving forward but I just see some potential for bumps along the way.
Disclosure: I am/we are long BBEP, AREX, MEMP.
I wrote this article myself, and it expresses my own opinions. I am not receiving compensation for it (other than from Seeking Alpha). I have no business relationship with any company whose stock is mentioned in this article.
Editor's Note: This article covers one or more stocks trading at less than $1 per share and/or with less than a $100 million market cap. Please be aware of the risks associated with these stocks.