The Coca-Cola Company (NYSE:KO) is undervalued. Pretty bold statement. Many analysts have tried time and again to downgrade Coke's long-term ability to thrive and be profitable in an increasingly competitive environment and a relatively capital-intensive industry. We view Coke as a wonderful long-term business with a healthy margin of safety and great brands that insulate the business from many of the same threats other analysts point to as long-term threats to Coke's core business model. As we can see, Coke's share price has remained relatively stable and Coke's dividend yield and share repurchases have been continually growing, making this one of our favorite long-term holdings, especially considering how Coke has underperformed its peers over the past five years: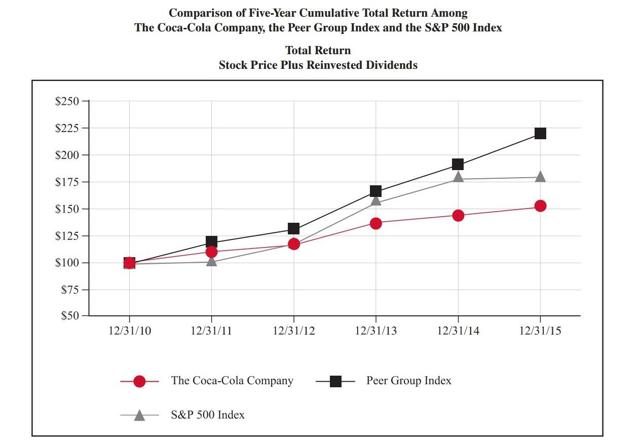 (Source: Coca Cola 2015 Annual Report)
Coke's Share Price (5-Year)
As we can see, compared with major competitors such as Pepsi (NYSE:PEP) and Dr. Pepper Snapple Group Inc. (NYSE:DPS), Coke is relatively undervalued and has underperformed relative to its peers.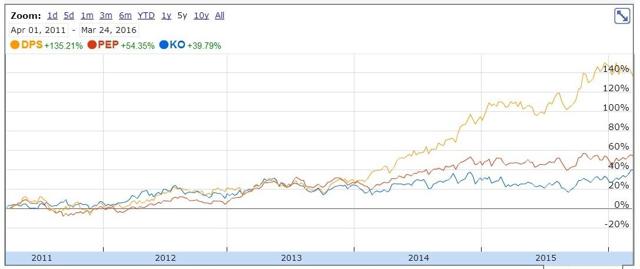 (Source: Google Finance)
Durable Competitive Advantage
Any time a legendary investor such as Warren Buffett places a significant investment in a behemoth such as Coke, we take notice. It is notable to consider that Buffett has continued to increase his stake in Coca-Cola over the years, often touting Coke as one of his favorite holdings (indeed, he is one of Coke's largest shareholders).
Coke has posted exceptionally large margins for decades, and this relatively large gross margin and cash flow generation ability provides Coke with the means to continue its substantial dividend and share repurchase program, key investment requirements for long-term investors such as Buffett, who state they are interested in investing in businesses that will provide growth and profits for the next hundred years. If Coke meets the criteria for the Oracle of Omaha, who are we to disagree?

(Source: Coca Cola 2015 Annual Report)
Revenues and Net Income
There is no doubting Coke is a mature company, operating in a competitive industry and top-line growth has reflected this reality, remaining relatively stable (marginally declining) over the past five years. That said, Coke is a company which has stable revenues and margins, supporting consistent earnings and a growing dividend which we value highly as a long-term investor. These stable earnings and cash flows from operations make Coke easier for us to value, which we will do later.

(Source: Coca Cola 2015 Annual Report)
Consistent and Growing Dividend
Coke's dividend yield of 3.06% is attractive and is slightly lower than its yield at the beginning of the year due in part to its recent run up in price from around $43.00 at Jan 1 to $45.66 at March 28 close. Despite the recent increase in Coke's stock price, we believe the company is fairly valued and look to increasing dividends in the future as a primary investment metric in considering KO for our portfolio. We view Coke's dividend yield of 3% as both manageable and as close to "guaranteed" as any other Fortune 500 company, and believe that in the long-term a 3% can be expected in perpetuity, making this a key factor in our DCF analysis of KO and one of the main reasons we think KO is currently undervalued at its present price.
Share Buybacks
Coke has continued to return capital to shareholders consistently around the $9 billion per year level via both dividends and share repurchases for treasury, as shown in its financial statements. We view both dividend distributions and share repurchases as being equally valuable for the long-term investor and have factored these key items into our DCF analysis which we will dive into more next.

(Source: Coca Cola 2015 Annual Report)
DCF Analysis - Price Target
In calculating our market valuation of Coca-Cola, we took care to factor in reasonable growth rates with respect to what we believed a long-term growth rate would be into the long-term. We used a 2% growth rate based on the relatively stable 2% growth rate experienced by Coke, as shown in the company's financial statements:

(Source: Coca Cola 2015 Annual Report)
We also factored in a future "net zero" currency environment, smoothing out long-term trends in currency valuation. 2015 was a particularly bad year for Coke, as seen in its losses experienced due to the relative increase in the value of the U.S. Dollar, relative to other world currencies. We expect this effect to smooth out in the very long-run and have subsequently adjusted changes in revenues due to currency to a long-term zero level.

(Source: Coca Cola 2015 Annual Report)
We used a weighted average of earnings over the past five years in coming up with an average long-term earnings per share amount of $1.80 per share, higher than the current $1.67 per share earnings per share level, but reasonable for long-term expectations. We also factored in a long-term expected market return of 5.5%, reflecting our belief that the long-term bond rates will continue to be depressed for some time and a newer expected market return of 5.5% is more reasonable in the long-term.
Our analysis has led us to calculate a stock valuation of $52.46 per share, supporting our view that Coke is undervalued by Mr. Market and upside exists in both the short-term and long-term. We will continue to add to our position and buy on market dips.
Conclusion
The Coca-Cola Company is the largest beverage company in the world and has a wonderful business with stable, long-term shareholder value. Operational excellence combined with a portfolio of brands with incredible upside potential complement the company's strength in returning value to shareholders. We view Coke as being undervalued at today's market price and will continue to add to our position accordingly.
Disclosure: I am/we are long KO.
I wrote this article myself, and it expresses my own opinions. I am not receiving compensation for it (other than from Seeking Alpha). I have no business relationship with any company whose stock is mentioned in this article.