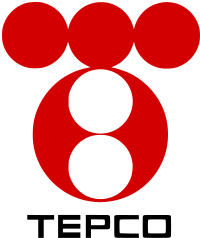 Overview
In spite of recent tailwinds thanks to cheaper fuel costs, TEPCO (OTCPK:TKECF; OTCPK:TKECY), the infamous company behind one of the worst bunglings of a nuclear accident in recent history and the desecration of the Tohoku region, remains a highly speculative and dangerous investment. Formerly one of Japan's largest regional power supply companies, TEPCO has been under effective state control for several years through the Nuclear Damage Compensation and Decommissioning Facilitation Corporation or NDF, with a 54.69% stake. Many questions still linger regarding the disaster and TEPCO's survivability, including but not limited to (1) the initial response to the earthquake, (2) continued support from governmental and creditor agencies, (3) the deregulation of the electricity market, (4) TEPCO's financial profile/cost base, and (5) the eventual restart of the Kashiwazaki-Kariwa power plant in Niigata. We will address these concerns here.
Governmental Support and Concerns related to the Fukushima Disaster
Even as the "new TEPCO" tries to distance itself from its past, three of the company's former executives now stand trial for gross negligence this week. Many questions that regulators, politicians and the public at large still have for TEPCO's former executives will likely be addressed, including the alleged cover-up of the status of the nuclear reactors following the earthquake/tsunami on March 11th. The important question for potential investors (if there are any) is how these ongoing situations will affect the current level of government support, especially related to damages, compensation and decontamination costs that affect the company's bottom line.
Damages, Compensation, and Decontamination Costs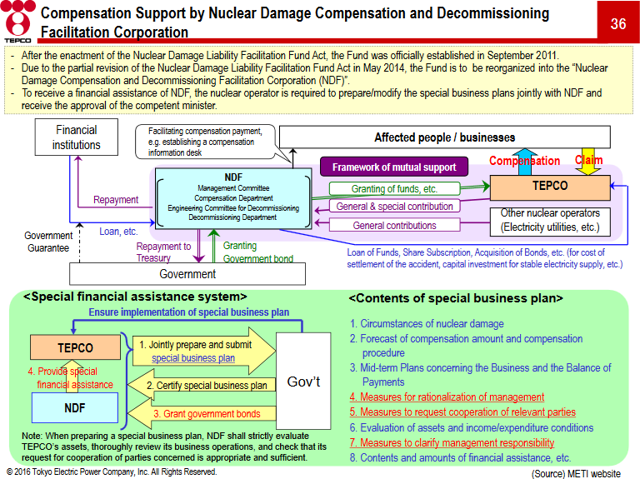 Pictured above is a visualization of the governmental support scheme through which the government, TEPCO's creditors and other nuclear-dependent electric utility companies support TEPCO financially in dealing with the monumental cost of nuclear damage liabilities that the company would be unable to face alone. Associated costs are estimated at upwards of ¥10-12 trillion or ~$100 billion. Currently, TEPCO has only repaid or secured ¥1.6 trillion of the total, relying on the government to finance the rest of the compensation and decontamination costs. TEPCO, along with other utilities companies, will be expected to repay the compensation costs (without interest); decontamination costs will be financed by the sale of TEPCO shares held by the government.
| | CUMULATIVE COST (billions of yen) | ESTIMATED TOTAL COST (billions of yen) |
| --- | --- | --- |
| Compensation for individuals | 2,085 | 2,700 |
| Compensation for businesses | 2,503 | 3,500 |
| Decontamination/property value | 2,631 | 3,600 |
| Fukushima Daiichi Power Station decommissioning | 1,421 | 2,000 |
The dilemma for the government is that, in order to prevent the government from taking losses on the sale of its shares, TEPCO's shares would have to be trading at least ¥1,050. TEPCO's shares are currently trading at around half that price at ~¥596, but even this temporary uplift is unsustainable. As I will detail further on, the slight boost in TEPCO's profitability (and thus, share price) has mainly resulted from tariff hikes and fuel costs - two trends that are likely to reverse in the near future, not to mention the negative pricing momentum that will result when the government decides to liberalize the electricity market on April 1st, 2016.
Liberalization of the Electricity Market
Even though the discussion regarding the liberalization of the electricity market could pertain more to macroeconomics than company-specific conditions, the Japanese government could not have decided to pursue this measure of market reform at a worse time. The Japanese consumer has already suffered under decades of utility monopolies with the culmination of that inefficient system ending in the months of rolling blackouts and scheduled power cuts after the disaster. To liberalize the market now is a laughable gesture, and one that will only hurt the Japanese consumer more as they are the ones subsidizing the existing monopolies that will suffer from increased competition. Even worse, rather than diversify abroad or consolidate existing markets, the companies have predictably already begun bidding wars in each other's existing regions, which will only serve to hurt each other.
"Chubu Electric Power Co. (OTC:CHUEF) began indirectly servicing clients in the greater Tokyo area last October by acquiring an 80 percent stake in Diamond Power Corp., a Mitsubishi Corp.-linked (OTCPK:MSBHF; OTCPK:MSBHY) power supplier, which counts the Tokyo Metropolitan Government as one of its customers.

Kansai Electric Power Co. (OTCPK:KAEPF; OTCPK:KAEPY) has also started power retail to industrial users in the areas serviced by TEPCO. Such competition from other regional power firms has reportedly resulted in TEPCO losing clients worth about 10 percent of its power-generation capacity as of this summer.

TEPCO is also joining the competition across regional borders by starting to supply electricity to outlets of retail chain Yamada Denki Co. (OTCPK:YMDAF) in the Kansai and Chubu areas next month. The firm is believed to have offered Yamada cheaper rates than those charged by Kansai and Chubu Electric. TEPCO plans to expand sales in other regions to ¥170 billion within 10 years by supplying power to Kansai and Chubu area outlets and plants of Tokyo-based firms."
Competitive bidding in a limited area only serves to put downward pressure on profits and, in an industry already subsidized by the consumer, it makes no sense to pursue liberalization; any benefit from a decrease in prices will only be offset by further subsidization due to lost profits as the government and trust funds are the majority stakeholders in these regional monopolies. Regardless of this nonsensical move, as noted above, TEPCO has already started to lose a significant number of clients from the process and will have to settle for a lower bottom line to expand into other regions.
Financial Profile
Already the impact of increased competition is being felt in revenues. Take note that while earnings/income have increased, per the most recent consolidated financial statements, electricity sales revenues/operating revenues have actually decreased YoY. This is because, along with exchange rate fluctuations and a generous ¥120 billion grant provided by the government for renewable energy promotion, CIF fuel expenses (total trade costs) have dramatically decreased giving the illusion that the company has financially improved. In reality, nothing could be further from the truth.
| | FY2014 | FY2015 | % Change |
| --- | --- | --- | --- |
| (REVENUES) | | | |
| Electricity Sales Revenue | 4,358.0 | 3,886.4 | -10.8 |
| Power Sold to Other Utilities and Suppliers | 172.4 | 141.8 | -17.7 |
| Other Revenues | 312.3 | 385.9 | +23.6 |
| (EXPENDITURES) | | | |
| Fuel Expenses | 1,980.5 | 1,244.3 | -37.2 |
| Maintenance Expenses | 204.2 | 235.2 | +15.2 |
| Other Expenses | 638.0 | 745.5 | +16.8 |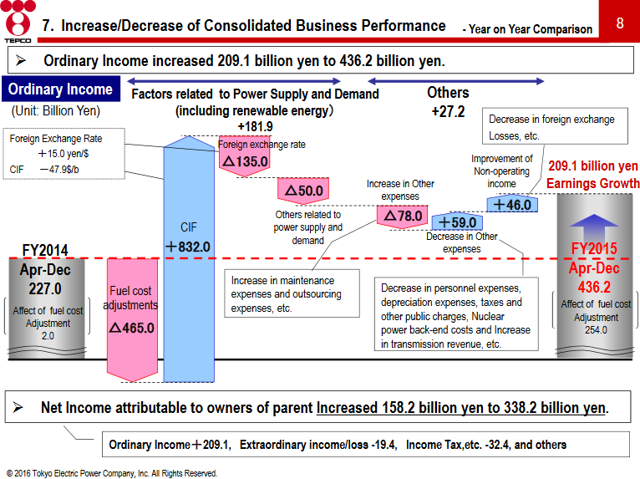 Almost all of the gains in ordinary income have come directly from reduced fuel costs. Now, if the price of crude and natural gas remains suppressed for the remainder of the year, this may give TEPCO further leverage to improve cost-cutting measures, safety measures and sales expansion, but this is merely a temporary conjecture based on highly volatile commodities; it is no substitute for actual financial stability and any potential shareholders/bondholders should be made aware of this.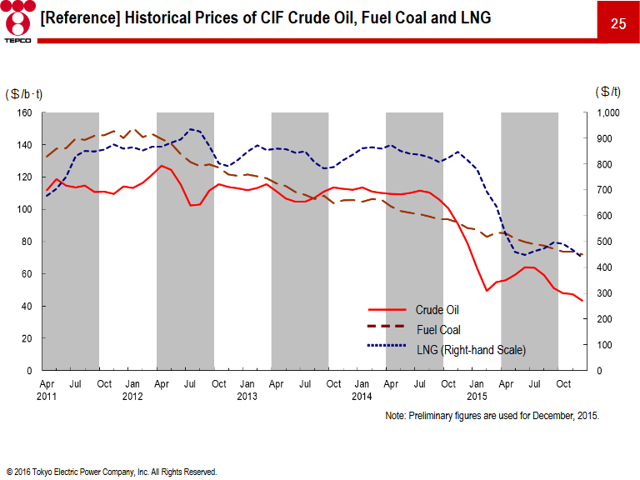 Credit Profile
Hearing of Moody's recent outlook upgrade on TEPCO's BB- junk bonds from Negative to Stable had piqued my interest, however, even Moody's recognizes that the company's improved earnings have been a temporary phenomenon.
"For calendar 2015, TEPCO's margin and cash flow coverage rose on a temporary basis because of declining fuel prices and showed favorable levels, with its adjusted operating margin at 7.2% and (cash flow from operation pre-working capital)/debt at 11.1%. TEPCO's continuous efforts on cost cuts and tariff hikes after the earthquake have also helped improve profitability and enabled the company to secure profits on an ongoing basis without an immediate restart of its nuclear reactors. Nevertheless, when we exclude such temporary gains, Moody's expects that TEPCO's adjusted operating margin will remain in the low single-digits and (cash flow from operation pre-working capital)/debt at around 10% at least for the next few years."
Regardless of the more stable outlook, the bonds remain 'junk' and, as such, it will be interesting to see how much the company can manage to raise in its upcoming bond sale; investors are likely to demand a high yield in order to compensate for the potential risk of the government offloading more decontamination costs onto the company in the future.
Kashiwazaki-Kariwa Power Plant
What was once a marvel of engineering, the world's largest nuclear power plant, has lain dormant for almost a decade... not because of natural or geological conditions, but because of TEPCO's negligence and failure to update safety measures on a continuous basis. Kashiwazaki-Kariwa has been the subject of much public debate and anger in Japan at the moment, especially among Niigata's local citizens and politicians. Regardless of the public discourse however, TEPCO is still unable to secure the reactivation of the plant despite requesting to restart it three years ago.
With the ability to supply over 8,000 megawatts (MW) of electricity or the equivalent of four Hoover Dams, the plant is critical to TEPCO's survivability, however, the company has consistently failed safety checks and created PR disasters from its attempted cover-ups. Just recently, on March 23rd, it was learned that TEPCO would not even be ready for its latest safety screening, prolonging the situation further:
"Safety screenings for the No. 6 and No. 7 reactors at Tokyo Electric Power Co.'s Kashiwazaki-Kariwa nuclear power plant are set to be prolonged further, it was learned Wednesday... Under new regulations put in place after the Fukushima nuclear disaster of 2011, a reactor must pass screenings by the Nuclear Regulation Authority before going back online. The NRA's secretariat reported at a regular NRA meeting on Wednesday that TEPCO is not yet ready to undergo an examination of the company's new method for assessing the degree of quake-resistance at the Kashiwazaki-Kariwa reactors. Preparations for the examination, including completing documents, can take as long as six months, sources familiar with the matter said."
It is a testament to TEPCO's consistent negligence and backwards corporate culture that the most important nuclear power plant in the world is not allowed to run. For any institutions even considering a speculative bet on the company or its bonds, the reactivation of the Kashiwazaki-Kariwa plant would be my number one concern; unfortunately, I don't see any activist investors who would be willing to put in the time or stress to pursue that venture.
Conclusion
| | |
| --- | --- |
| Crude | $39.78/bbl |
| LNG | $6.9/MMBtu |
| USD/JPY | 113.59 |
Disregarding the temporary tailwinds provided by cheap fuel, the stronger yen and the 'generosity' (forced subsidy) of the Japanese people, TEPCO has not changed. Continued commodity suppression and a stronger yen may continue to improve the company's expenses, but ultimately, TEPCO's corporate culture of negligence remains even after the prosecution of its former executives and minimal efforts to improve corporate governance. For this reason alone, I would not be willing to place any bet on its shares or participate in its upcoming bond sale.
Disclaimer
Perhaps, it could be said that it is my own personal bias against TEPCO, in causing my family, friends and self so much undue stress and anxiety over the bungling of the nuclear disaster five years ago, that is influencing me to issue a Negative outlook on the company, but I have tried to find any scrap of positive news to hold onto going into writing this piece. In fact, especially after hearing of the company's upcoming bond sale, I attempted to take the contrarian approach. Moody's recent outlook upgrade from Negative to Stable had piqued my interest, and I had hoped to find some new evidence as to why TEPCO may be financially recovering or improving its management. Unfortunately, after reviewing the relevant details, I could not justify such an approach, and, if anything, my outlook is even more negative. It seems the company is slowly fading into antiquity as other previous stalwarts of the Japanese economy have, such as Sharp (SHCAF; SHCAY) or Toshiba (TOSBF; TOSYY). Who knows how it will end, but for certain, the result will not be good for any shareholders, which unfortunately now consist mainly of the Japanese people themselves.
Disclosure: I/we have no positions in any stocks mentioned, and no plans to initiate any positions within the next 72 hours.
I wrote this article myself, and it expresses my own opinions. I am not receiving compensation for it (other than from Seeking Alpha). I have no business relationship with any company whose stock is mentioned in this article.
Editor's Note: This article discusses one or more securities that do not trade on a major U.S. exchange. Please be aware of the risks associated with these stocks.