Eldorado Gold Corporation (NYSE: EGO) is a global mineral exploration, development and production company with operations situated mainly in overseas markets, primarily Greece and China. The company has recently announced a large loss of over $1.5 billion in 2015, down from net income of over $100 million in 2014. This loss comes on the back of massive write-downs of mines in Greece, as well as lower-than-expected production out of Chinese mines.

Operations
While revenues from operations have declined by 9% YOY, CEO Paul Wright has noted that "strong operational results" have been reflected in the company's outperformance relative to its production and cost guidance in 2015. The company's production is down approximately 10% YOY and this decrease has largely been expected due to the current depressed market for gold and other precious metals.
Total cash costs per ounce also increased by 9% YOY, reflecting increases in operating costs centered on two mines (Kisladag and Tanjianshan). This increase in production costs has led to a decrease in gross profit from gold mining operations of 40% or $230 million YOY. Lower sales margins, higher operating costs and lower realized gold prices have been the prevailing headwinds leading Eldorado to significantly underperform. The large prevailing loss of over $1.5 billion in 2015 was due primarily to impairment losses and we will touch on this point shortly.

(Source: Eldorado Gold 2015 Annual Report)
Operating Costs
Eldorado's 2015 dips in revenue and gross profit have been somewhat minimized by cost reductions. Cost improvements and the gradual elimination and divestment of higher-cost mines, as well as new lower-cost mines coming online will provide significant long-term benefit to the company. The long-term investment picture may not be as bleak as many analysts are touting, and we are maintaining a "wait and see" stance to see if Eldorado management can effectively lower its cash costs per ounce and grow its production levels to get back to a net positive cash position in the short to medium term.
Adjusted Net Earnings & CFFO
Additionally, we see that Adjusted Net Earnings numbers were much more promising in 2015. After taking out the large impairment charges and factoring in other gains and losses for 2015, we see that Eldorado actually posted a positive net earnings of $0.02 per share (still significantly down from $0.19 per share in 2014, but positive nonetheless). We also note that cash generated from operating activities remained positive at $193 million compared with $342 million in 2014.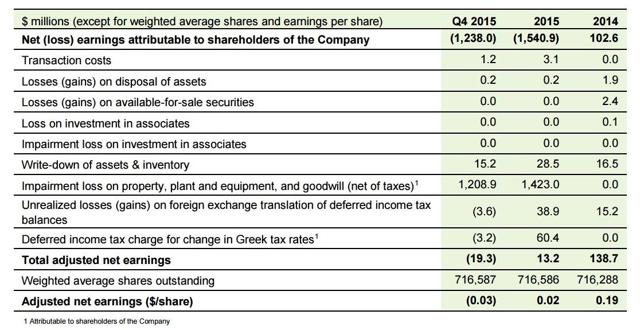 (Source: Eldorado Gold 2015 Annual Report)
Impairment Charges
During 2015, Eldorado experienced non-cash write-downs of $1.05 billion in PP&E and $476 million in goodwill relating to mines in Greece. The PP&E charges came from Skouries ($740 million), Certej ($214 million), Stratoni ($31 million), TJS ($36 million) and Vila Nova ($28 million). These write-downs reflected on Eldorado's financial statements do not affect the company's cash position and are valuation adjustments made due to permitting issues and capital and operating cost projections, resulting in changes to project valuations and are one-time charges. These adjusted estimates have led to fair value estimates below these projects' carrying values.
Liquidity
Eldorado currently has $668 million in liquidity available ($293 million in cash and cash equivalents as well as undrawn credit lines of $375 million), down from $876 million in 2015. Additionally, the company has been able to pay off debt, reducing its debt load by 2.3%, a small but positive move toward an improving liquidity position moving forward. Eldorado's current ratio of 3.07 provides further evidence the company will be able to meet its short-term liabilities through 2016.
This liquidity position is stable, however, the company will need to continue to bolster its cash flow and lessen its debt load to maintain is liquidity position in the future, considering the company has earmarked a portion of its $375 million credit facility for "longer-dated growth initiatives."

(Source: Eldorado Gold 2015 Annual Report)
Problems in Greece & China
The company's growth plan for increasing operational revenues are primarily oriented in Greece, where some of the necessary building permits for a new processing plant at Skouries and a license for its Olympias project have recently been approved. Greece is an operating zone which has provided Eldorado with numerous headaches, as opposition from government and environmental protestors have disrupted new developments, largely leading to many of the major write-downs listed in its most recent 2015 financial statements. In fact, the Skouries project has eaten up approximately $300 Million in capital, and construction is currently halted until all necessary permits can be obtained.
The company has also run into operational issues in China and is currently considering divesting the majority of its Chinese assets. The firm has considered a number of ways of receiving value for some of the assets including an IPO in Hong Kong and has been in talks with potential buyers for some time. Eldorado is hoping for a resolution in the near-term, as these issues have hampered the company's stock price significantly, and investors are wary and suspicious of potential future write-downs should these deals go through.
Dividend Eliminated
Eldorado did make a bold move in 2015, cutting its dividend completely. It should be noted that the dividend was a relatively small distribution accounting for only $0.01 semi-annually and this cut will only save the company approximately $11 million in 2016. We view this move as being a prudent short-term move and should not have a significant long-term impact on this stock price moving forward. We view the market's reaction to the dividend cut as being largely overblown and will continue to watch this stock's performance in the coming months accordingly.
The company has also announced that they "continue to believe that a portion of funds from operations should be shared with our investors and look forward to resuming dividend payments in a stronger gold price environment."
Outlook for Gold
We view the outlook for gold moving forward as being generally quite bullish, and this improved gold outlook should bode especially well for a company like Eldorado that is particularly sensitive to changes in commodity prices. That said, changes in commodity prices or currency values/price of fuel have a direct impact on Eldorado's profitability and can be viewed by the market as risks. We maintain caution in assessing this company over the long-term, as the input values used by any sort of DCF or company valuation model may be subject to wild swings and it may be difficult to determine what the long-term price of gold and other inputs may be moving forward.

(Source: Eldorado Gold 2015 Annual Report)
Conclusion
Eldorado Gold is a large global gold and mineral production player, focusing on emerging market regions for production. While many of these regions have provided headwinds to Eldorado's production levels and capex investment, we are hopeful that many of the underlying issues Eldorado faces today will be dealt with, and combined with the potential for a bull market in gold, Eldorado may have significant long-term investor appeal should investors believe management will be able to turn this company around. We maintain a "wait and see" approach with EGO and will monitor this stock over the coming months.
Disclosure: I/we have no positions in any stocks mentioned, and no plans to initiate any positions within the next 72 hours.
I wrote this article myself, and it expresses my own opinions. I am not receiving compensation for it (other than from Seeking Alpha). I have no business relationship with any company whose stock is mentioned in this article.