I had advised investors to buy Exelon Corporation (NYSE:EXC), which is one of the largest electric utilities in the USA when the stock was trading at near $29 levels. I like this stock owing to its large clean energy asset base. The company will be the biggest beneficiaries of the renewed focus on clean energy, since it owns large portfolios of solar and wind energy farms. It has presence across the energy value chain from power generation, energy sales and transmission to delivery. Even though investors thought that Exelon would be incapable of a turnaround, it has proved them wrong, with the stock returning ~9% on an annual basis. Analysts have also upgraded their consensus ratings. I remain positive about the stock, given it's beaten down status, low valuation and large clean energy asset base. The long awaited merger with Pepco (NYSE:POM) has finally materialized, further boosting the stock.
Why will Exelon benefit
1) Positive Synergy effects of Merger - The long awaited Pepco-Exelon merger finally materialized lately. This merger is expected to lead to the emergence of a leading Mid-Atlantic electric and gas utility. It will expand EXC's regulated holdings and strengthen its earnings stability. As per the regulatory filings, there is enough flexibility for the Commission to decide how the funds should be allocated to ensure the merger is in public interest. In my opinion this merger should be successful given the public interest, as it will result in more affordable and reliable electricity for customers and increase local jobs.
"We're prepared to deliver the benefits of our original merger settlement or to accept all of the terms the commission concluded would place the merger in the public interest," Exelon Chief Executive Chris Crane said.

"To safeguard these benefits for the District and its residents, we are putting before the Commission several options that will allow the merger to move forward" said Joe Rigby, chairman, president and CEO of Pepco Holdings.

Source: Exelon
This merger will also increase Exelon's share of regulated utilities earnings. Not only will this merger be a win-win situation for both the companies, but also for the consumers at large. It is true that mergers bring along positive effects of synergy and Exelon too has been benefited from this in the past, when it merged with Constellation Energy, adding a significant number of retail and wholesale consumers.
"Our combined companies will bring meaningful economic and service benefits to Pepco, Delmarva Power and Atlantic City Electric customers," Rigby said.

Source: Pepco
2) Strong Balance Sheet - EXC has one of the lowest debt-equity ratios in the industry at 1.02x. In contrast Duke Energy (NYSE:DUK) and Southern Company (NYSE:SO) had debt-to-equity of 1.08x and 1.3x respectively as of December'15. Exelon managed to improve its balance sheet by lowering its dividend payments.

Source: Yahoo Charts
3) Large clean energy asset base - Exelon has been one of my top picks in the utility sector, because the company is one of the lowest carbon emitting utilities in USA. As per USA's Clean Power plan, carbon emissions should reduce by 32% below 2005 levels by 2030. EPA's decision has worked in favor of Exelon Corporation having a larger nuclear asset base in contrast to other peers, which rely more on thermal power for power production. Countries around the globe are emphasizing the increased usage of renewable energy and have been taxing thermal power. Coal companies in USA are already under a lot of strain. Countries like India have also been continuously increasing the taxes on coal to promote RE and fight global warming. Exelon's fleet includes nuclear, natural gas, hydro, wind and solar assets.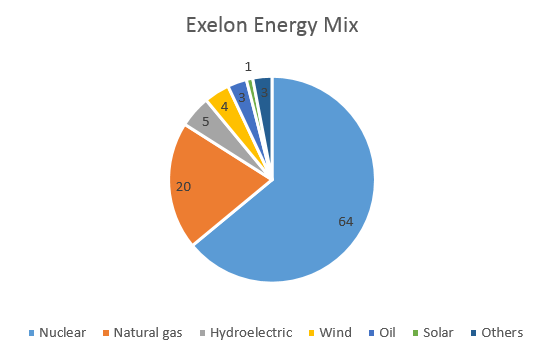 Not only does the company have a large green energy portfolio, it is also working towards the creation of a smarter grid. It invested $3 billion in electric and natural gas utility infrastructure, including $500 million in advanced meters and smart grid technology.
4) Good Annual performance & consistent dividends - Exelon achieved 80% power renewal rate and a 30% new customer win rate during 2015. Net income for the full year increased 40% to ~$2.2 billion. 2015 diluted EPS improved to $2.54, from $1.88 in the previous year. The nuclear fleet performance was also good, with nuclear capacity factor reaching ~94% for the full year.
"Despite a challenging year for the sector, strong operating performance at both our utilities and our generation business enabled us to deliver strong earnings," said Exelon President and CEO Christopher M. Crane.

Source: Exelon Q4'15 Results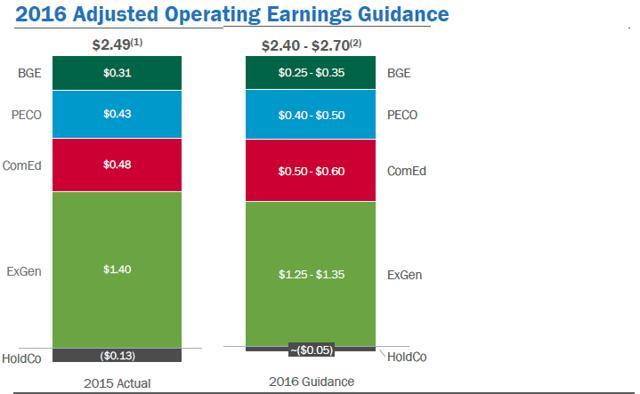 The company paid a dividend of 31 cents per share, last year. It has a current dividend yield of 3.51% which is expected to grow at 2.5% each year over the next three years
Downside Risks
Utility stocks have benefited from zero rate interest environment in the past few years. Now with US Fed and other major economies increasing their interest rates, global stock markets have become volatile. USA Federal Reserve announced an increase in interest rates in December last year. In such a scenario long-term bond yields will increase, reducing the attractiveness of owning utility stocks.
Stock Performance & Valuation
Though Exelon was one of the worst performing utility stocks in USA over the last decade, it has now started to show significant improvement. The stock returned almost 9% in the last one year, which was better than the broader S&P performance. The stock is currently 28% up YTD, trading at very close to its 52 week high price.

Source: Google Finance
Exelon trades at a significant discount to its peers, with a forward P/E of 13.3x and a P/S of 1.1x. The P/B is also much lower than industry average at 1.3x. The market capitalization value stands at $32.5 billion. The lower valuations are due to its lower operating ratios, compared to the general utility industry.
Conclusion
The company has one of the cleanest and lowest-cost power generation fleets in USA. The stock suffered in the past due to a power price decline, resulting in dividend cuts. Exelon has also been hurt due to its over dependence on the merchant market, but is now making higher investments in regulated assets. Exelon Corporation fell prey to falling electricity prices, due to which it had to cut dividends. However, EXC is now increasing its regulated earnings and has a better balance sheet. Exelon is also looking at increasing its dividend payouts in the coming years. The company will benefit from its huge green energy asset base, with EPA cracking down on carbon emissions from the power sector. With the Pepco merger now successful, Exelon stock should show improved performance.
Disclosure: I/we have no positions in any stocks mentioned, and no plans to initiate any positions within the next 72 hours.
I wrote this article myself, and it expresses my own opinions. I am not receiving compensation for it (other than from Seeking Alpha). I have no business relationship with any company whose stock is mentioned in this article.