Investment Summary
Lululemon (NASDAQ:LULU) continues to generate impressive top-line growth but earnings have not kept pace as intense competition has forced prices and margins lower. The stock's P/E ratio of 33.2 reflects the expectation that margins will begin to expand thanks to recently implemented supply chain adjustments. However, we think it is more likely that margins will continue their downtrend. The weak retail climate in North America has forced many retailers, including Nike (NYSE:NKE), to slash estimates, and Lululemon lacks the economic moat required to maintain premium prices. Furthermore, the company has mismanaged its inventory and there is evidence to suggest that management is overstating its carrying value, which calls into question the firm's earnings quality. Based on our 1-year price target of $45.33, Lululemon is overvalued by 34%.
Industry Outlook and Competitive Position
Lululemon has benefited from more active lifestyle trends and seen its products transform beyond athletic apparel into fashion statements. The company carved out a niche as a maker of high-end, technologically advanced apparel, but its success has encouraged industry giants such as Nike and Under Armour (NYSE:UA) and many small retailers to introduce their own offerings. The market has become flooded with alternatives, forcing Lululemon to cut margins and exposing the firm's lack of economic moat.
Lululemon no longer has the pricing power it once did. The brand's reputation has been tarnished by a see-through pants scandal, and competitors have been able to innovate and offer comparable products. Declining traffic volumes and rising inventory-to-sales ratios suggest we are on the brink of a long overdue correction in the retail sector, and Lululemon will have trouble maintaining prices as competition intensifies. High-end retailers are typically the first to suffer in an economic downturn because consumers become more price-sensitive, and LULU can no longer offer a value proposition that justifies its markup.
We anticipate two big challenges ahead for Lululemon. The first relates to the firm's ability to remain competitive as Nike, Under Armour and Adidas continue to innovate. These companies have greater financial resources and outstanding product development teams, and pride themselves on brining technologically advanced products to market. Secondly, we think LULU's lack of scale relative to its main rivals will hinder the firm's ability to compete based on price. In the past when the company was more differentiated and demand was strong, price did not matter as much. Now that the industry dynamics have changed there is a lot of uncertainty as to whether Lululemon can adjust.
Financial Analysis and Valuation
The company owes its double-digit revenue growth to new store openings and a proliferation in e-commerce activity that has driven traffic at its Direct-to-Consumer platform. Online sales as a percentage of total revenues have increased from 14% in 2012 to 17.9% in 2015. Over this period, gross margin has decreased from 56.9% to 50.9%. In addition to weaker pricing, costs associated with new store openings, rising airfreight costs, and a weaker Canadian dollar are responsible for the declining profitability. Management is making efforts to improve supply chain efficiency by, for instance, moving away from airfreight delivery to ocean shipping, and the company's lofty forward multiple implies that investors expect operating margin to recover to the mid 20's by 2017. In light of the slowing retail climate and increased competitive pressures, this is an unrealistic assumption.
Figure 1: Sales vs. Net Income vs. Cash Flow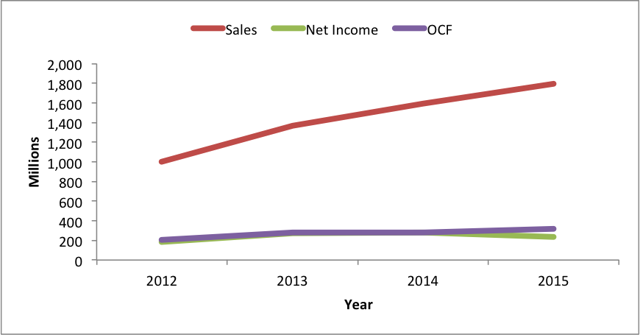 Flat profits reflect falling margins; low OCF/NI reflects working capital inefficiency
Lululemon's inventory has grown at a 32% annualized rate over that past 3 years, rapidly outpacing sales growth. As a percentage of total assets, inventory increased from 14.8% in 2013 to 27.07% at the end of Q3 2015, while cash declined from 56.1% to 30.53%. Inventory turnover is now 3.42, compared to 4.69 in 2013. Management claims the growing inventories are a result of deliberate efforts to increase stock and "drive store expansion", but it reflects poor working capital management and overly optimistic sales forecasts. Despite offering markdowns and discounts on many products to get rid of the excess, the company has not adjusted the inventory reserve. We suspect management is overstating the value of inventories on its books and that future write-downs are likely, which will dent margins further.
Lululemon is overvalued by 34% based on our 1-year price target of $45.33. Our FY15 forecast assumes 14% revenue growth and a 3.5 percentage point decline in gross margin to 47.4%. In the absence of share repurchases this would equate to EPS of $1.72, but management has bought back 15 million shares in an attempt to engineer growth. Consequently we estimate that EPS will come in at $1.92. This would mark yet another year of poor earnings growth relative to the top line, but it would not send investors to the exists. However as we progress through 2016 we expect the stock to take a hit as the weakness in retail eats into comps and the company's diminished pricing power prevents margins from expanding as anticipated. As investors dump shares, Lululemon's P/E ratio will fall to the sector average of 23.60.
Conclusion
Lululemon's expensive valuation assumes that company will maintain its strong top-line trajectory while improving the bottom line through greater scale and new supply chain efficiencies. We think that both of these are unlikely and that the price will drop more than 30% within the next year as investors realize the inflated multiple is no longer justified. The company's pricing power has been compromised by scandal and increased competition, and the oncoming retail slowdown will make it difficult to compete using a product differentiation strategy. The company's poor inventory management reaffirms our view that we are on the cusp of a slowdown, and management's practice of manipulating earnings through understated COGS and share repurchases makes us skeptical that they can turn things around.
Disclosure: I/we have no positions in any stocks mentioned, and no plans to initiate any positions within the next 72 hours.
I wrote this article myself, and it expresses my own opinions. I am not receiving compensation for it (other than from Seeking Alpha). I have no business relationship with any company whose stock is mentioned in this article.