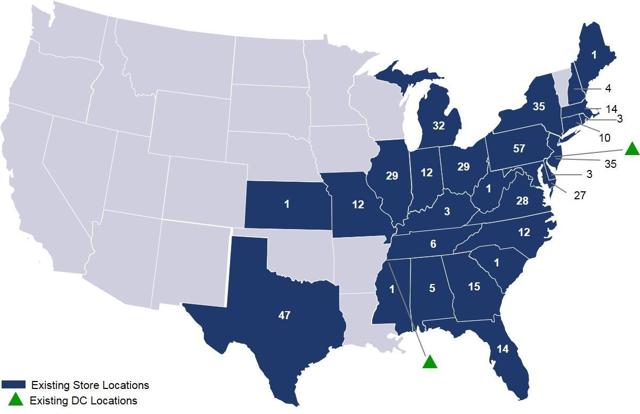 image source: Five Below 10-K
Five Below (NASDAQ:FIVE) is currently operating in only 27 out of 50 states. This leaves plenty of room for store expansion in other states. Five Below also has room to expand in some states in which it currently operates. The company's goal is to expand its total store count to 2,000 over the long-term. To put that into perspective, Five Below added 71 stores last year and plans to open 85 this year. Therefore, at that pace, it will take approximately two decades to add 1563 new stores to hit a total store count of 2,000. I see the stock as a solid retail expansion story over the next twenty years.
Five Below achieved 10 consecutive years of positive same store sales growth through 2015. Comps increased 3.6% in Q4 and 3.4% for the full year last year. The company's success comes from its niche market targeting teens and pre-teens. With the price of products priced at $5 and less, the store's products are an easy sell. Items such as sports balls, headphones, smartphone covers, nail polish, clothing, candy, toys/games, room organization items, etc., have proven to sell well.
One key driver for the company's growth has been Five Below's strategy to operate stores in shopping centers that serve a market of about 40,000 to 150,000 people. These shopping centers typically have a supermarket or other strong anchor and supporting stores. The high shopping traffic associated with these shopping centers is conducive for attracting customers for its low-priced merchandise. Teens and pre-teens are attracted to the colorful products and the low prices are conducive for spontaneous purchases.
The company maintains an attractive merchandise mix and tends to offer items that are considered 'hot' at any given moment. For example, Five Below will offer seasonal items. Other hot item examples include Star Wars related products, trendy products such as Shopkins, Minions, and similar animal, movie, or character-related items.
Five Below has an effective marketing campaign to drive traffic to its stores. This includes circulars, digital advertising, and TV commercials. The TV marketing is being tested in larger markets to increase brand awareness. The company did see increases in brand awareness from its tests in 2015. Additional success was observed for digital advertising. So, Five Below will shift its focus to digital for the current year. The company's advertising tests will allow Five Below to find the right marketing mix to drive comp store sales going forward.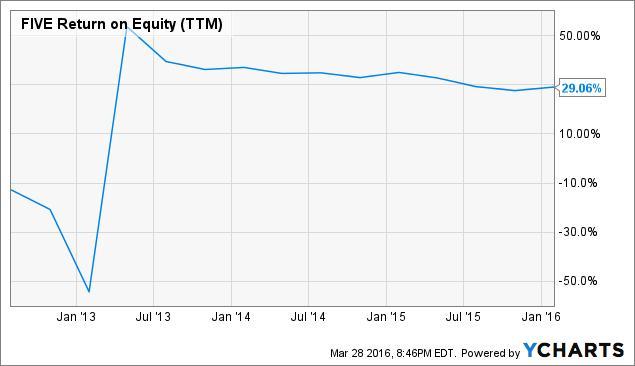 The strong ROE of 29% will help drive Five Below's double-digit earnings growth of 22% to 24% over the next five years according to consensus. The company sustained a strong double-digit ROE since 2013 according to ycharts.com. During the past five years, earnings have increased at an average pace of 21%. This demonstrates that Five Below can sustain high earnings growth over the long term.
Reasonable Valuation
Five Below is trading with a price to cash flow of 25. This is below its 5-year average of 51 and lower than discount store competitor, Dollar Tree Stores (NASDAQ:DLTR), which is trading with a price to cash flow of 35. Five Below is priced well in terms of its 5-year expected earnings growth as evident in the PEG of 1.4. With a PEG between 1 and 2, Five Below is fairly valued based on its strong long-term expected earnings growth.
Strong Balance Sheet
According to the latest balance sheet as of January 31, 2016, Five Below continues to carry zero debt. The company has 2.6X more current assets than current liabilities and 2.6X more total assets than total liabilities. This balance sheet strength will help Five Below sustain its continued store expansion for the foreseeable future.
The company typically has positive operating and free cash flow each fiscal year. Five Below ended the past fiscal year with $88 million in operating cash flow and $35 million in free cash flow. The company's strong cash flow is used for opening new stores. So, the company is in good financial shape to keep the store expansion going.
The Risks
Five Below's aggressive plan for growth to 2,000 stores appears feasible. However, the company could run into problems in identifying and securing new market locations. New markets may not be as receptive to Five Below's products as the current markets are. Any delays or issues could delay or slow down the company's growth which could cause investors to sell or avoid the stock.
Five Below currently relies on sales solely from its brick and mortar stores. The company doesn't generate sales directly from an online website. Five Below does face increasing competition from online sellers. However, Five Below's products are low in price which makes them conducive for spontaneous purchases. The stores are located in high-traffic shopping centers, where shoppers are enticed by some colorful items located outside the store. So, I think the company can still be successful by selling solely in its brick and mortar stores.
Conclusion
Five Below has a winning combination of increasing comp store sales and significant expansion ahead. The stock is fairly valued in terms of the company's long-term growth. Therefore, I think the stock can grow approximately in-line with earnings growth over the long-term. The stock has the potential to grow at a pace of about 20% annually. That performance is contingent on achieving comp store sales increases and the successful store expansion that Five Below has planned.
Disclosure: I/we have no positions in any stocks mentioned, and no plans to initiate any positions within the next 72 hours.
I wrote this article myself, and it expresses my own opinions. I am not receiving compensation for it (other than from Seeking Alpha). I have no business relationship with any company whose stock is mentioned in this article.