By Gary Alexander
While the market was closed for Good Friday, the Commerce Department reported that U.S. economic growth increased 1.4% in the final quarter of 2015, up from the previously reported 1.0%, raising full-year 2015 growth to 2.4% (Source: Reuters). Economists expected just 1.0% (no net revisions), but stronger-than-expected (+2.4%) consumer spending moved the needle up. This rise in spending was supported by lower gasoline prices and a tighter labor market, which is raising wages (and house prices).
The bad news was that inventories remain high relative to domestic demand. Businesses accumulated $78.3 billion of inventories vs. the $81.7 billion reported in the last iteration. These inventories subtracted 0.22 percentage points from GDP growth instead of the previously reported -0.14 percentage points.
There was more bad news about business in the Friday GDP report. Corporate profits fell for a second straight quarter, due mostly to a stronger dollar and cheap oil hurting multinational profits. After-tax profits, after adjustments, fell 8.4% in the fourth quarter, after falling 1.7% in the third quarter. For all of 2015, profits dropped 5.1%, providing the main reason for the market's net flat-lining since late 2014.
First-quarter profits for the companies in the S&P 500 are expected to be down 6.2%, mostly due to troubles in the energy sector. Ex-energy, profits are expected to be down just 0.7%, but we may see a market rally after some upside surprises when profits are actually reported starting in about two weeks. (Source for this section: "Fourth-quarter GDP revised up; corporate profits fall," Reuters, March 25.)
As of last Thursday, the Atlanta Fed projected first-quarter GDP to come in at 1.4%, but that projection was posted before Friday's positive GDP update was released. Their next forecast was March 28 so you can check with the Atlanta Fed website for their most current estimate.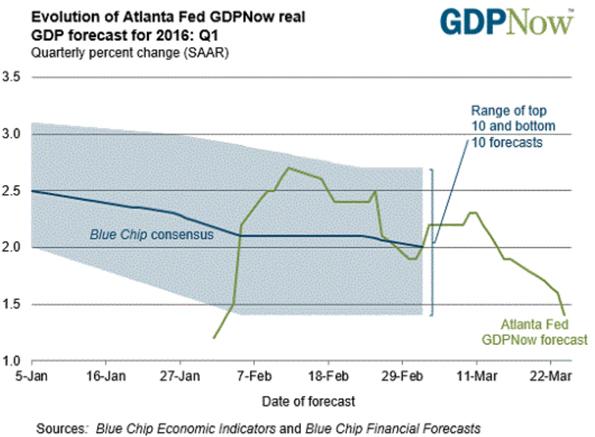 Graphs are for illustrative and discussion purposes only. Please read important disclosures at the end of this commentary.
We also got some better-than-expected growth numbers out of China. Industrial output in January and February (the months were combined because of the impact of China's new-year holiday) was up 5.4% year-over-year. Retail sales were up 10.2%, as China is moving toward promoting domestic growth over a primarily export-driven economy. (Source for China statistics: The Economist, March 19, Buttonwood.)
Long-term, China's growth has been good for the creation of more American jobs, including the sales, marketing, and distribution of all those global imports. According to economist Ed Yardeni, writing in his last Thursday (March 24) Morning Briefing, (1) "February was an awesome month for truck tonnage. The American Truck Associations' measure soared 7.2% m/m and 8.6% y/y." (2) "Imports have surged recently at the West Coast ports. Inbound traffic of 20-foot equivalent containers made a good showing during February, jumping 8.6% y/y," and (3) "Manufacturing business survey results came in strong for three of the earliest reporting Fed districts: New York, Philadelphia, and Richmond. The average of their composite manufacturing indexes shot straight up from -7.8 in February to 11.7 this month."
The stock market is still overbought, but before it makes a new upward move we need to see a wave of positive earnings surprises in April and May. The market is in a "show me" phase, and the "showing" involves real earnings growth. With earnings expected to fall, we can only hope for a "slower decline."
Disclosure: *Navellier may hold securities in one or more investment strategies offered to its clients.
Disclaimer: Please click here for important disclosures located in the "About" section of the Navellier & Associates profile that accompany this article.