McDonald's (NYSE:MCD) has generated improved same-store sales with its All-Day Breakfast initiative. A tiny part of that boost comes from me -- I like an occasional Egg McMuffin, but prefer it at lunchtime.
Since I'm visiting the Golden Arches more often, I downloaded the McDonald's app on my phone. I've also been using the Starbucks (NASDAQ:SBUX) app regularly for a few months.
McDonald's already has 7.5 million downloads less than a year after its nationwide rollout. That's pretty impressive, considering My Starbucks Rewards, which has been around since 2009 in some form, has 11.1 million users.
Let's see how they stack up:
1.) Pay System: Starbucks' app is connected to a payment system that bills a bank or credit card, automatically reloads and allows mobile ordering. McDonald's app isn't connected to a pay system yet. The company expects to add a loyalty feature to its app by next year.
Advantage: Starbucks, obviously.
2. Look and Feel: McDonald's app has a loud, red-and-gold look, not unlike the restaurants. Here is the first screen:
The Starbucks home screen has a subtle, muted look. Its most prominent feature is the number of rewards and stars the customer has earned. The messages section has a scroll.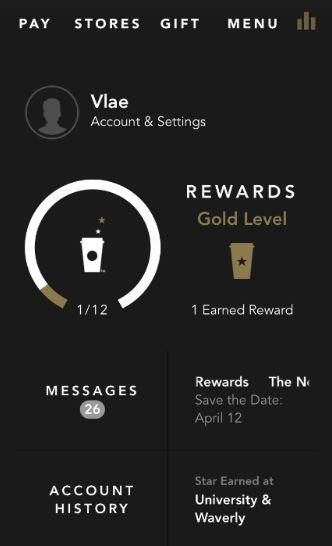 Advantage: Starbucks. Esthetics aside, it's more personalized and technically advanced.
3.) Deals. To get a free beverage or snack item, Starbucks requires 12 stars (one star per purchase, plus bonus stars for actions like mobile ordering). This is changing April 12 to a dollar value system, in part to keep customers from splitting their orders to earn extra stars.
McDonald's app includes a punch card system, in which five McCafe purchases earn a free coffee. Items other than coffee are not included. McDonald's app also offers discount coupons on other menu items.
Advantage: McDonald's, while limited, is more generous.
4.) Survey. Both companies use the apps to collect user feedback about a recent visit. Starbucks emails its surveys. If you click the link and fill it out, one star is automatically added to your account.
McDonald's puts its survey offer on its print receipts. The user has to manually enter a web address. Once you've filled out the survey, you're given a code to write on the receipt and present at the counter to receive a bonus offer. This mix of the digital and paper worlds is really clunky!
Advantage: Do I really have to say?
5) Custom offers. Starbucks sends offers via e-mail and are usually for extra stars--buy the new Ancho Chipotle Chicken sandwich, get three bonus stars. Or use the new mobile order feature, get three bonus stars.
McDonald's does not send custom orders yet. It puts coupons in the app--$1 off on a sandwich, free fries with a burger, etc. Sometimes these are frustrating. For example, the Egg McMuffin coupon only worked for the individual item, not the meal.
Advantage: Starbucks.
Final score: Starbucks 4, McDonald's 1.
Conclusion: McDonald's app is mostly just a replacement for paper coupons and punch cards along with a store locator. The company is promising big things in the next generation, but given where its technology is now, it will be difficult to catch up to Starbucks and similarly drive same-store sales.
Disclosure: I am/we are long SBUX.
I wrote this article myself, and it expresses my own opinions. I am not receiving compensation for it (other than from Seeking Alpha). I have no business relationship with any company whose stock is mentioned in this article.