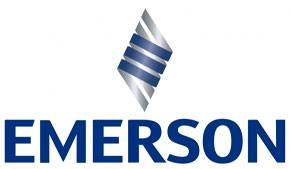 Emerson Electric (NYSE:EMR) is among those companies that have been hit hard by the volatility in the energy sector and the economic environment. The company has significantly expanded its footprint in oil and gas operations over the past five years, benefiting from the massive growth potential of this sector. At the moment, the majority of EMR's sales are dependent on the activity level in both upstream and downstream operations.
Unfortunately, EMR was pushed to its knees with the huge plunge in oil prices and subsequent business responses in the energy sector. The company generates nearly half of its revenue from the depressed energy market. After a loss of 29% inflicted on its adjusted earnings in the final quarter of 2015, earnings suffered another blow of 25% in the first quarter of 2016.
Its major revenue contributing segments are extremely dependent on growth in the energy sector. Process Management, its main revenue-contributing segment, declined 11% in the first quarter, continuing its close correlation to fluctuations in the oil and gas industry. Industrial Automation, its second largest segment, fell by 30% amid unsteady upstream oil and gas markets, general industrial spending, and demand from European markets.
In addition, the global economic environment is facing economic challenges that only further impact industrial businesses. In the latest quarter, sales from Emerson's Commercial & Residential Solutions segment dipped by 18% while its Climate Technologies declined by 13% in the first quarter of 2016.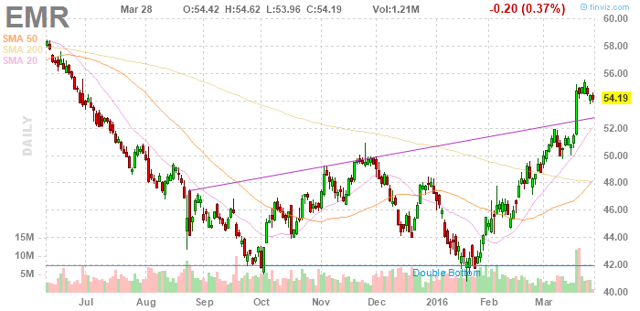 This situation has considerably impacted its share price, both in 2015 and in early 2016. However, oil prices are again stunning investors and traders by taking a dramatic U turn. Oil prices have soared above 50% in less than last 2 months. This move has provided significant relief to crushed oil & gas companies and others that rely on their output. EMR's share price has surged by more than 19% in the last two months alone, rising from its 52-week low of $42 a share.
At the moment, the company's stock is trading around $53 a share, its highest price in the last seven months. Here the question arises whether the company's stock has more upside potential, or if selling the stock at its 7-month high is a wise strategy. In my view, the principle of buying low and selling high clearly applies to EMR's stock.
I'm viewing the latest surge in share price as a tasty selling opportunity, because Emerson's business fundamentals are not improving, despite the sharp growth in oil prices. The company's stock only gained momentum on the back of bullish sentiments, rising oil prices, and soaring stock markets; physical fundamentals are still bleak for this giant. It is poised to post a high double-digit decline in earnings.
I'm not expecting oil prices to extend their rally beyond the current level. Prices are likely to stabilize around $40 a barrel, since higher prices could provoke a boost in U.S. production, which would negatively impact an already oversupplied oil market and inventories. Oil prices have significant influence on stocks like EMR, so we cannot expect any support for Emerson's stock from oil prices.
On the other hand, production and drilling activities are declining at a massive rate despite the growth in oil prices. Fifteen major producers are looking to freeze their production, while U.S. rig counts are now standing at a seven-year low following a significant decline over the past fourteen weeks. U.S. producers have slashed their investments by more than 40% in 2015 and are looking to cut planned investments by an additional 50% this year.
This is not good news for Emerson's financial performance. The output freeze and falling rig counts mean reduced drilling and rigging activities in the near future, at a time when EMR's revenue generation is entirely dependent on the activity level of oil producers.
In Conclusion
I strongly suggest that investors sell this stock after the recent massive price appreciation. Because it was based on bullish market sentiments, the boost occurred without causing any physical change in the company's future business fundamentals. The company's share price is likely to reverse its two-month gains.
Emerson is working on restructuring actions, including a spinoff of its Network Power business the potential divestitures of the Motors and Drives division and its Power Generation business. However, the company needs more time for such a major shift in its business model to have any impact. Along with slow industrial and drilling activities, Emerson's financials are poised to fall at an even higher rate than in recent quarters.
Disclosure: I/we have no positions in any stocks mentioned, and no plans to initiate any positions within the next 72 hours.
I wrote this article myself, and it expresses my own opinions. I am not receiving compensation for it (other than from Seeking Alpha). I have no business relationship with any company whose stock is mentioned in this article.