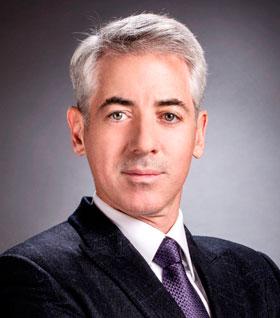 Image source: Valeant
Fellow contributor Old Analyst published an article, 18 March, which more or less concludes the end is near for Pershing Square. Pershing Square is a hedge fund managed by Bill Ackman. His seeking of the spotlights and ability to deliver investment ideas that are not just compelling on an analytical level but also on an emotional level have brought him great success, and great ridicule at times. He likes to make large concentrated investments and with one of them, Valeant Pharmaceuticals moving strongly against him, lately, he is mainly being ridiculed. It's not the first train wreck of an investment he made, remember J.C. Penney (NYSE:JCP)? Nor will it be the last but to say that the end is near for Pershing Square is hyperbole. In fact, Pershing Square Holdings (OTCPK:PSHZF), also listed in Amsterdam, doesn't look so bad as an investment. Because I take the opposite view I'll debate the points made by my valued fellow contributor one by one:
...The long predicted but yet to be realized "Mother of All Short Squeezes" has begun...

In more or less the last two weeks, Herbalife (NYSE:HLF) has been flying to the upside. It closed at $46 on February 26, had a gap opening on February 27, and has gone almost straight up since, closing today at about $61-1/2, less than 1/2 lower than the recovery high of just under $62 last August. That is a two-week gain of over 33%. It all started when HLF announced it was having conversations with the FTC about the possibility of settling. Some on this board, using what is IMO convoluted logic, predicted the very worst outcome of those conversations. The market, obviously, thinks otherwise.
First of all, I don't think it is that likely the Herbalife short squeeze will become the mother of all short squeezes. This is unlikely to develop into a Volkswagen (OTCPK:VLKAY) type short squeeze as seen in 2008, when the automaker became the largest company in the world by market cap. The situation was quite different with Volkswagen having an extremely sticky shareholder base; government and family and Porsche having secretly cornered the market. With Herbalife, the shorts see it coming a mile away.
Second, by calling this the mother of all short squeezes the author implies that the run up in price is due to tactical investments with the intent of murdering the shorts. That means we can't rely on mark-to-market to derive the intrinsic value of Herbalife stock. That's actually good news for shareholders of Pershing Square Holdings (the permanent capital vehicle). The permanent capital vehicle is highly likely to be able to withstand substantial market volatility and won't be forced into a self-destructive cycle of redemptions causing share prices to fall (or the reverse in case of shorts), causing further redemptions. If cycles like these are part of the reason for the share price movements in Valeant and Herbalife, that's good news for shareholders of Pershing Square Holdings because it means the intrinsic value of their shares could be much higher than the mark-to-market value.
In another part of his portfolio, the Valeant (NYSE:VRX) situation is very public as Ackman - more accurately, his clients - have gotten killed. Since October 2014 when Ackman launched Pershing Square Holdings (OTCPK:PSHZF), his clients have suffered losses of nearly 50% of their money. That's measured by the PSHZF stock price, not NAV, which hasn't gone down quite as much. But the owners can't get out at NAV, so their loss is the same as the stock price. And the rest of Ackman's portfolio also has lousy performance. Even though the market today reached a 2016 high, nearly all of his stocks have significant year-to-date losses.
Historically, Pershing Square Holdings has traded at a 5% discount to NAV. Currently the market has put a 15% discount on the PSHZF shares to NAV. It's not in Ackman's control what kind of premium or discount the market marks his fund. This multiple contraction can only indirectly be blamed on Ackman. By blaming it on him I believe you are discounting his recent performance twice.
On the date Old Analyst published his article the market was up 2.34% (total return S&P 500) for the year. End of February, the company held 11 longs and 1 short. I can't agree with the statement that nearly all of his stocks have significant year-to-date losses. Out of the eight longs shown below, three of them show a positive return. The short position, Herbalife, is of course a loser as well. Finally, there are the Fannie Mae (OTCQB:FNMA) and Freddie Mac (OTCQB:FMCC) investments which are something of a special situation. They are down for the year as well and if they take up another two of the longs spots we are left with one unknown long. Of the three winners, Air Products and Chemicals (NASDAQ:APD) is the largest position of Pershing Square and it shows quite a significant gain for the year.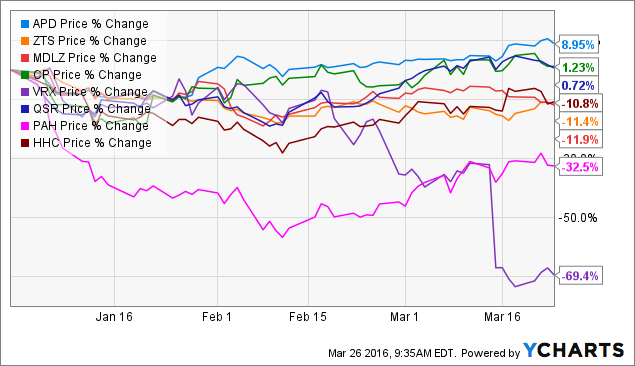 I'm guessing that is the worst investment performance of any major professional investment manager in the world.
Possible, although Glenn Greenberg of Brave Warrior Capital could potentially give Ackman a run for his money with his 25%+ allocation to Valeant.
The Wall Street piranhas are all over Pershing Square. Essentially, hedge funds and Wall Street trading desks like nothing more than attacking a struggling opponent. They will short Ackman's longs and buy his short, trying to put downward/upward pressure on prices that will pressure Ackman to sell/buy, which puts even more pressure on those stocks. And, even though it is a slow process, client defections will put pressure on Ackman to liquidate positions, which will cause even more pressure on his stocks. Yes, it will be a death spiral.
By the author's own admission, clients can only take out ⅛th of their capital out of the fund. In addition, a substantial amount of Pershing's funds is employee money (tends to be very sticky). Then there is the permanent capital vehicle. Pershing will have to liquidate some stocks on redemption but at the ⅛th rate, assuming a % of sticky funds and the highly liquid nature of big parts of Pershing's portfolio it's very hard to cause a bank-run scenario on Pershing Square. There are much easier targets like the Sequoia fund which also has a monster allocation to Valeant.
Ackman says he isn't leveraged and never has been. Maybe that's true technically. But, he almost always uses options, swaps and other derivatives in his portfolio. And, when he launched PSHZH, he simultaneously sold $1 billion in bonds to enhance the portfolio. Here's an example of how Ackman uses leverage.

To me, all of the above is "leverage", but maybe others think differently. If I'm right, the stock price declines Ackman is having throughout his portfolio will be magnified.
I'm not sure where Ackman said he isn't levered, he obviously employs options and has issued bonds. This is no secret. The short position in Herbalife theoretically exposes the firm to unlimited losses but the purchased calls and puts do not. These do intensify the firm's volatility within a set time period. If you believe Ackman delivers alpha, and are ok with high volatility, the use of these is a positive. If you believe Ackman delivers no alpha or want little volatility, you shouldn't invest in his fund/vehicle in the first place. These positions may keep arbitrageurs away though and explain the discount, as it is very hard to capture the spread between Pershing Square Holdings and its underlying assets without taking on significant risk.
The $1 billion in bonds are due in 2022 which is 6 years from now. The coupon is ~5.5% and unlike margin debt the bonds don't have mark-to-market covenants which would force Pershing into forced sales due to equity declines.
Withdrawals at Pershing Square aren't currently being maxed out. The WSJ reported that roughly 2% of Pershing Square's assets were withdrawn this quarter. The withdrawals amounted to 17% of the maximum amount that could be withdrawn and that's actually below the fund's historical redemption rate. On top of that, part of the redemptions were tax-driven withdrawals by employees. To be fair, these figures are from before the latest shock to Valeant's stock so redemptions can reasonably be expected to spike up but we are a far cry from a bank-run.
Old Analyst makes the additional point Ackman is in trouble with the institutions invested in his fund. However, I'm not so sure it's wise for an institutional investor to pull funds after a sharp decline in share price. First they made the investment, possibly predicated on the long-term track record of Ackman who delivers value through a clearly communicated strategy of taking highly concentrated positions in public companies and campaigning for change. This is an inherently volatile strategy. It's hard for me to believe one can be responsible for the allocation of capital at the institutional level and not realize that a portfolio of 11 longs and 1 short using options and leverage is going to show some shocking short-term results at times. You wouldn't deserve your job. The amateur decision is to leave these managers on their darkest days.
All this matters to Herbalife because Ackman's HLF investment is now a very small part of his portfolio. And it's getting smaller by the day as his losses pile up. He has much bigger problems than Herbalife, and I would suspect that only his ego - not his investment judgment - would keep him in his HLF short. If I'm right that he sold Mondelez to raise cash to pay for the upcoming redemptions, it would be a logical next step to eliminate one of his smallest and rapidly losing positions to prepare for the next redemption round. That would mean covering HLF.
The way my shorts move is that they become a bigger liability when they run against me. So from that perspective it is becoming a bigger problem. It does not make sense to me to liquidate a position where, as the author has argued before, the price move is caused by a short squeeze or a form of "market manipulation." That way you are almost certainly transferring value from Pershing investors to their adversaries. It would be much wiser to sell large liquid, stalwart type stocks like CP, Mondelez (NASDAQ:MDLZ) (as Ackman is doing) and QSR that are much less likely to be completely misjudged by the market and where a sale would result in the capture of something in the neighborhood of a fair price.
Investment performance is horrible. Not just bad... horrible. Clients can't live with that. Using PSHZF as a proxy, he launched that fund in October 2014 at NAV and price of $25/share. It went up a bit in the few months immediately following launch. At a current price of $13, he is down 48% since launch and more than 50% from its post-launch high.
Rather than cherry picking a period of underperformance it may be instructive to review Pershing Square's complete history. Results are 1) fabulous: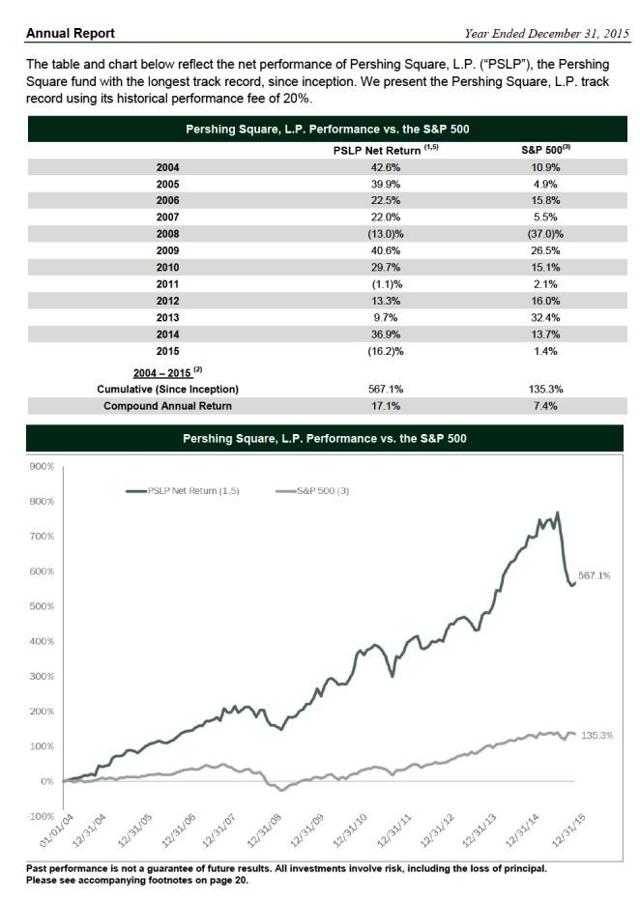 Source: Pershing Square Holding annual report
2) Based on a strategy that is likely to deliver alpha and where it is reasonable to assume it is sustainable, activism.
3) You are getting your exposure without being exposed to the incentive fees (he can't charge them for a while) that have historically "depressed" Ackman's results to the track record shown above.
Ackman is out of his sweet spot. He seems to have succumbed to a classic portfolio manager failing. What worked at asset level A doesn't work as well or at all at asset level 3 or 4 times A. He sold his clients on him being a focused activist. But think about it. Lately, he has been buying smaller percentages of larger companies, so his leverage over the company is smaller than ever. For just two examples... Ackman took a $5.5 billion initial position in Mondelez, but got only 7.5% of the company. His original position in Valeant was only 5.7% for $3.3 billion. He bet a huge percentage of his total assets in only two stocks where he owns less than 10% of each. It's hard to be a real "activist" when you own less than 10% of a large company.
Both ValueAct and Carl Icahn have shown that you can be a real activist without owning 10%. Just think of their campaigns at Microsoft (NASDAQ:MSFT) and Apple (NASDAQ:AAPL). Remember those letters of Icahn asking for share buybacks? Well, he got them.
Today, Pershing Square is more or less just like any other hedge fund that buys stocks it thinks will go up and shorts stocks it thinks will go down. Ackman's activism has essentially stopped. He sold his clients on his skill as an activist, but now he has the bulk of his assets in only two stocks where his ability to be a real activist is minimal.
I would say he has the bulk of his assets in at least 3 and arguably 6 stocks. In addition, Pershing Square has board seats at: Zoetis (NYSE:ZTS), Canadian Pacific Railway, Valeant Pharmaceuticals, Platform Specialty Products (NYSE:PAH) and Howard Hughes Corporation (NYSE:HHC). Pershing Square has board seats overseeing almost its entire long allocation.
Ackman's history with his first hedge fund, Gotham Partners, is eerily similar to his current investments and instructive. At Gotham, after several years of great performance with relatively small positions, his assets grew dramatically, from $50 million initially to over $300 million. His performance was tied to great smaller bets on unusual situations. Then, he invested a huge percentage of his larger portfolio into illiquid golf courses. He was out of his sweet spot as he'd never before invested in illiquid assets. The golf courses failed and it brought down his company. At Pershing, Ackman built a fabulous record at an AUM of $5 billion to $10 billion, then he doubled his assets and totally changed his investment approach. I believe Pershing, too, will fail.
Perhaps because of Gotham Partners, Pershing Square's structure is very different. It is also a stretch to call anything but the smallest of Pershing's positions illiquid.
I don't believe the current turmoil Ackman finds himself in signals the end of his investment career or even the end of Pershing Square. Instead, I believe the short squeeze and hedge fund trading may have created an opportunity for the long-term investor who doesn't lose his head over short-term price fluctuations, to take a position in Pershing's portfolio companies at a discount by buying shares in Pershing Square Holdings.
Disclosure: I/we have no positions in any stocks mentioned, but may initiate a long position in PSHZF over the next 72 hours.
I wrote this article myself, and it expresses my own opinions. I am not receiving compensation for it (other than from Seeking Alpha). I have no business relationship with any company whose stock is mentioned in this article.