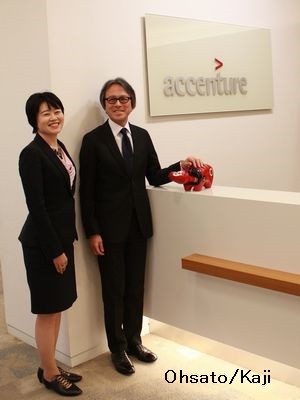 Accenture (NYSE:ACN) recently released its FQ2 earnings report, giving us much insight into the company's fundamentals moving forward into FQ3. Today, we look at how this new information might change your opinion of the company and the stock. Let's dive into the main issue (in my opinion): How forex has affected revenue.
Forex and Revenue
Anyone investing in ACN should be aware of the forex issue. While revenue growth is up in every country, revenue is actually down once you run the currency exchange. In the FQ2 earnings report, we learned that revenue actually grew 12%, which is significant for any company.
This month we saw the sixth consecutive quarter of double-digit revenue growth. However, because this revenue is in local currencies, it will be weakly reflected on the balance sheet of ACN. The 12% growth in local revenue only translates to a 6% revenue growth in USD. Still, this 6% beats ACN's own forward guidance from last quarter.
In addition, consulting has been in growing demand. Consulting revenues are up 18% in the local currency and 12% in USD. And outsourcing is up 6% in the local currency and 0% in USD.
The takeaway should be that ACN is successfully growing in foreign countries, and that growth is still spilling over into the US balance sheet. Quarterly revenue growth is up and should continue upward during this time of currency wars. Eventually, the forex issue will work itself out and that growth will come back as a huge asset for both the company and the shareholders. Still, going forward, ACN is likely to see a negative 5% forex effect on its USD revenue.
FQ3 Seasonal Outlook
Holding during this time is statistically a good idea: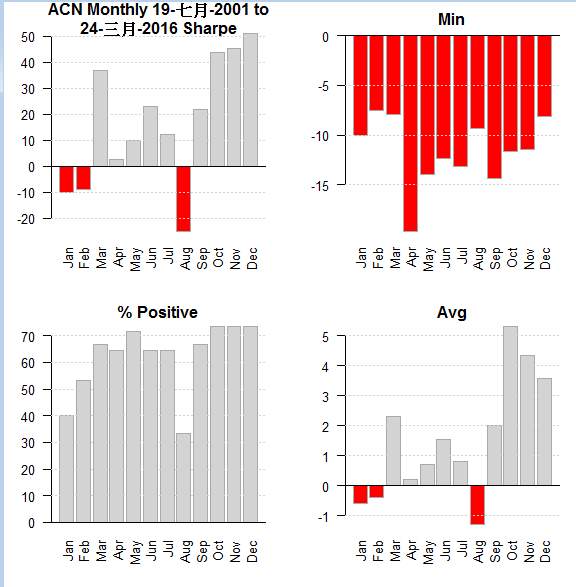 The March-to-July seasonality of ACN is generally strong and should yield holders 5% ROI on average. Investors not holding now will have to decide whether to miss March, typically the best month, and enter April, missing out on roughly 2% of the 5% ROI. However, buying in April will give us access to half of ACN's dividends.
But at this point, we shouldn't care that much about ACN's seasonality, as we only have three weak months in the year and because we already missed the nice March post-earnings pop. The fundamentals, however, can tell us a lot about what to expect moving forward.
What We Learned from the FQ2 Earnings Prediction: How to Predict Earnings
In my Exposing Earnings Newsletter, we nailed it on Accenture. Watch the video below for a quick explanation of how we analyzed ACN prior to earnings.
The main idea behind the prediction was that the fundamentals and true seasonality of ACN showed FQ2 to likely be a very strong quarter for the company. I believed that true seasonality was different than analysts' perceived seasonality, which implied a lower EPS in FQ2 than in FQ1.
In addition, I believed that analysts were putting too much weight on forex issues. Yes, forex has been hurting ACN since 2015, but the company was still growing: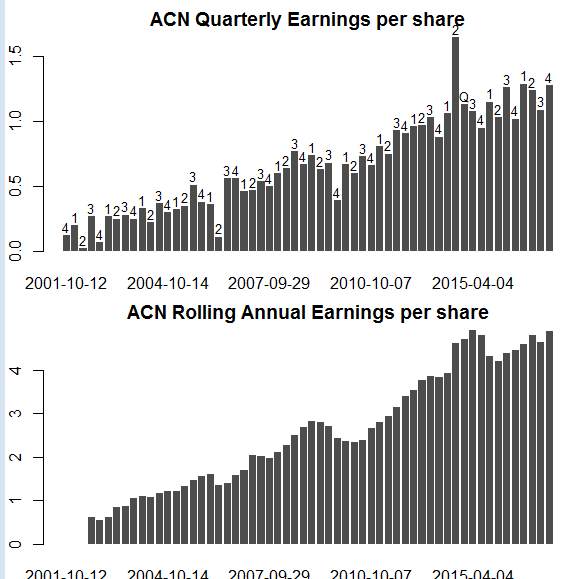 In addition, because of the significant amount of offshore labor, ACN actually stood to gain from Forex issues, offsetting much of the post-conversion revenue loss.
Now that FQ2 earnings are out, we take this opportunity to look at ACN moving forward.
Overall
ACN has proven its ability to fight against forex headwinds and continually increase its revenue. With a six-year track record of consistently increasing its dividend, ACN is on track for another dividend hike later this year. Whether you're looking for a growth stock or a dividend grower, you can add ACN to your portfolio or watchlist with confidence.
The high price of this stock might dissuade some potential investors, but I expect a split somewhere down the line to make this stock more appealing to new investors. Moving forward, ACN will focus on risk reduction and cost reduction, as indicated by its decision to scrap their US pension plan. More importantly, digital cloud and security are quickly gaining ground in their revenue makeup - approaching 50% - and should improve their overall margins and bottom line.
If I had to sum up ACN in one phrase, it would be "a low-risk, high-growth stock fogged from the investors' eyes by temporary forex problems."
Sidenote: Outcome of the Earnings Prediction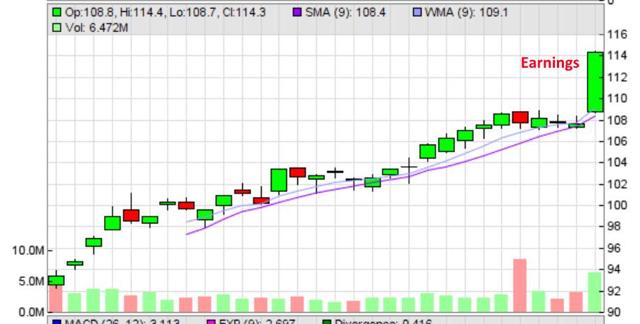 We expected a strong earnings surprise, and that expectation was met. I wanted to have some skin in the game, so I bought the May 110 call option I recommended in Exposing Earnings:

Request an Article
Because my articles occasionally get 500+ comments, if you have a request for an analysis on a specific stock, ETF, or commodity, please use @damon in the comments section below to leave your request.
Disclosure: I/we have no positions in any stocks mentioned, and no plans to initiate any positions within the next 72 hours.
I wrote this article myself, and it expresses my own opinions. I am not receiving compensation for it (other than from Seeking Alpha). I have no business relationship with any company whose stock is mentioned in this article.