Last month JAKKS PACIFIC (NASDAQ: JAKK) announced successful financial results for the FY15. Despite the drop in net sales, which fell to $745.7 million in 2015, t he company managed to improve its major businesses and achieved a net income of $23.2M or $0.71 per share, which is higher in comparison with FY14. Its adjusted EBITDA also increased to $50.9M and beat analyst expectations.
For the Q4, net sales of the company were $163.4 million, which represented a decrease of 35.67% in comparison with the same period last year. Net loss amounted to 9.4 million, or $ 0.50 per share. The company's losses were due to large cost of advertising. Adjusted EBITDA amounted to negative $2.1 million in 2015, compared to $10.6 million in 2014. Operating margin increased by 4.09% in compared with 2014. In this regard, approximately 1,547,000 common shares were repurchased until the end of Q4 for an aggregate cost of $ 13.2 million.
I believe that the poor performance of the 4th quarter is a great chance for the company to redeem itself and show that 2016 will be different. In the coming months JAKKS aims to release 31 inch toys that were popular among consumers last year. Management of the company immediately noticed the great demand and decided to increase its release schedule for those toys. I believe that a great demand for old-new products will increase the company's profit in the coming quarters.
What can we expect in 2016? The rest of 2016 promises to be complex and rich in terms of goals and plans. Last year JAKKS signed an agreement with the LEGO Group, which gives the right for the company "construct" children's Halloween costumes of the LEGO Universe. Also, the company will expand sales channels of Disney figurines, which were in shortages. Other important thing that occurred with JAKKS and will give it a great push forward is its license agreement to produce toys in Alice in Wonderland saga. All of this will certainly stir up the interest. In addition, the company re-launched the brand Real Construction which was very popular among the young demographics and added new products and applications. It seems that 2016 will be a very busy for JAKKS. Isn't it? Also, the company has a strong lineup of new toy-based feature films such as Superman vs. Batman: Dawn of Justice, Teenage Mutant Ninja Turtles: Out of the Shadows, Captain America: Civil War and Finding Dory. I believe that those franchises will help JAKKS to perform better last year and beat 2015 results. And to restore the investors' confidence, the company has plans to cash in on the world of Nintendo( OTCPK:NTDOY) and bring new experience to the consumers thanks to the diversified portfolio of franchises that the Japanese giant has. The signing of a contract with Nintendo is also a sign that the Company is ready to conquer the Asia-Pacific market.
According to the latest JAKKS statement, the management predicts that net sales in the coming quarter will increase approximately 7.0 percent. And the forecast adjusted EBITDA is $53 million. Also, despite the bad report of the Q4, most analysts predict a bullish tone:

Source: marketwatch.com Most of the analysts believe that JAKKS should be traded in the range of $7.5 to $11 per share. They also forecast EPS of $0.78 per share, which is smaller in comparison with the company's own outlook by $0.02. If you're a conservative investor like me, I recommend you to buy the company's shares, but don't forget to hedge your position by using options and apply the covered call strategy. So if we believe that JAKKS should be traded around $9.50 (average for the analyst expectations) and its liquidity doesn't exceed 50%, then by having the price of options of $2-$3 at their expiration dates, we would get this situation: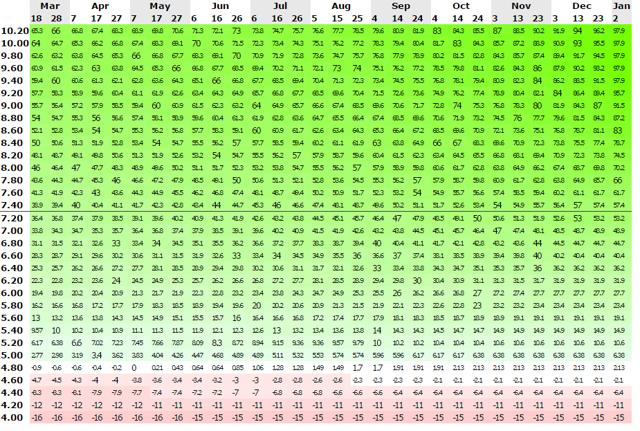 Covered-call strategy
By this stimulation, the break-even point will be around $5 and the maximum risk of $492.9 at initial cost of $230. So if JAKK stock price will go up, which according to the facts I presented above should rise, then you would make a good profit for yourself. If something goes wrong, you still have your options that will be your hedge against the falling share price.
Supporting Documents
Disclosure: I/we have no positions in any stocks mentioned, and no plans to initiate any positions within the next 72 hours.
I wrote this article myself, and it expresses my own opinions. I am not receiving compensation for it (other than from Seeking Alpha). I have no business relationship with any company whose stock is mentioned in this article.