Introduction
With the huge surge in smartphone growth over the past decade, one company that has benefited strongly is ARM Holdings (NASDAQ:ARMH) - the world's leading designer of processor chips.
If you had bought shares in ARM Holdings back in 2006, it is likely that you would now be sitting on a "10 Bagger" - the shares having risen from just over 100p in 2006 to around 1000p today.
However, in recent quarters, smartphone growth has shown signs of stalling and many related tech companies have been sold off as a result. ARM has not escaped this - its share price falling back below 900p in February from a high of 1200p in 2015.
With ARM's price to earnings ratio falling from a high of over 140 in 2014 to around 40 now, I figured that now is a good time to take a look at the company and see what the future holds for this growth stock.
Company Description
ARM Holdings is the world's leading semiconductor intellectual property company by revenue.
Headquartered in Cambridge, UK, the company was spun off from Acorn Computer in 1990.
ARM has a primary listing on the London Stock Exchange and a secondary listing on the Nasdaq.
ARM develops and licences technology that is at the heart of many of the digital electronic devices sold each year, including smartphones, tablets, sensors and servers. Key customers include Apple (NASDAQ:AAPL), Samsung (OTC:SSNLF) and Qualcomm (NASDAQ:QCOM).
In 2015, around 32% of all smart electronic devices contained ARM technology.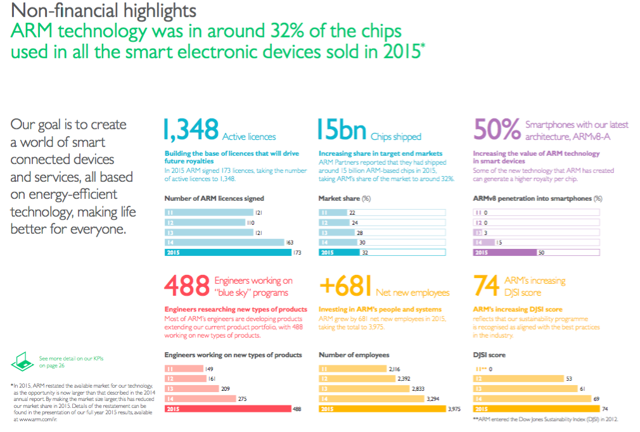 Source: ARM Holdings
One of the key features of ARM Holdings is their highly efficient business model. ARM doesn't actually make any silicon chips - they simply design the chip technology and then license out the technology to chip makers for an upfront fee followed by a series of royalty payments. It's a business model that generates high levels of cash flow with very little capital expenditure or debt.
ARM currently receives a large proportion of their revenues from smartphone chips. The company has made impressive inroads into the smartphone market with approximately 50% of smartphones sold in 2015 containing ARM technology.
After a very strong period of smartphone growth over the last five years, analysts are now questioning whether this growth can continue. Apple iPhone sales appear to be flat lining -
sales of 74.8 million phones in the final three months of 2015 only just beat 2014's figures of 74.46 million phones.
Consequently, the market appears to be pricing in lower levels of growth for ARM Holdings going forward.
However, ARM's 2015 Annual Strategic Report paints a different picture. While smartphone revenues are indeed a large proportion of revenues for the company, ARM is pursuing growth opportunities in networking, servers and the Internet of Things (IoT).
If the company can achieve its targets in these areas, I'm convinced that ARM will continue to be a big player in the rapidly changing world that we live in.
Financials and Ratios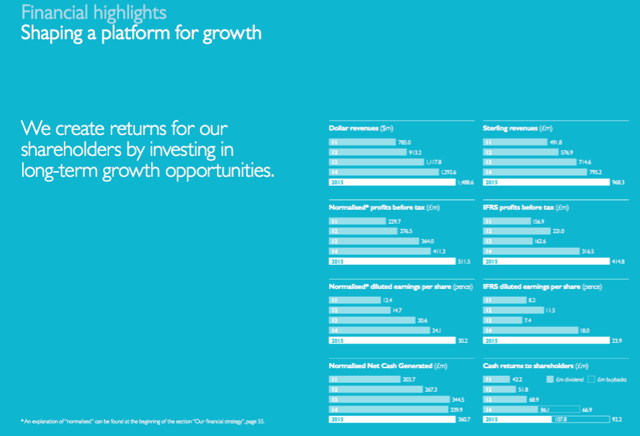 Source: ARM Holdings
Starting with revenues, we can see that the company has an outstanding record of revenue growth. 5-year compounded annual growth - CAGR - is just below 19%. This is an impressive figure, but we must remember that smartphones have seen a huge explosion in growth during this time period.
Even more impressive is the earnings per share - EPS - growth, growing from 7p in 2010 to 25p in 2015, a CAGR of almost 29%.
This enhanced growth rate has been propelled by margin growth, with both operating margins and profit margins showing almost perfect growth records.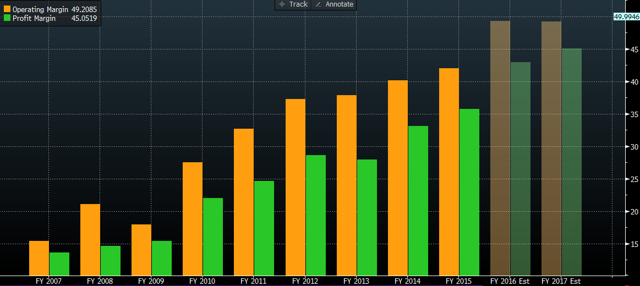 Source: Bloomberg
With such strong growth rates, it's no surprise that ARM Holdings has traditionally traded on a very high price to earnings (P/E ratio) multiple. Indeed, over the last 5 years, the average P/E ratio (on a quarterly basis) for ARM has been approximately 72. In early 2014, it was as high as 143.
While I don't mind paying a higher P/E ratio for a quality company with a consistent track record of growth, I have never been able to justify paying sky-high multiples for ARM Holdings in the past. I'm sure I'm not the only investor who has looked at ARM and put the stock in the "too expensive" basket.
However, all that has changed recently, as can be seen in the charts below.
I have included 5 and 10-year charts showing relative price to earnings, price to sales and price to free cash flow ratios.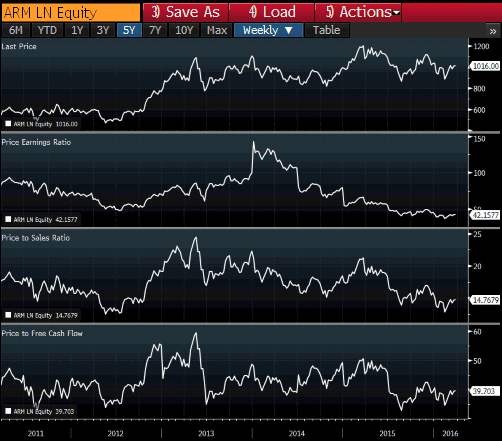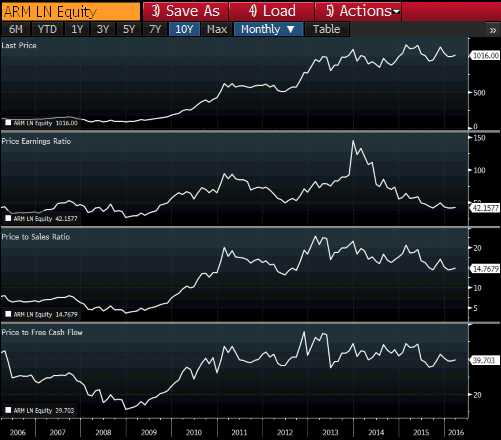 We can see from the 5-year chart that the P/E ratio is at the lowest point in five years and back to where it was in 2009. Similarly, the price to sales ratio is back to 2012 levels. And the price to free cash flow ratio is down considerably from its highs in 2012.
The charts suggest that while revenues, earnings and free cash flow have continued to grow, the share price has not kept up.
With consensus earnings estimates of 29p forecast for 2016, that would place ARM Holdings on a prospective P/E ratio of under 35. That's a level not seen since 2009 - the dark days of the financial crisis. While this figure is still quite high in an absolute sense, on a relative basis for ARM Holdings, it's quite low.
Another key feature of ARM Holdings is the cash flow the company generates. The chart below shows ARM's strong record of cash generation.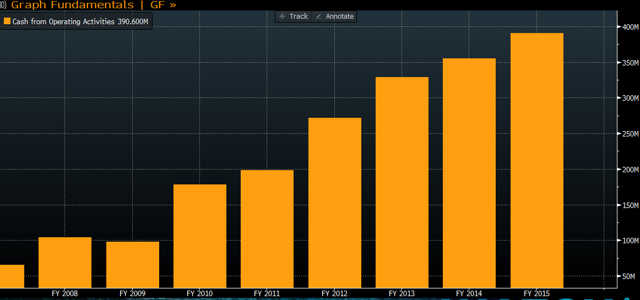 Furthermore, ARM is sitting on a huge pile of approximately £1 billion cash. This gives the company options, in terms of increasing the dividend, buying back shares or pursuing other growth avenues.
The company has very little debt with a debt to equity ratio of just 0.63%.
ARM pays a small dividend, which while increasing at a decent rate (5-year CAGR of 25%) is still low at a yield of just below 1%. I would expect to see this continue to grow going forward.
Bull Points
For anyone interested in ARM Holdings, I would highly recommend reading through their 2015 Annual Report.
It gives an impressive overview of the company and an exciting look into the future of both ARM and the technological advances of the world.
According to ARM, in 2015, approximately 750 billion silicon chips were manufactured. Of these, 47 billion contained a processor. The processor is the brain of the chip and controls the operation of the product that the chip goes into. ARM technology could be found in approximately 15 billion chips - a 32% market share.
ARM estimates that the total value of chips with processors sold in 2015 was around $115 billion, and that by 2020, this figure is expected to grow to around $150 billion.
While smartphone improvements in the next few years will mean that the phones require more processing ability, smartphone unit growth is expected to slow to around 7% in the next few years.
ARM fully acknowledge this, and to offset the maturing of the smartphone market, the company is concentrating on three other keys areas - networking, servers and the Internet of Things .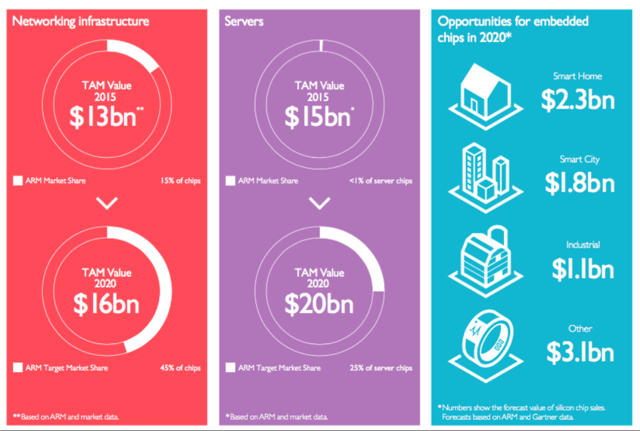 Source: Arm Holdings
Networking infrastructure equipment moves data around the world. It includes mobile phone base stations, Wi-Fi hotspots, corporate networks, cable and satellite TV distribution, video-on-demand servers and the entire infrastructure of routers and switches that connects the internet together. A huge number of chips are needed within the systems. While ARM currently has a 15% share of this market, they are looking to boost this to a 45% share by 2020.
Servers are another potential growth area for ARM. The opportunity here is very large and while ARM admits that there will be strong competition from well-established companies such as Intel (NASDAQ:INTC), they also believe that changes in the server market are creating opportunities for new types of chips that ARM's customers plan to target.
ARM currently has a low market share of below 1% here but is targeting a market share of 25% of server chips by 2020.
The other main growth area for ARM is in 'embedded intelligence' - connecting billions of smart sensors into the Internet of Things.
The IoT is a potentially huge market consisting of billions of sensors and devices all connected together, embedding intelligence into industrial automation, transport systems, national energy grids and our homes.
Many of the products and services we use every day are enabled by small smart microcontrollers. These microcontrollers can be found in air conditioning systems, elevators, TV remote controllers and even electronic passports.
During 2015, this market grew at 40% to 5.5 billion devices.
The key here is that, unlike in servers, in this market, there's relatively low barriers to entry and ARM is well positioned - having already licensed their technology to many companies that sell microcontrollers.
ARM currently has a 25% share of the microcontroller market and a 60% share of the wireless connectivity chip market.
So while smartphone growth may indeed be tailing off, ARM has a clear growth strategy in place here to ensure they are not left behind.
The company has been adding headcount with new engineering teams building products specifically for markets beyond mobile.
ARM spent £215 million in 2015 to broaden and extend the product portfolio and a further £74 million was also spent on acquisitions to accelerate product development and create new revenue streams for adjacent markets.
By investing in R&D now, ARM is focused on securing greater long-term returns for shareholders.
Q4 results announced in February were solid, with revenues up 14% in USD terms and up 19% in GBP terms from 2014. Earnings per share were up 14%. Operating expenditure was higher as the company boosted headcount for networking, servers and other non-mobile applications. The company noted strong demand for advanced ARM technology and a robust opportunity pipeline for 2016.
Bear Points
The biggest concern for ARM holdings is the possibility that smartphone growth trails off and revenues suffer as a result. With smartphone revenues making up a large proportion of current revenues, this is a genuine concern.
There's also the possibility that ARM cannot achieve the penetration they desire in the networking and server markets. For example, Intel has a very strong position within the server market, and ARM may struggle to contend.
Margins may also shrink as the company increases expenditure in the form of headcount.
However, I believe most of these issues are already factored into the share price.
Chart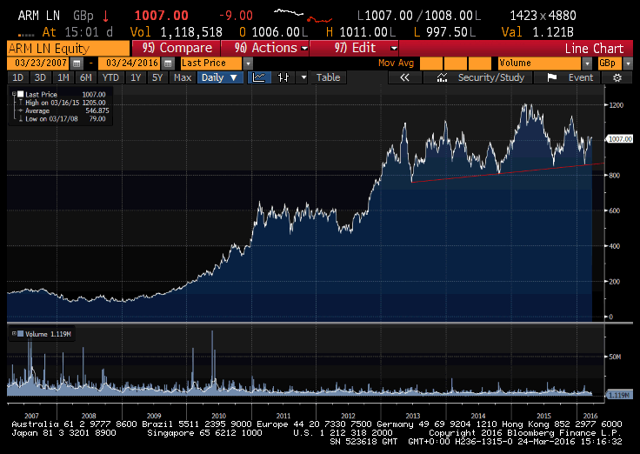 Source: Bloomberg
If you had bought ARM stock during the financial crisis, you would be pretty happy with the return by now.
However, if you had bought the stock in the last few years, you might not be as happy, as the stock has effectively traded in a wide 800p-1200p range since 2013.
It feels like the market is not quite sure what comes next for ARM with the bulls happy to buy when the stock falls to 800p and the bears selling when it hits 1200p.
If I was looking to buy ARM, I would be patiently targeting the area around 900p. I would wait for the next bout of market volatility and then look to pounce when the share price approaches the trendline I have drawn on the chart.
I believe that that area would provide a good reward to risk opportunity.
Conclusion
ARM Holdings is a quality company with an excellent business model, a strong record of earnings growth and a focus on creating long-term shareholder value.
Due to the company's strong past performance from smartphone chips, ARM has traditionally traded on very high multiples.
With smartphone growth beginning to trail off, investors are now pricing in lower levels of growth for ARM going forward.
While ARM has a strategy in place to offset the lack of smartphone growth, it would appear that the market is making overly bearish assumptions in terms of the market share gains that ARM can achieve in servers and networking.
However, with the forecast P/E ratio under 35, the stock is now starting to look interesting.
For investors looking to add a quality growth stock to their portfolios, I would be keeping a close eye on ARM Holdings and looking to buy around 900p.
Disclaimer: I have no holdings in ARM Holdings.
Disclosure: I/we have no positions in any stocks mentioned, and no plans to initiate any positions within the next 72 hours.
I wrote this article myself, and it expresses my own opinions. I am not receiving compensation for it (other than from Seeking Alpha). I have no business relationship with any company whose stock is mentioned in this article.