A "Stamp" that you don't want to collect, into your portfolio, is Stamps.com (NASDAQ:STMP)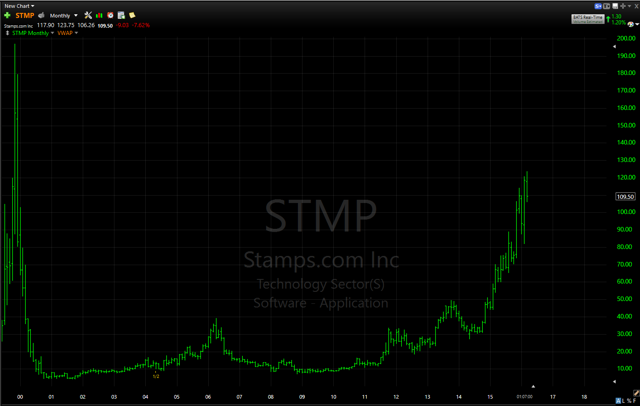 Source: worden.com
"Why?" you ask, "It's in a bull market!"
Indeed, it has been. Currently, STMP is seen as a "growth" stock. However, one must think about what it sells.
"Stamps.com Inc. provides Internet-based postage solutions in the United States. It offers solutions for mailing and shipping various mail pieces..."

Source: Yahoo Finance
Simply, it sells stamps, or postage, over the internet that one can then print instead of running down to the post office.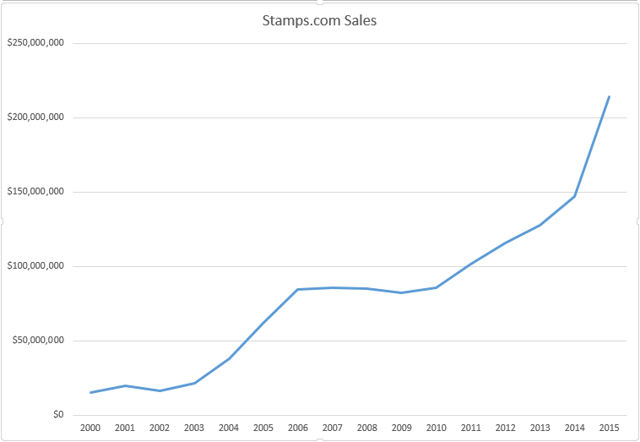 Source: I-metrix
The sales growth looks impressive. But, and here is the inevitable "but", it has not come from organic growth, instead STMP has simply bought other companies.
"On June 10, 2014, we acquired 100% of the outstanding equity of Auctane LLC, which operates ShipStation"

"On August 29, 2014, we acquired 100% of the outstanding equity of Interapptive Inc., which operates ShipWorks"

"On March 22, 2015, we entered into a Stock Purchase Agreement... with... Endicia ("Endicia"), and Newell Rubbermaid Inc., a Delaware corporation ("Newell")."

Source: STMP's 2015 Annual Footnote #3
STMP gave the following "pro forma" tables on page F-19 of its 2015 annual report.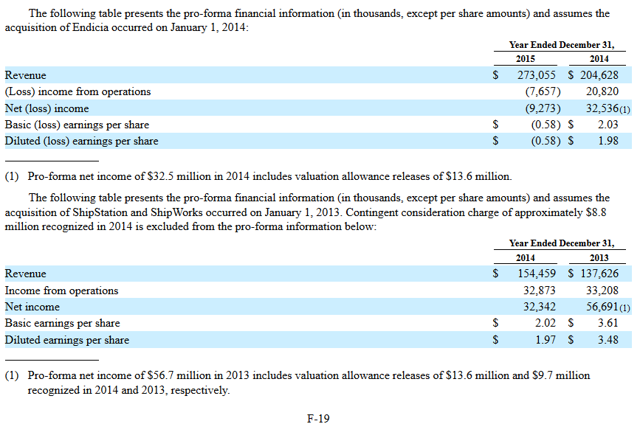 Here is a portion of the press release for the "Endicia" acquisition:
"Stamps.com® today announced that it has entered into a definitive agreement with Newell Rubbermaid Inc. for Stamps.com to acquire Endicia, a wholly owned subsidiary of Newell Rubbermaid, for $215 million in cash... Endicia had approximately $59 million in revenue during fiscal 2014."
That is a Price/Sales (P/S) ratio of $215/$59 = 3.644
Also, notice that in 2014, after the "ShipStation" and "ShipWorks" acquisitions, that pro forma revenue was $154,459. Then after the "Endicia" acquisition the pro forma revenue was $204,628. However, the press release reported Endicia having revenues of about $59 million, or $59,000, expressed in thousands, in 2014.
Now $154,459 + $59,000 = $213,459 (in thousands)
But, STMP's pro forma revenue number, given in their annual report is $204,628. That is $8,831 less than what one would expect. Hmm...
Were the other parts of STMP having slowing sales?
Remember, STMP paid 3.644 P/S for the Endicia acquisition. Look at the Price/Sales and Price/Book of STMP.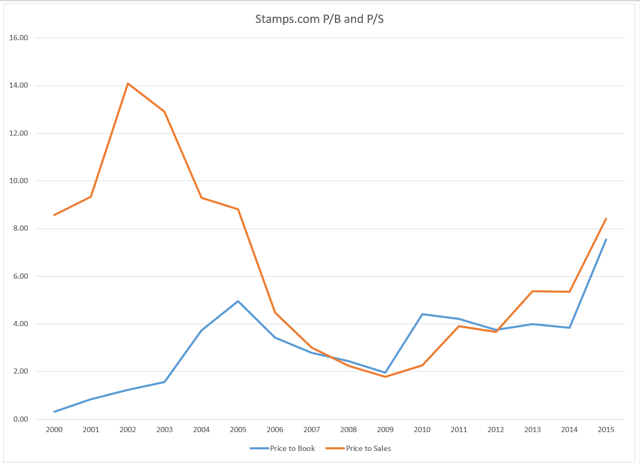 Source: I-metrix
Currently, STMP has a Price/Book ratio of 7.54 and a Price/Sales ratio of 8.42. Dr. Damodaran shows an average P/S of 3.46 for retailers (online). STMP bulls might argue that the company should have a software application P/S multiple of 4.90. I do not find this argument compelling, since the company sells stamps online. Also, it just made a major acquisition of a competitor with a P/S ratio of 3.644, which is much closer to the industry average of 3.46. Using the pro forma revenue numbers $59,000/$204,628 = 28.8% of STMP's sales.
The company itself even identifies itself as an internet retailer in a press release:
"STAMPS.COM NAMED TO INTERNET RETAILER'S TOP 500 GUIDE FOR 2015"
Either Newell Rubbermaid's investment bankers made a gross mistake in their valuation of Endicia or the "market" is making a gross mistake currently.
Also helping me think that the "market" is making a mistake, comes from looking at STMP's operating cash flows.
| | | |
| --- | --- | --- |
| Year | 2014 | 2015 |
| Operating Cash Flows (1,000's) | $51,725,000 | $46,116,000 |
Source: I-metrix
STMP has been saying don't look at their negative GAAP earnings but their pro forma earnings, which exclude one-time adjustments. However, operating cash flows also do not worry about non-cash one-time charges and despite the revenue growth, there was no "growth" in operating cash flows in 2015. There should be operating cash flow growth in a healthy company.
Also, look at the quarterly cash flow in 2015 compared to 2014. Only one quarter had Y-o-Y growth, Q2 2015. The acquisition of Endicia was completed in November of 2015, which also showed declining operating cash flow from the previous year, when "ShipWorks" and "ShipStation" were acquired.

Source: I-metrix & Author's calculations
One can also look at STMP's competitor Pitney Bowels (NYSE:PBI), which sports a Price/Sales ratio of 1.12.
Investment bankers, and activist hedge funds, maybe you should go tell Pitney Bowels to spin off its division that most resembles STMP and receive the higher P/S multiple to "unlock" shareholder value.
I also found a European firm, Neopost S.A. (OTCPK:NPACY), which shows a Price/Sales ratio of 0.62. The liquidity for this firm looks very poor, for its US listed ADRs, but maybe European readers could find it useful and liquid in its home market.
In the end, I believe a compelling case can be made that STMP should have a much lower Price/Sales multiple, based upon the average multiple of online retailers, with the company itself identifying as an internet retailer, the Price/Sales multiple of the most recent acquisition, and the lower Price/Sales multiple of competitors.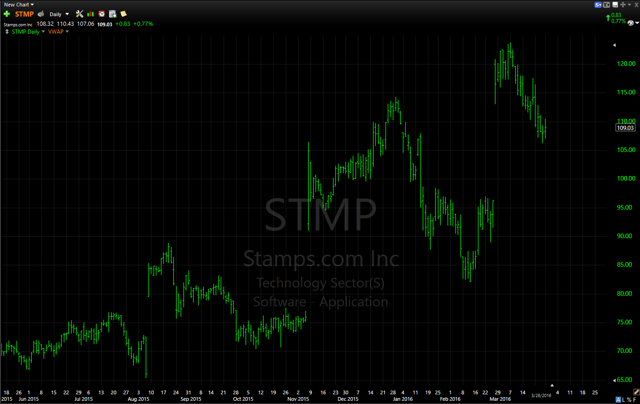 Source: worden.com
Currently, STMP is trading up with each earnings release as traders "believe" the pro forma numbers. However, operating cash flows are showing a different story. This is a dangerous stock to short currently, because Wall Street is still in love with the "growth" story, but insiders are not holding onto their stock for the long term.

Source: I-metrix
If long, consider hedging with options. Also, consider tilting towards competitors with better value and cash flow metrics if your investment mandate includes this industry. High risk, speculators put this on a watch list to short eventually. When the market figures out that the growth is from bolting on other competitors, and the pro forma numbers begin to get disregarded, look for that 8.42 Price/Sales ratio to mean revert back towards 3.5.
It will get ugly when this "growth" story ends.
Disclosure: I/we have no positions in any stocks mentioned, and no plans to initiate any positions within the next 72 hours.
I wrote this article myself, and it expresses my own opinions. I am not receiving compensation for it (other than from Seeking Alpha). I have no business relationship with any company whose stock is mentioned in this article.
Editor's Note: This article discusses one or more securities that do not trade on a major U.S. exchange. Please be aware of the risks associated with these stocks.