Investors need to look closely at the positive changes Pepsi (NYSE:PEP) is making at present especially in the area of margins and productivity. Volume growth continued to be positive in the company's last set of earnings but what really struck me was organic margin expansion. In fact operating margins ended up at 15.8% for 2015 which were a full 0.4% ahead of 2014 figures. Furthermore I believe there will be even a bigger divergence in the years to come when you see that reported operating margins last quarter of 12.1% still compared well to 10.2% in the fourth quarter of 2015 despite higher advertising and marketing revenues affecting the percentage. These are huge improvements which is why investors should be looking past top line declines in recent quarters. Pepsi's last quarter pulled in $18.58 billion in sales which was $1.37 billion shy of the quarter of 12 months prior. However owing to its productivity initiatives and positive volume and pricing, the company brought in $1.72 billion in net income last quarter which was a whopping $410 million more than the fourth quarter in 2014. Near term headwinds could be commodity inflation and wage hikes but these should be temporary and not permanently stop profitability expansion. Here are 3 more reasons why shareholders will continue to remain attracted to Pepsi Stock.

Income investors flock to this stock because of the dividend as Pepsi is a dividend aristocrat (it has raised its dividend every year now for the past 44 years). To assess the safety and sustainability of the dividend, we need to look at free cash flow which came in at $7.82 billion last year. So what has the free cash flow growth been like? Well, it has grown from $4,016 billion in 2006 to as mentioned $7.82 billion last year. This equates to 95% growth over 10 years. How about the dividend over the same period? Well dividend pay-outs have gone from $1.854 billion in 2006 to $4.04 billion last year which was a gain of 118%. I believe this is excellent (Free cash flow generation being almost able to match the dividend growth) considering the 10 year dividend growth rate is 10.8%. What's the takeaway? Whereas other companies may have much higher dividend growth rates, few can match Pepsi's cash flow generation. For a dividend aristocrat to have a 59% pay-out ratio in the current climate is very impressive. Astute investors know this which is why a 7 to 10% hike is almost guaranteed every year. This fact alone (as income investors continue to search for safe yields) will keep the stock elevated above its average norms.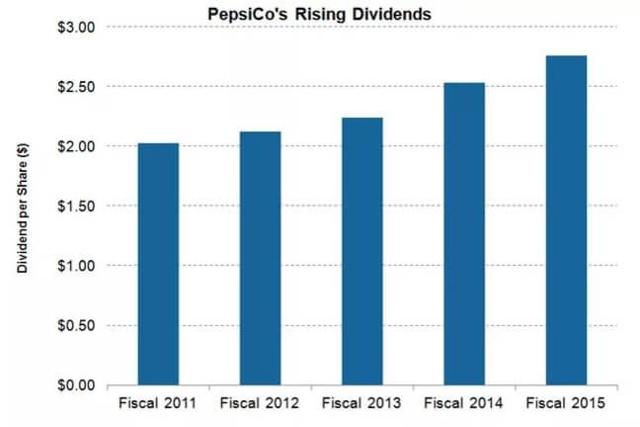 Source : PepsiCo Financials
Another huge game changer is the company's international markets which all experienced negative growth last quarter on a rolling year basis (see below). Now the question investors should be asking is whether they believe the dollar will revert to its mean or continue to strengthen against other currencies? I believe it will be the former as much of the dollar's strength has been as a result of the Fed's promise of raising interest rates which are certainly off the table at present. If the Fed maintains its dovish stance, it will be bullish for top line growth in international markets. Why? Well in 2009, the dollar index dropped sharply (from 89 to under 75) which aided in spiking Pepsi's top line from $43,232 billion in '09 to eventually $57,838 billion in 2010. Last quarter international markets made up almost $7.5 billion of the $18 billion+ top line. The figure was approximately $9 billion in Q4 2014 (45% of revenues). Therefore watch the Fed's stance over the next few FOMC meetings. A stock like Pepsi with solid fundamentals will do very well if the dollar's days of strength are over.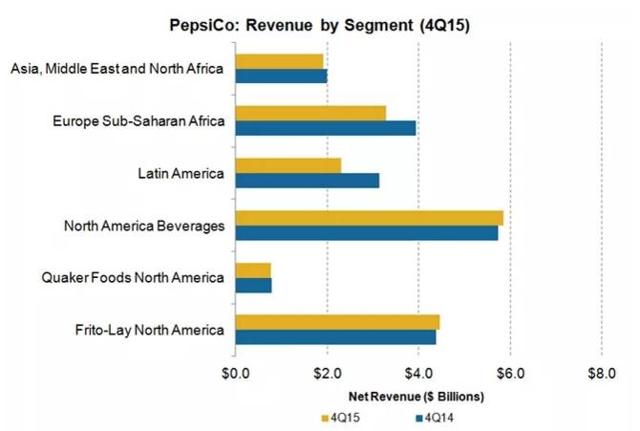 Source : PepsiCo Financials
Pepsi may be trading at a 5 year earnings multiple high (27.5) but its valuation is bang in line with the industry's average. Furthermore the snacks side of its business (around 50% of revenue) gives this company great diversification especially when you take note of the operating margins it is currently achieving. Frito-Lay North America is averaging almost 30% operating margins which is well above industry's averages. When you dominate your market (which Pepsi does on the snack side), these are the types of margins that can be achieved plus they also provide a nice hedge to secular volume headwinds on the carbonated side in developed economies. Although Coke (NYSE:KO) is the undisputed leader is CSD drinks, I like Pepsi's diversified model which protects us in case more governments decided to tax soft drinks. If the stock market (NYSEARCA:SPY) breaks out to new highs i the near term, this stock most assuredly will be entering our portfolio.
I'm going to be adding a few good dividend and growth stocks to the elevation portfolio over the next several weeks when I see value. It's imperative that they are not correlated and all don't have similar valuations to ensure that income is brought in every month, which, over time, will increase our share count. Follow along by pressing the "Follow" button above.
Disclosure: I am/we are long SSRI, GDX, AXP, CSCO, VLO, EMR, IBM, FOLGF, WDC, WMT.
I wrote this article myself, and it expresses my own opinions. I am not receiving compensation for it (other than from Seeking Alpha). I have no business relationship with any company whose stock is mentioned in this article.