New York-based Orbimed Advisors is the world's largest healthcare investment firm, with approximately $5 billion in assets under management, including $3.05 billion in 13-F asset per its most recent Q4 filing. Orbimed also manages a series of venture capital funds. Their investment team includes over 40 professionals, many of them with backgrounds in science, medicine and the life sciences industry, besides the more typical finance backgrounds. About 90% of their fund is in the healthcare space, and most of the remaining 10% is in accident and healthcare insurance providers. Across capitalizations, about 60% of their capital is in large-caps, 20% in mid-caps and the remaining 20%-25% is in small-cap equities.
Based on Orbimed Advisors most recent Q4 filing, the following are its most bullish picks that may be of interest (see Table):
Dendreon Corp. (NASDAQ:DNDN): DNDN develops targeted therapeutics to treat cancer using active immunotherapies, monoclonal antibodies and small molecules. Among investor circles, it is probably best known as the maker of Provenge® for Prostate Cancer. Orbimed added $50 million, its third largest buy in Q4, to its $12 million prior quarter position. DNDN released its Q4 earlier this morning, beating analyst estimates for earnings (26c loss v/s 33c loss) and product revenue ($77 million v/s $75 million), but projected that Q1 revenue growth would slow down to the low single digits from a sequential growth of almost 20% for Q3 to Q4, and over 70% for Q2 to Q3.
While part of the projected Q1 underperformance can be explained away by a shifting of some of the product sales to Q4 due to patients obtaining treatment before the Christmas holidays, the slowdown is still significant and quite pronounced given that we are still early in the game just six quarters after product launch. Moreover, as we have written about extensively before, lingering issues still remain in terms of the company's low gross margins and the competitive landscape given competing drugs under development, that should keep a lid on any upward movement in the stock in the short-term.
Questcor Pharmaceuticals (QCOR): QCOR is an integrated specialty pharmaceutical company focused on the development, acquisition and marketing of innovative, acute care and critical care hospital and specialty pharmaceutical products. Its primary product is H.P. Acthar Gel, an injectable drug that is approved for the treatment of exacerbations associated with multiple sclerosis, infantile spasms, opsoclonus myoclonus syndrome and nephrotic syndrome. Orbimed added a new $13 million position in Q4.
QCOR reported a bullish Q4 last Wednesday, beating analyst estimates for earnings (47c v/s 41c) and revenue ($76 million v/s $72 million), and management shut down rumors over an alleged DOJ investigation over the company's "aggressive" marketing and business practices, as alluded to in a negative report from StreetSweeper.org. The stock is up over 10% since the Q4 report, brushing aside negative concerns, and currently trades at 12 forward P/E and 11.3 P/B compared to averages of 33.2 and 6.1 for its peers in the medical drugs group. However, its projected earnings growth at 59.7%, from $1.27 in 2011 to $3.24 in 2013, is significantly higher than the average 24% growth in the group.
Vivus Inc. (NASDAQ:VVUS): VVUS is a biopharmaceutical company developing therapeutic products to address unmet medical needs in obesity, diabetes and sexual health. At $138 million, this is the second largest position in Orbimed's portfolio, including $17 million added in Q4.
VVUS shares are up again over 10% (as of this writing) on Monday, after a massive rally on Thursday and Friday of last week that saw shares catapult over 100% in two days. The rally is in response to the company's announcement on Wednesday that an FDA advisory panel voted 20 to 2 in favor of recommending Qnexa, the company's treatment for obesity, and further bolstered by an appearance by CEO Leland Wilson on CNBC early Monday afternoon. The positive advisory panel decision improves the chances that the drug will ultimately be approved at the April 17th PDUFA date, and a number of brokers raised their targets in response. Most notably, JMP Securities raised the target to $45 and Rodman & Renshaw to $39, significantly higher than the current $22 price, even after the double last week.
Ariad Pharmaceuticals Inc. (NASDAQ:ARIA): ARIA is engaged in the development of drugs that treat aggressive and advanced-stage cancer by regulating cell signaling with small molecules. It is also developing small-molecule drugs that block signal transduction pathways in cells responsible for osteoporosis and immune and inflammatory diseases. Orbimed added $29 million in Q4 to its $3 million prior quarter position. ARIA shares are trading near eleven-year highs after being up more than 100% from the lows in October of last year, bolstered by recent broker upgrades based on the potential of its ponatinib treatment and other drugs in its pipeline.
Celgene Corp. (NASDAQ:CELG): CELG develops therapies to treat cancer and immune-inflammatory related diseases by regulating cells, genes and proteins. Orbimed added $43 million in Q4 to its $20 million prior quarter position. CELG reported its Q4 about a month ago, on January 26th, missing analyst earnings estimates and guiding FY2012 revenue and earnings in-line. Its shares are near all-time highs, up over 40% in the past year, and trading at 13 forward P/E and 5.9 P/B compared to averages of 43.2 and 10.9 for its (large-cap) peers in the biotech group, while earnings growth is projected to be stellar from $3.79 in 2011 to $5.65 in 2013 at an annual 22.1% growth rate.
Regeneron Pharmaceutical (NASDAQ:REGN): REGN develops medicines for the treatment of serious medical conditions. It has two products, ARCALYST and EYLEA, on the market, and additional in development to treat inflammatory conditions, allergic and immune conditions, and cancer. Orbimed added $53 million in Q4 to its $5 million prior quarter position. REGN shares have been among the strongest performers among mid-cap biotech companies, doubling YTD so that at its peak earlier this month it had de-facto become a large-cap biotech at over $10 billion in market-cap. The strong performance is based on string of positive news on its EYLEA drug since the start of the new year.
The following are the stocks that Orbimed Advisors is most bearish about based on their Q4 selling activity:
Table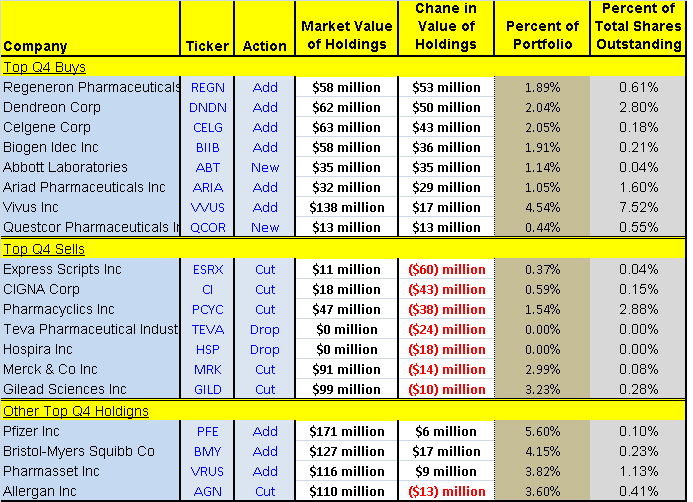 Credit: Historical fundamentals including operating metrics and stock ownership information were derived using SEC filings data, I-Metrix® by Edgar Online®, Zacks Investment Research, Thomson Reuters and Briefing.com. The information and data is believed to be accurate, but no guarantees or representations are made.
Disclosure: I have no positions in any stocks mentioned, and no plans to initiate any positions within the next 72 hours.
Disclaimer: Material presented here is for informational purposes only. Nothing in this article should be taken as a solicitation to purchase or sell securities. Before buying or selling any stock you should do your own research and reach your own conclusion. Further, these are our 'opinions' and we may be wrong. We may have positions in securities mentioned in this article. You should take this into consideration before acting on any advice given in this article. If this makes you uncomfortable, then do not listen to our thoughts and opinions. The contents of this article do not take into consideration your individual investment objectives so consult with your own financial adviser before making an investment decision. Investing includes certain risks including loss of principal.