By Andrew Mckenna, Kevin Lim, and Jake Steele
Investment Thesis
Concha y Toro is a rapidly growing global wine business, that is extremely well positioned for growth, with its recent entry into the U.S., mid-priced red blend wine, and research and innovation center. Concha y Toro is significantly undervalued because it's land, wineries, distribution centers, and brands are worth considerably more than they are listed for on its balance sheet. Additionally, only 5% of VCO's volume is traded on the NYSE, the company is only covered by 2 analysts, and it isn't in any U.S. based index funds. As coverage and index fund presence increase, volume and stock price will also dramatically increase. Even if these things don't increase, Concha y Toro is a phenomenal investment because it is an undervalued family owned company with stability and very effective long-term growth plan.
Company and Industry Overview
Concha y Toro is the largest producer of wine in Latin America and the fourth largest wine company in the world. VCO is headquartered in Santiago, Chile and owns 10,737 hectares of vineyards in Chile, Argentina, and the United States. Over the years, VCO has been able to grow rapidly. Much of this growth is due to the long-term orientation of management.
Source: Concha y Toro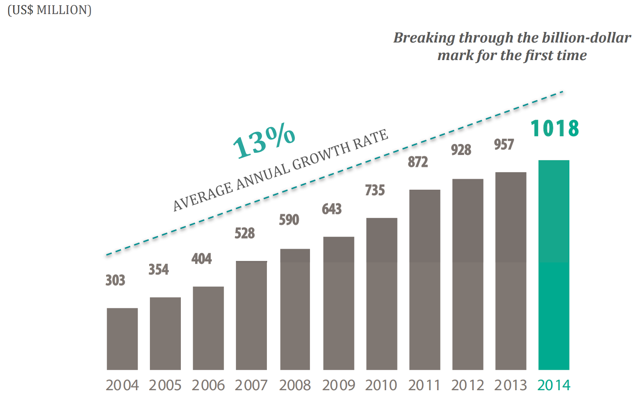 Management Structure
The corporate structure of Concha y Toro lends itself to long-term stability and consistency. It is composed of a seven-member board of directors that is renewed every 3 years. The board convenes once a month and is responsible for appointing the CEO, who in turn appoints all other managers. The chairman of the board is Alfonso Larrain Santa Maria, who has served the position since 1998. The rest of the board is composed of long-serving company directors, engineers, and industry experts. This stability in management and leadership has allowed the company to develop a consistent business model focused on vertical integration, brand diversity, and innovation. Concha y Toro is historically linked to Chilean nobility and aristocracy. Currently, 35.2% of the company is family-owned by descendants of this royalty. This long-serving board and familial ownership lends itself to a consistent company philosophy towards long-term development and growth.
There are some strong competitors in the industry. Concha y Toro competes with other large scale wine producers, including E&J Gallo Winery, Constellation Brands, and The Wine Group which are the top three largest wine companies in the world. These three companies represent 46% consumer share of the US wine market. Concha y Toro also competes with smaller-scale wineries and beer and spirits companies such as Anheuser-Busch InBev, Heineken, Constellation Brands and Brown-Forman Corp.
Overall the wine industry has grown by 3% globally since 2005. 2015 was one of the best years for wineries to date in the United States, which has grown into the largest global market. Europe, which has several large wine buyers, is a mature market, and no longer driving global growth.
Source: Proprietary Data using Concha y Toro's Annual Report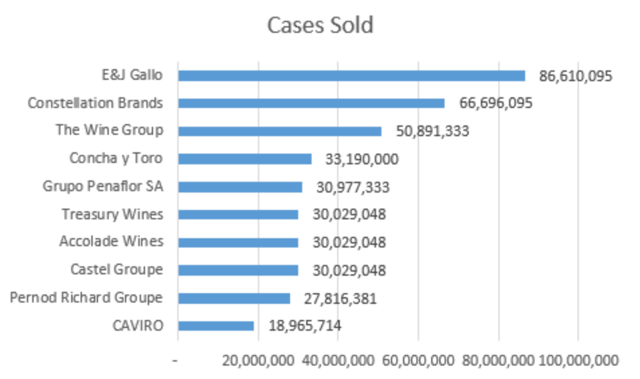 Concha Y Toro is diversified globally, being in 145 countries. They aren't reliant on any one market, which is huge advantage because stabilizes cash flows and reduces risk. In Chile and Europe, wine is such a cultural staple, so economic cycles don't affect demand.
Source: Silicon Valley Bank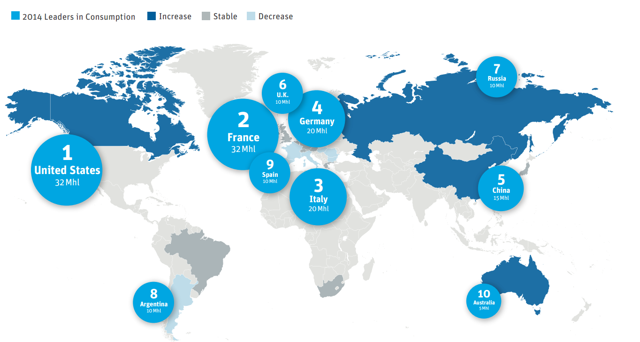 Source: Concha Y Toro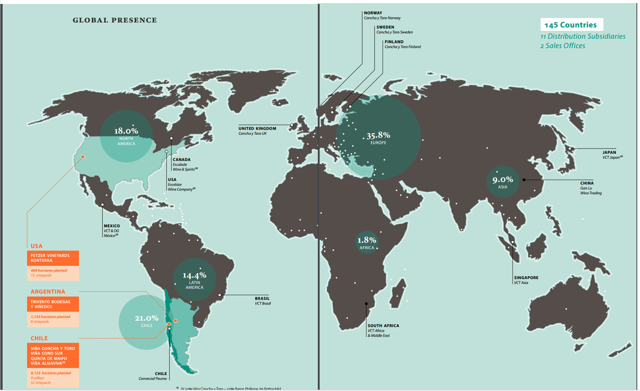 While world consumption of wine stalled around 240 million hectoliters (Mhl), Concha Y Toro is expanding rapidly in growing markets, namely the US, China, UK, Scandinavia, and Australia. China is now the largest red wine market in the world, and demand for wine should continue to increase as wine transitions from a luxury good to a lifestyle beverage over the next decade. Demand and volume of wine continues its impressive rate of growth in the Scandinavian countries.
Source: Silicon Valley Bank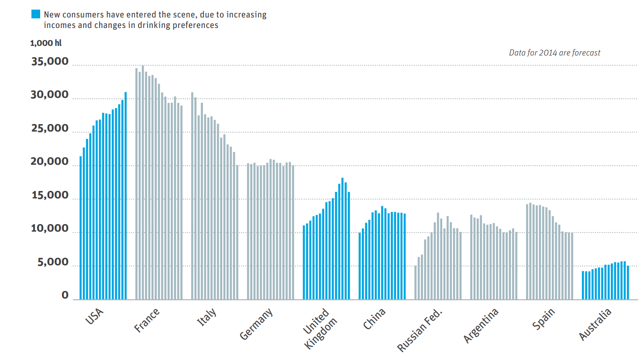 2015 was one of the best years for wineries to date in the United States, which has grown into the largest global market. The fine wine segment grew by 14% as result of the strength of the US dollar, low oil prices, and a generally favorable economic conditions for consumers. 2015 was a record year for mergers and acquisitions in the industry which might improve the efficiency of delivery processes of wine. Direct-to-consumer wine sales, the act of selling wine to customers away from a fixed location, increased 37% YOY in the United States as e-commerce increasingly becomes the prefered vehicle of transactions for consumers.
Source: Silicon Valley Bank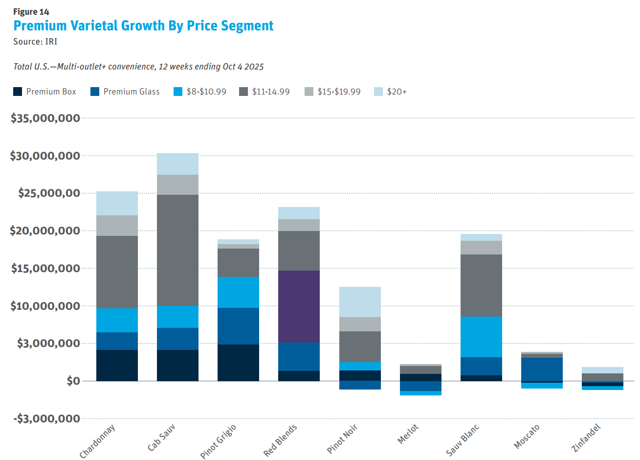 The US wine industry has seen a premiumization trend in the 21st century. Demand has shifted permanently towards higher priced wines. Different segments of wine performed significantly differently in 2015. Low priced generic wines have struggled tremendously, and the general consensus in the industry is that the bulk wine segment has become a marginalized market. Higher priced wines particularly those in the $10-20 price range saw tremendous growth in 2015. The fine wine segment grew %14 in 2015, and this trend will continue in 2016 and beyond. Overall fine wine sales are projected to grow 9-13% during the year, and wine sales for bottles priced around $10 are expected to rise between 4-8%. Volume and sales of low priced wines are expected to continue their downward trend in 2016.
According to the 2016 Silicon Valley Bank Wine Report, 2015 marked a major shift in the generational cohort of wine consumers in the United States as millennials (ages 21-37) finally overtook matures (age 68+) in purchase share of wine. Additionally, 2015 marked the beginning of the decline of purchase share of wine for Baby Boomers as they continue to age and consume less wine per capita. This trend of reduced consumption is slated to accelerate as they reach retirement. Generation X will take over the majority of purchase share over the next decade. Demographic changes will have considerable effects on the US wine market, which will positively benefit foreign wine producers. Boomer have a preference for affordable domestic premium wine. Millennials and Genxers are more willing to try non-domestic brands than previous generations. Millennials are four times more likely to select wine based on label where they look for personality and originality. By contrast, boomers often look for information such as region of origin and product details. The impact of this paradigm shift to a younger consumer base is evident in the lower premium segment of wines. Particularly the talk of the industry, the explosive growth in the $8-14 red blend category in 2015. Millennials are best characterized as frugal hedonist; they want premium quality wine but they are not willing to spend as freely as boomers. Consequently their increased presence in the market will serve as a catalyst for growth in the lower premium segment of wines.
Source: Silicon Valley Bank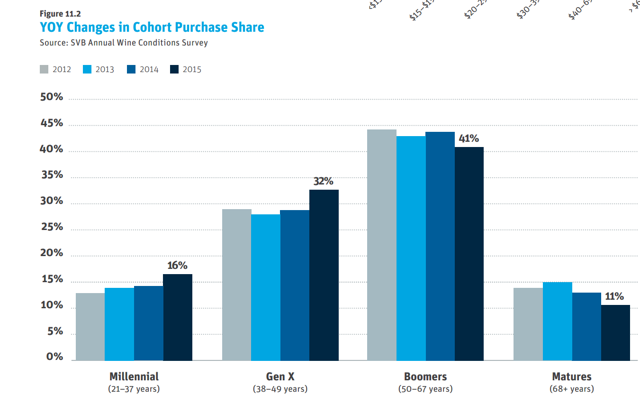 Source: Silicon Valley Bank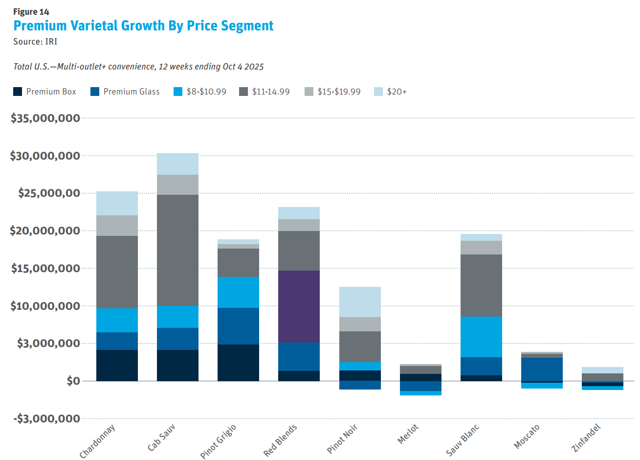 Source: Silicon Valley Bank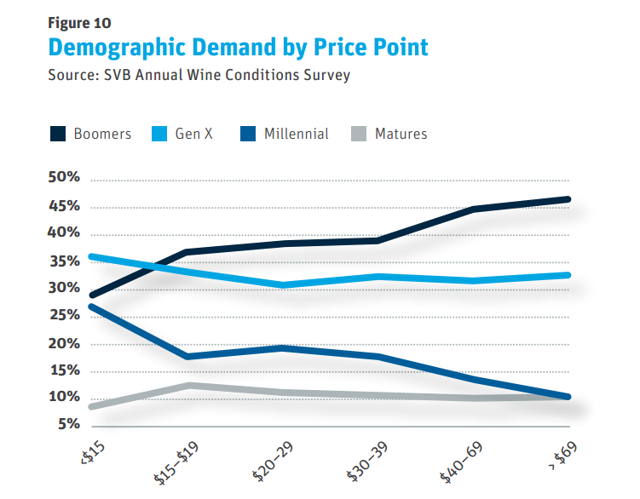 Brands
Concha y Toro has a diverse portfolio of wines. Concha y Toro brands were awarded rating of over 90 points, indicating exceptional quality, 74 times in 2014. This was a 39% increase from 2013, showing strong growth in quality and brand recognition. Its Don Melchor was the most awarded wine from Chile and ranked among the top 10 wines in the world. Casillero del Diablo, its most popular brand, experienced 17.4% growth in 2014 and record sales of 4.4 million cases. According to British consultancy, Intangible Business, Concha y Toro is the world's most powerful wine brand.
Source: Concha y Toro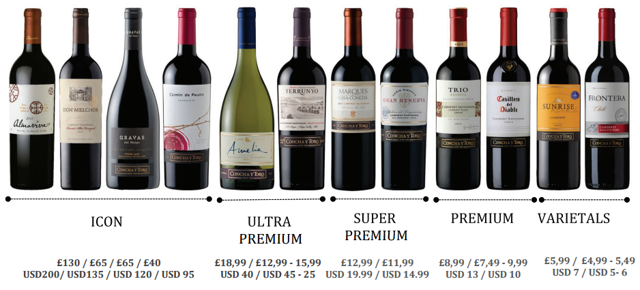 Center for Research and Innovation
Concha y Toro launched the $5 million dollar Center for Research and Innovation in 2014, with the objective "to do applied research in the areas of agriculture and oenology, looking to impact both productivity and quality within the industry." Located in Maude Valley, the center employs professional chemists and biologists to develop and execute research and development strategy. It includes an experimental wine cellar focused on small-scale production, an agriculture lab with high-precision equipment, and a nursery that produces 2 million plants per year. This investment in research demonstrates the firm's commitment to the industry and to future growth.
Source: Concha y Toro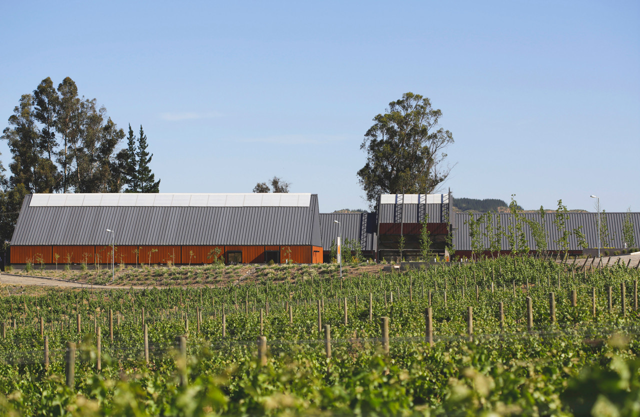 Vina Chonco Y Toro is cheaper than its competitors
While 2 of VCO's main competitors are private and information isn't available. However, Constellation Brands and Diageo are both public companies with wine brands. Vina Chonco Y Toro is significantly cheap when comparing P/E ratios, Price to Book ratios, EV to EBITDA multiples, and has a high dividend. Considering it's above average industry, VCO looks very appealing.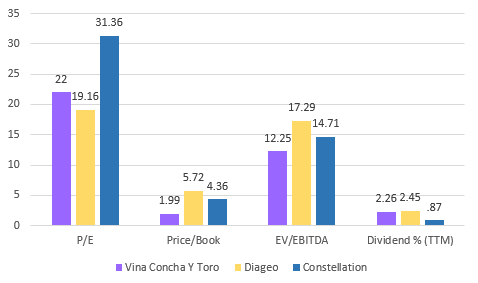 Source: Proprietary data, using Yahoo Finance
Sum-of-Parts Valuation
After realizing that VCO owned a significant amount of land and distribution centers, and that their brands may be misvalued considering the wine industry had record M&A in 2015, we analyze all of their assets using comparative pricing models. Vina Chonco Y Toro is conservatively worth $1.709 Billion, which is a 39% premium to its current market value of $1.233 Billion. However, we believe their brands are significantly more valuable, making the company worth $1.912 Billion. The results are broken down with an overview and by segment, and sources for comparative are noted. (* symbolizing the asset being unchanged from its listing on the balance sheet, Source: Yahoo Finance)
Assets

Cash and Cash Equivalents*

$50 Million

Net Accounts Balance*

$104 Million

Inventory*

$360 Million

Long Term Investments*

$33 Million

Deferred Taxes*

$15 Million

Land & Wineries

$327 Million

Bottling & Distribution Centers

$340 Million

Brands

$971 Million

Other Assets*

$91 Million

Total Asset Value

$2.291 Billion

Liabilities

Debt*

$582 Million

Total Liability Value

$582 Million

Company Value

$1.709 Billion
| | | | |
| --- | --- | --- | --- |
| Land Value | Acres | Value per Acre | Value |
| | 42000 | $7,000 | $294,000,000 |
| | 3000 | $3,000 | $9,000,000 |
| | 1200 | $20,000 | $24,000,000 |
Source: Concha y Toro

| | | | |
| --- | --- | --- | --- |
| | | Bottling Capacity | Value per bottle |
| Chile | $250,000,000 | 100,000,000 | $2.50 |
| Argentina | $20,000,000 | 10,000,000 | $2 |
| USA | $70,000,000 | 14,000,000 | $5 |
| Trucking Fleet | Valued with Each Plant | | |
| | |
| --- | --- |
| Brand Revenue | Acquisition Prices as Percent of Revenue (discluding all assets besides brands) |
| $883 Million | 110% |
| | $971 Million |
Conclusion
Concha y Toro provides a promising long-term investment opportunity. Its consistent and experienced management has developed a strong business model based on vertical integration, product innovation, brand development, and global expansion. In addition to this solid long-term strategy, Concha y Toro is undervalued and significantly cheaper than competitors. As Concha y Toro continues to expand in the United States and Europe, it will dramatically increase in stock price. Its currently limited trading volume on US stock exchanges and lack of analyst attention makes right now an excellent time to invest
Disclosure: I/we have no positions in any stocks mentioned, and no plans to initiate any positions within the next 72 hours.
I wrote this article myself, and it expresses my own opinions. I am not receiving compensation for it (other than from Seeking Alpha). I have no business relationship with any company whose stock is mentioned in this article.