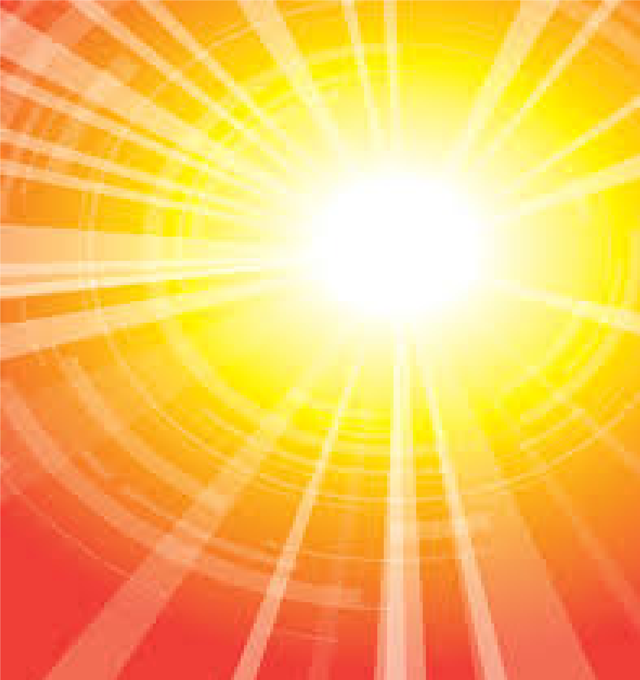 Being in a business dependent on the weather can be profitable. But, it also has obvious risks. So, when a company claims weather had impact, investors should assess whether the impact is truly and strictly weather-related. Apparel designer and manufacturer, G-III Apparel Group (NASDAQ:GIII), made just such a claim for its last quarter of fiscal 2016 ending January 31st, 2016.
In 1956, Aron Goldfarb established an outerwear company in New York City's Garment District. Fifty years later, sales of outwear still represented 95% of G-III Apparel Group 's revenue. Selling only outerwear dictates a strong dependence on cold weather. A few years ago, G-III Apparel decided the dependence was too great and intentionally broadened its product mix beyond cold weather apparel. It even acquired a global resort wear brand. While outerwear still represents the largest category, sales in other product lines now account for approximately 60% of G-III's revenue.
According to the Accumulated Winter Season Severity Index map below, the 2015-2016 winter was milder than usual. In late January, 2016, winter storm Jonas did set a record in six locations as the single biggest snowstorm. Even though the storm forced eleven states to declare a state of emergency, its impact only managed to elevate the season to moderate or average in a handful of locations.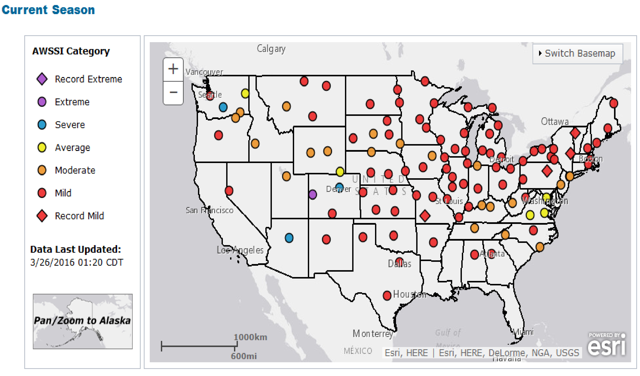 It really shouldn't have come as a surprise when G-III Apparel Group reported an impact to outerwear sales in its fourth quarter. The quarter ended January 31st, 2016, one week after the snow, ice and winds of Jonas surged through the East. The company missed analysts' average estimates on both revenue and EPS. The revenue miss was just 8% but the EPS miss was a hefty 60%.
The company's guidance had bounced through the year - twice upward and once downward. By third quarter reporting, guidance included full-year revenue at $2.4 billion, net income in a range of $124 million to $131 million and diluted EPS in a range of $2.67 to $2.82. Year-to-date, G-III had delivered revenue of $1.82 billion, net income of $106.4 million and diluted EPS of $2.29. Therefore, based on the company's projections, the fourth quarter needed to deliver revenue of $580 million, net income in a range of $17.6 million to $24.6 million and diluted EPS in a range of $0.38 to $0.53. Analysts' average estimates were $573 million for revenue and $0.42 for diluted EPS.
In the fourth quarter, G-III Apparel reported revenue of $527.4 million, net income of $7.96 million and diluted EPS of $0.17. For the full year, revenue totaled $2.34 billion, net income of $114 million and diluted EPS totaled $2.46. Compared to the prior year, revenue increased 10.7% and net income increased 4.9%.
Assessing the impact of weather on G-III Apparel could actually be seen as somewhat ambiguous. G-III's outerwear category contributed 40% of full-year revenue which equates to $936 million of the $2.34 billion. Obviously, the $527 million of revenue in the fourth quarter does not fully account for the category. In fact, the majority of the $910 million in sales in the third quarter are for outerwear as department stores stock for the coming winter season. G-III stated the full-year deficit for revenue in the outerwear category was approximately $50 million. Therefore, the category was expected to deliver approximately $985 million. In that regard, the mild winter accounted for a 5% decline in the category itself and a 2% decline in total sales.
Those percentages aren't shattering. And, before the impact is declared detrimental, it's prudent to compare year-over-year results. The following table compares the results by category for fiscal year ending January 31st, 2015 and fiscal year ending January 31st, 2016.
Fiscal Year Ending

January 31st, 2015

Fiscal Year Ending

January 31st, 2016

Year-Over-Year

Change

Dresses

~ $339 million

~ $390 million

Up 15.00%

Sportswear

~ $300 million

~ $350 million

Up 16.67%

Suits & Separates

~ $100 million

~ $120 million

Up 20%

Handbags

~ $100 million

~ $100 million

Flat (see note 1)

Retail

~ $499.3 million

~ $514 million

Up 2.94% (see note 2)

Outerwear

~ $677.4 million

~ $936 million

Up 38.18%
Notes:
The handbag category in fiscal 2015 included cold weather accessories

Retail includes retail sales of outerwear.
There's little question G-III has experienced significant, historical success in the outerwear category. As a reference point, G-III's 2011 sales across all of its categories were $1.06 billion. Yet, in just five years, its expectation strictly for outerwear was $985 million. The obvious question when reviewing year-over-year results is why a company persistent in diversifying its product line would experience a 38% increase in its traditional category. This seems a far more valid question as compared to why the category was 5% below the projection. The company was clear in its stance.
"So there's a desire to grow it, not to shrink it and we're there for the long term in outerwear."
Overall, the retail environment in 2015 was not only competitive but "tough" economically. Yet, at G-III, it somehow makes sense to dominate in troubling times. The company explained in the second quarter earnings call.
"In difficult times, retailers cull down their riskier pieces of business and marry to a safe profitable proposition. And we have proved out to be that safe, profitable proposition. Resources that are second tier are generally eliminated in difficult times and space is given to success stories."
The company was already seeing signs of dominance for calendar year 2015.
"We are now in the key shipping period for this category. We booked really well and are poised for what may be our best outerwear season in several years. We think our lines are spot-on for the trends this season and our value proposition is powerful. As most of you know, outerwear is our most diversified and well-developed business. And, simply put, there is no category we know better."
So, as odd as it may be, it is actually logical that G-III had its best year in outerwear sales in the same time frame it did not meet its own expectation for the category.
The top line, in actuality, did not reflect the impact of mild winter weather. The assault on net income was much more striking. Because G-III and retailers were forced into increasing promotions on outerwear, the gross margin percentage in the quarter decreased 180 basis points. So, even though revenue in the quarter was 2.5% greater year-over-year, gross profit actually decreased 2.5%. Simply maintaining the gross margin would have bolstered the bottom line by approximately $0.20.
It also didn't help the bottom line that SG&A expenses increased year-over-year by $17 million. The increase was not related, in any way, to weather.
"We have increases in payroll costs, in-third party shipping, advertising and design expenses, all of which support our overall growth. SG&A increases were impacted by new initiatives related to our launch of Karl Lagerfeld products, Tommy Hilfiger dresses and GH Bass wholesale initiatives."
In early June, the company announced a joint venture with icon Karl Lagerfeld for the North American market. Initial licenses were for women's apparel, handbags and men's outerwear. In just months, the breadth had exploded to outerwear, sportswear, dresses and footwear.
G-III expects to launch its Tommy Hilfiger dress line for the Spring 2016 season. In February, 2016, it announced expansion to its Tommy Hilfiger brand. It will now include licenses for women's sportswear, suit separates, performance and denim. These licenses added to the Hilfiger dress line as well as men's and women's outerwear and luggage.
G-III Apparel acquired G.H. Bass in November 2013. Integration proceeded through 2014. In the 2015 calendar year, G-III saw significant developments. In the second quarter, apparel was a focus.
"Our revised merchandise plan is taking hold with consumers. We are especially excited to incorporate a much improved apparel assortment."
By the third quarter, progress was apparent on multiple fronts.
"We're building the foundation for our G.H. Bass women's wholesale sportswear business and we've fixtured more than 150 doors. We're developing good exposure as well as building strong product and brand awareness. On the licensing front, the Bass men's collection under license to PVH is now in over 700 doors. And, our partners at Genesco, who are launching the new Bass wholesale shoe collection for this upcoming spring, have done a great job and will be in over 200 department store doors. We've also recently licensed men's and boy's tailored clothing. We expect to invest in marketing G.H. Bass next year as our licensing business expands. The development of G.H. Bass brand remains one of our most powerful long term opportunities."
It could be argued the additional $17 million in SG&A expenses were as much the culprit as weather for the miss in the fourth quarter relative to estimates on diluted EPS. Had the company achieved its revenue goal for outerwear, it would have tallied $50 million more. Using the quarter's gross margin of 33.9% would have delivered $16.95 million in gross profit, thus covering the additional expenses. Regardless of the revenue shortfall, had promotional activity not been a negative force, almost $10 million of the additional expenses would have been covered. There's little doubt the mild winter weather was an unfavorable influence on G-III's quarterly results.
As well, there's little to question regarding whether the additional expenses are warranted. G-III Apparel has already shared the path from $2.4 billion to $3.6 billion - Calvin Klein at $1 billion, G.H. Bass at $1 billion, Tommy Hilfiger at $1 billion, Karl Lagerfeld at $500 million and Ivanka Trump at $100 million. But, the company has its sights set on more than a 50% improvement.
"The opportunities we have between Bass, Karl Lagerfeld, Tommy Hilfiger and the organic growth that's still achievable and that we still factor into our businesses can double the size of our business."
Certainly, G-III Apparel didn't escape the warmth of a mild winter. But, it's the growth potential truly bringing the heat.
Disclosure: I/we have no positions in any stocks mentioned, and no plans to initiate any positions within the next 72 hours.
I wrote this article myself, and it expresses my own opinions. I am not receiving compensation for it (other than from Seeking Alpha). I have no business relationship with any company whose stock is mentioned in this article.
Additional disclosure: I belong to an investment club with GIII on its watch list.