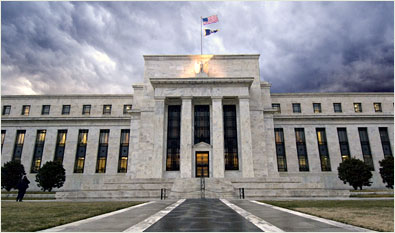 Every week, we closely monitor net speculative positions on the COMEX as well as ETF holdings inasmuch as the historical economic behavior of gold prices suggests that over a short-term horizon (<3 months), gold prices are largely influenced by changes in the forward fundamentals, reflected in changes in net spec length and ETF holdings.
Speculative positioning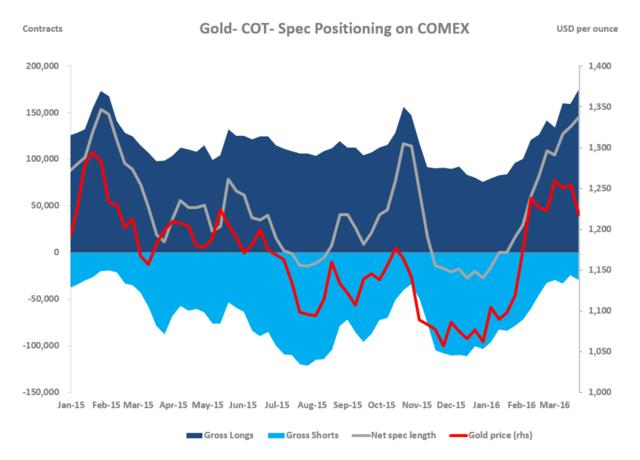 Source: CFTC.
Gold. According to the latest Commitment of Traders report provided by the CFTC, money managers, viewed as a relevant proxy for speculators, extended their net long position for the third consecutive week as of March 22. Over the period covered by the data (i.e. March 15-22), gold prices rose 1.22 percent.
The net long fund position now stands at 144,899 contracts, up 10,122 contracts or 8 percent from the previous week. The improvement in spec positioning was essentially the result of long accumulation (+15,255 contracts w/w) that was partly offset by a relatively smaller increase in gross shorts (+5,133 contracts w/w).
The net long fund position has reached its highest level on the year and approaches its 2015 peak of 153,237 contracts.
Gross longs: while we thought last week (see our previous update) that longs had reached their limit and were not willing to extend further their positions, we are now forced to re-examine the situation. We now believe that the tendency of speculators to overshoot either on the long side (like early in 2015 and at present in 2016) or on the short side (like late in 2015) will translate into further increases in the net long fund position.
Gross shorts: shorts have covered significantly their positions since the start of 2016, with the gross short leg as of March 15 setting at its lowest level since February 2015. Currently at 29,558 contracts, the gross short leg could start steadily to rise in the weeks ahead.
To sum up, we expect the net spec length to continue to trend higher in the weeks ahead, principally due to the tendency of speculators to overshoot, which would thereby result in higher gross long positions. That said, increases in the net long fund position should remain limited because we believe that short-covering has run its course. Over a 3-month view, we continue to bet on a quick and sharp reversal in sentiment (and therefore spec positioning), which seems to be ineluctable.
Investment positioning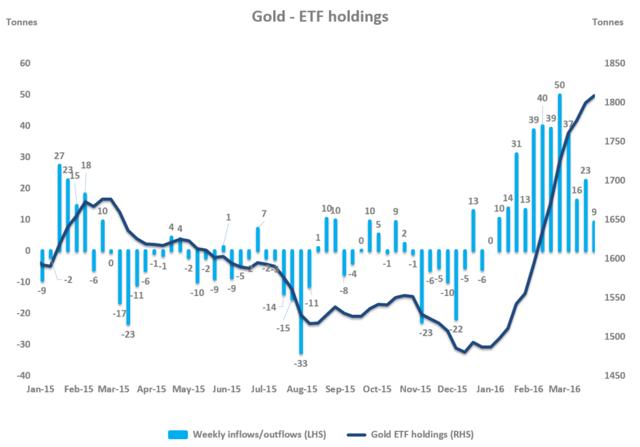 Source: FastMarkets.
Gold. ETF investors bought gold for the 12th consecutive week, pushing total ETF holdings up to 1,809 tonnes as of March 25.
ETF investors bought a total of 9.25 tonnes last week after accumulating 22.58 tonnes in the previous week. ETF investors have accumulated 68 tonnes of gold in March so far after buying 185 tonnes in February. YTD, ETF investors are net buyers of 327 tonnes of gold after selling 118 tonnes in 2015.
We understand that strong ETF buying was relatively muted last week given the Easter holidays but investor sentiment remained positively skewed toward gold.
As we documented last week, the dovish waves of the March 15-16 FOMC meeting boosted ETF buying because the resulting fall in the dollar as well as U.S. real interest rates proved to be a supportive environment for the barbarous relic.
But interestingly, the dovish tone of the Fed at its March meeting was followed by hawkish statements from Fed representatives. Atlanta Fed president Lockhart, San Francisco Fed president Williams and St. Louis Fed president Bullard all judged that there was a case for a rate increase in April given the resilience of the U.S. economy.
Against this backdrop, the dollar has rebounded, U.S. real interest rates have recovered from their lows, and oil prices have fallen, thereby producing an unfavorable environment for investment demand for gold. That said, we could argue that should the re-pricing of Fed tightening expectations provoke a sell-off in equities, safe-haven demand could surge and as such ETF inflows could accelerate. We will closely monitor these developments this week.
More importantly for gold, the Fed seems to be sending mixed signals to the market. On the one hand, the Fed decided to lower its economic outlook at its March meeting and the projected path for Fed rate increases (i.e., the Fed expects two rate increases this year versus four initially envisaged in its December 2015 projections). On the other, a number of Fed officials sent hawkish vibes to the market by leaving the door open for a rate increase in April. On net, confusion in the financial markets is growing, leading to uncertainty. While uncertainty is not good for risky assets such as equities, it is good for gold and other assets with safe-haven characteristics.
The monetary policy stance will continue to play a key role in gold prices through its direct effects on the dollar and U.S. real interest rates.
This week should be therefore quite interesting. Fed Chair Yellen is due to speak at the Economic Club of New York on March 29, whose comments are likely to drive Fed tightening expectations. Equally important, the Bureau of Labor Statistics will release the March employment report on Friday 1 st April. Non-farm payrolls are expected to be solid at 208,000 (i.e. >200,000) compared with 242,000 in February. Unemployment rate is forecast to remain unchanged at 4.9 percent while average hourly gains are expected to rise 0.3 percent from February, compared with -0.1 percent month-on-month the previous month.
Given the resilience of the U.S. economy, we believe that the March employment report is more likely to surprise on the upside than on the downside. Against this backdrop, the U.S. dollar could continue to strengthen while U.S. real interest rates to move higher, which in turn would exert downward pressure on ETF demand.
To sum up, although ETF inflows are possible in the near-term as investors may see weakness in gold prices as a buying opportunity, we believe that ETF outflows could emerge over a 1-3 month horizon, particularly if the U.S. economy continues to surprise to the upside and the dollar and real interest rates start rising accordingly.
Spec positioning vs. investment positioning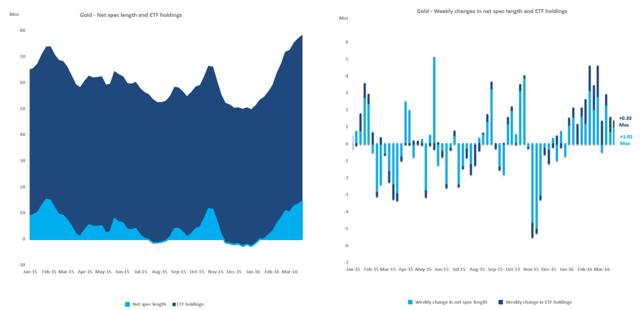 Source: MikzEconomics.
SPDR Gold Trust ETF (NYSEARCA:GLD) positioning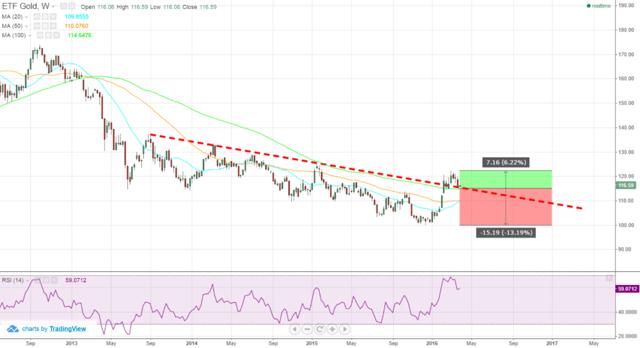 Source: TradingView.
GLD posted a negative performance in the week ending March 25 (-2.45 percent w/w) after being broadly unchanged in the previous week (+0.33 percent w/w).
Although speculative and investor sentiment remains positive, last week's sell-off in GLD needs to be carefully examined.
Despite our bearish bias (yes, we think that the bear market is not totally complete), we were not willing to jump on the short side last week, holding the view that the recent consolidation was only technically driven and as such transient.
Although the recent decline in GLD could be a sign of a lack of underlying buying pressure, we prefer to await further signals before implementing a short position. Primo, we would like to see that the increase in speculative long positions has run its course. Secondo, we would like to see that either ETF investors are not responding positively anymore to falling U.S. real interest rates and weakening dollar or ETF investors are responding negatively to rising U.S. real interest rates and strengthening greenback.
But a present, we work under the following hypothesis: the current weakness in GLD is technically driven and will continue until overbought conditions (as seen in the RSI) are unwound but a rally in GLD should resume because specs will overshoot on the long side and ETF investors will buy on the dips taking advantage of lower prices.
To sum up, we continue to adopt a bullish bias in the very short-term but acknowledge that sentiment could reverse this week should Fed Chair Yellen prove to be more hawkish than at the March meeting and U.S. economic data surprise to the upside. From a risk-reward perspective, we think it is better to remain patient and look for short opportunities rather than long opportunities in GLD over the coming months. Having said that, over the long-term (i.e., 5+ years), we insist that we are positive toward GLD, as we wrote in The Rational Reason to Be Bullish on Gold back in October 2013.
About: SPDR Gold Trust ETF, Includes: PowerShares DB Gold ETF (NYSEARCA:DGL), VelocityShares 3x Inverse Gold ETN (NASDAQ: DGLD), DB Gold Double Long ETN (NYSEARCA: DGP), DB Gold Short ETN (NYSEARCA: DGZ)
Disclosure: I/we have no positions in any stocks mentioned, and no plans to initiate any positions within the next 72 hours.
I wrote this article myself, and it expresses my own opinions. I am not receiving compensation for it (other than from Seeking Alpha). I have no business relationship with any company whose stock is mentioned in this article.