ETF fund flows are usually a lagging indicator of market performance. It's only after a particular segment of the market rises does investment in that segment typically follow. That's why the news coming out of the high yield bond market in February is a bit peculiar. Despite two years of declining prices, investors began moving back into junk bonds.
According to Morningstar, investors added $4 billion to high yield funds in February, just the second time in the last 10 months that net flows were positive. High yield ETFs have raked in billions more. There could be a couple of explanations for this. The SPDR S&P 500 Trust ETF (NYSEARCA:SPY) dropped 9% in the first couple of weeks of 2016 and was down nearly 11% on the year by early February. It could be that investors moved money out of stocks and into high yield bonds as part of a broader move out of equities and into fixed income during the month (outflows of nearly $10 billion from domestic equity funds vs. a $13 billion inflow into taxable and muni bonds).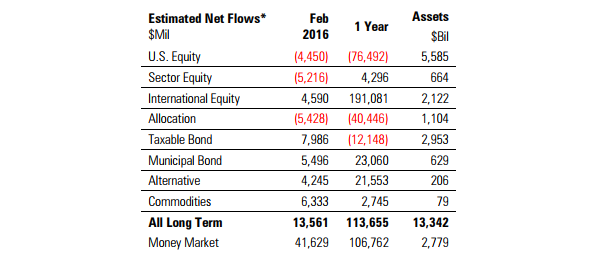 Another reason could be market traders attempting to call a bottom in high yield securities. Traders could see the recent selloff as being overblown and are trying to position themselves for a recovery. Whether or not a bottom is, in fact, in place remains to be seen. High yields have bounced strongly off of recent bottoms and spreads have been narrowing again but S&P noted that the average corporate credit rating is at a 15 year low while Fitch and Moody's have increased their estimates for defaults.
Investors reaching for yield in junk bonds should become familiar with the story of the Third Avenue Focused Credit Fund (MUTF:TFCIX) for what can happen when one invests in risky and illiquid securities. When considering high yield funds, investors should look for portfolios that stay near the high end of the below investment grade market while maintaining a high degree of liquidity. The SPDR Barclays High Yield Bond ETF (NYSEARCA:JNK) provides just that.
One of the main issues that torpedoed the Third Avenue fund was its lack of diversification and liquidity - the fund has just 36 holdings with over 80% of the fund's assets either unrated or carrying a rating of CCC or below. The SPDR Barclays High Yield Bond ETF is benchmarked to the Barclays High Yield Very Liquid Index, an index that specifically addresses both of those issues.
The index only includes junk bonds that carry above average liquidity. Additionally, the fund has nearly 800 unique holdings which helps ensure that even if some of the notes near default or get stuck in a liquidity crunch the whole fund doesn't collapse. The advantages with both liquidity and diversity coupled with the fact that 85% of the fund's assets are rated either BB or B helps limit much of the portfolio risk that comes with the high yield sector.
The high yield sector rally over the last several weeks has pulled the fund's dividend yield down from a high of around 7% to its current rate of about 6.5%. Still, that ranks the fund in the top five of its fund group.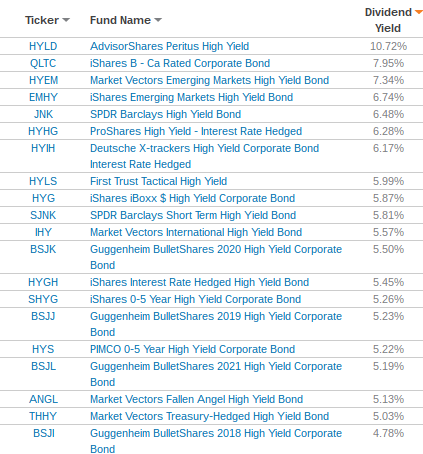 While funds focusing on shorter term notes will obviously fall further down the list, the fact that the fund can produce such a yield while maintaining a comparable duration (4.38) and average credit quality to many of its peers is a benefit to shareholders.
Conclusion
Investors looking to dip their toes into the junk bond market (as many already have) should focus on a fund that doesn't reach for yield, is diversified and can remain liquid in times of uncertainty in the market. The SPDR Barclays High Yield Bond ETF checks all of those boxes.
The greatest risk to shareholders in the junk bond sector for the short term is the health of the sector in general. All indications are that credit quality is continuing to dwindle while forecasted defaults are rising. If this comes to pass then we'll likely see more pain ahead for shareholders. This ETF is a good starter fund for those willing to accept the risk that comes with junk bonds yet doesn't overreach in its pursuit of yield and overall returns.
Disclosure: I/we have no positions in any stocks mentioned, and no plans to initiate any positions within the next 72 hours.
I wrote this article myself, and it expresses my own opinions. I am not receiving compensation for it (other than from Seeking Alpha). I have no business relationship with any company whose stock is mentioned in this article.