In recent articles, I have focused on the prospects of Freeport-McMoRan's (NYSE:FCX) oil and copper businesses, which look set to do well and help the company achieve EBITDA growth this year on the back of improvements in demand-supply dynamics.
Now, an improvement in both businesses will allow the company to gradually improve its liquidity position and reduce debt. Additionally, the fact that Freeport-McMoRan has decided to sell its assets in order to lower its debt burden will also lead to an improvement in the balance sheet going forward.
In this article, we will take a look at what steps Freeport has taken and will take to improve its balance sheet as this gives investors another reason to buy the stock.
Taking care of the huge interest burden
Owing to its huge debt of just over $20 billion, Freeport had to incur interest expenses of $860 million in 2015. Freeport's cash and cash equivalents declined last year on the back of a 37% drop in the operating cash flow, and it had just $224 million in cash. This means that the interest is having a big negative impact on Freeport's financials.
Now, even though the company has to satisfy debt maturities of just $50 million this year, it has decided that it will reduce its debt aggressively so as to bring down the interest cost and improve liquidity. In fact, in January this year, Freeport had pledged that it will cut debt in the range of $5 billion to $10 billion in the medium term, and the good part is that the company has made progress on this front.
For instance, last month, Freeport announced that it has entered into an agreement with Sumitomo of Japan to sell a 13% share in the Morenci mine, which will allow it to raise $1 billion. The deal is anticipated to be complete by the middle of the year, and once it is done, it will help the company bring down the debt and interest burden to some extent.
Additionally, earlier this month, Freeport announced that it will sell its stake in Serbia in a copper-gold project to Lunding Mining, raising $263 million in the process. Thus, in just two months since Freeport announced it plans to reduce its debt aggressively, the company has made good progress on this front. Apart from reducing the debt and the accompanying interest, these deals will allow Freeport to bring down its net debt to EBITDA ratio, which is quite high at 4.67x as compared to the industry average of 2.75x.
More importantly, in the first half of 2016 itself, Freeport is planning $3 billion in total asset sales so that it can keep the covenant on the revolving facility unchanged. If Freeport manages to achieve $3 billion in asset sales by the end of June, it will be able to cover its debt maturity of $1.6 billion that falls due next year, when its 2.15% and 2.30% senior notes are maturing. Therefore, Freeport will be able to retire the debt early and reduce interest expenses, which will have a positive impact on its financial performance.
A look at potential asset sales
As discussed above, Freeport has already achieved $1.26 billion in asset sales by selling stakes in the Morenci mine and in Siberia. Next, it is likely that the company will be able to raise cash from its Indonesian asset, Grasberg. This is because Freeport is in agreement with the government of Indonesia to sell 20.64% stake of the asset to either the country's state-owned companies or list on the stock exchange.
Now, since Freeport had put a valuation of $16 billion on its Grasberg asset, selling off 20% stake at this mine will release around $3 billion in cash for Freeport. Considering that copper prices have increased of late and the situation in the industry could get better on the back of improving demand and lower supply, Freeport should be able to get good value for its Grasberg asset.
Additionally, since the likes of Rio Tinto (NYSE:RIO) and BHP Billiton (NYSE:BHP) are looking to increase their copper exposure by buying assets from rivals, Freeport should not have much difficulty in finding a buyer. In fact, BHP and Rio are anticipated to raise $30 billion in funds to buy copper assets, and this could be a tailwind for Freeport-McMoRan.
Finally, in my opinion, Freeport has done the right thing by going aggressively on debt reductions as the company has a number of maturities coming up its way from next year onward, as shown below: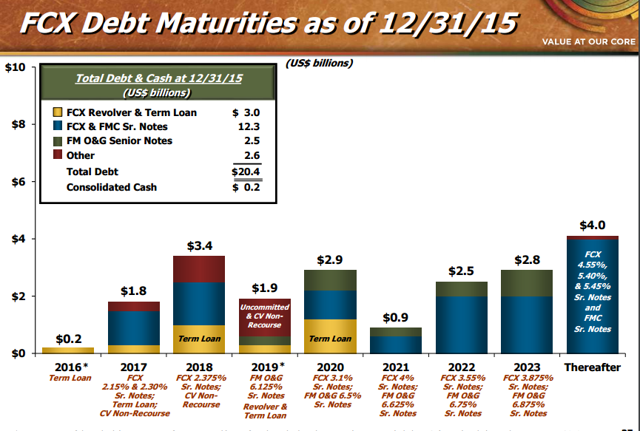 Source: Freeport-McMoRan
As seen above, the company has around $7 billion in debt maturing till 2019, which is why it is doing the smart thing by selling assets from 2016 itself so that it is well-prepared to meet maturities.
Conclusion
Freeport-McMoRan has a lot going for it in the copper and the oil markets. On top of this, the company has stepped on the gas as far as debt reductions are concerned. Thus, Freeport is pulling the right strings to improve its financial profile and it will be aided by improving market conditions in doing so. Hence, it will be a good idea to remain invested in Freeport shares as it can rise further after gaining 50% on the market this year.
Disclosure: I/we have no positions in any stocks mentioned, and no plans to initiate any positions within the next 72 hours.
I wrote this article myself, and it expresses my own opinions. I am not receiving compensation for it (other than from Seeking Alpha). I have no business relationship with any company whose stock is mentioned in this article.