The future has arrived, but it's expensive and still missing a few pieces. That might be a good way to sum up the first batch of reviews for Facebook's (NASDAQ:FB) anticipated $599 Oculus Rift virtual reality headset, which just began shipping with an Xbox One controller and a remote (but not the high-end PC the Rift will need to be paired with to work).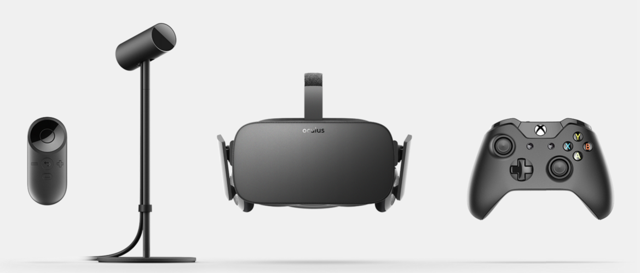 The Rift and its accessories. Source: Oculus.
What reviewers like and don't like
Among the complaints from Rift reviewers: There currently aren't any motion controllers - the Oculus Touch motion controllers ship later this year - content selection is limited, various software and UI quirks can feel disorienting, and strapping on the Rift can be a sedentary and isolating experience.
But when the Rift works, it works, delivering immersive experiences that are a world apart from those normally produced by a two-dimensional screen, and which do much to show why Mark Zuckerberg and others have argued VR could be the next big computing platform. "When the headset is on, encompassing your entire vision, and the built-in headphones are covering both your ears, it feels unbelievably real," proclaims Tech Insider's Ben Gilbert.
Gilbert notes the Rift is mostly a gaming device for now - though Oculus promises more content is arriving, the Rift still lacks even many of the social and video apps provided for Samsung's less powerful and feature-rich Gear VR headset (runs on Oculus software). But he adds there's a world of difference between playing games on a TV and playing them on the Rift. "The closest I've been to feeling like Han Solo is while playing 'EVE Valkyrie.' There's something special about catapulting out of a carrier ship's hanger bay into the vastness of space."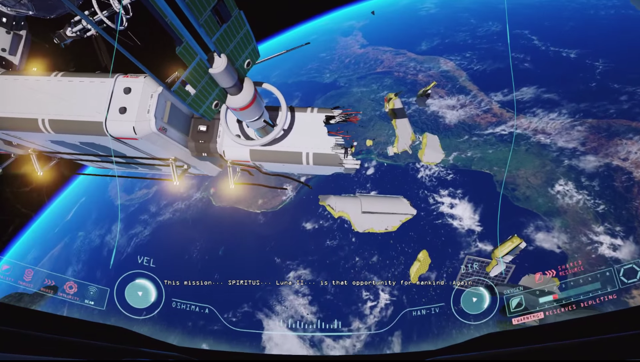 A screenshot from Oculus Rift game Adrift. Source: Tech Insider.
However, he cautions against "getting too mobile" while using the Rift without supervision, "lest you accidentally destroy your expensive computer or, worse, hurt yourself." And the Rift's reliance for now on the Xbox One's controller is deemed limiting. "[I]t's nowhere near as intuitive as motion controls."
The Verge's Adi Robertson observes users can feel "a sickening jerk" when stepping outside of the space established by the Rift's tracking camera, and that the fact most games are meant to be played in a stationary chair (with occasional head turns) often means "VR feels like an addition, not a transformation." She also points out the Rift's main menu still needs some work.
But Robertson also declares the Rift "is the first time I've played anything that could rival a decently made non-VR computer game for polish and scope," and that she had no problem using it for lengthy amounts of time. "I can easily spend two or three hours at a time in the Rift; I could probably go almost indefinitely if I didn't have to check email and jot down review notes."
The WSJ's Geoffrey Fowler had some reservations about the Rift experience. "It's hard to avoid feeling queasy when virtual scenes move without your actual body … The most awkward part isn't nausea-it's a 13-foot cable snaking from the back of your head to the PC … You need to clear an area to move around, yet the Rift doesn't do a very good job of telling you when you're nearing the edges … Another big-picture VR problem: It's boring to be around people who are using it … I believe the Oculus experience will make quantum leaps in fun and usefulness in the years ahead, especially with the arrival of the Touch controllers."
The short-term and long-term view
Between its current limitations and steep price - the Rift has an all-in cost of ~$1,500 for those currently lacking a PC that can handle it - the first-gen consumer Rift headset will likely be a niche product mostly adopted by gamers. When measuring the product's sales impact relative to a company's size, PC GPU suppliers Nvidia (NASDAQ:NVDA) and AMD (NASDAQ:AMD) could benefit more from the first-gen Rift's launch than Facebook.
But from a long-term standpoint, what really matters is that Oculus has created a VR hardware and software experience that (from all indications) surpasses anything delivered for VR to date. One that makes some early adopters comfortable spending hours immersed in virtual worlds.
In time, motion controllers will arrive, the Rift's display and sensors will improve, additional processing power will remove some of the headset's current performance and UI shortcomings, and plenty of video, social, and productivity apps will emerge. It's also likely Oculus (and perhaps some OEM partners) will eventually release Rift headsets with enough on-board processing power to eliminate the need for PC tethering - AMD's recent efforts to build such a VR headset with Canadian startup Sulon Technologies are probably a sign of things to come.
As a revenue driver, it's likely the first-gen Rift will provide only a modest boost for Facebook, which has a 2016 revenue consensus of $25.5B and a 2017 revenue consensus of $33.8B. But as a proof-of-concept that highlights Facebook's technology lead for a young computing platform, the headset provides plenty of reasons to be encouraged about the social networking giant's long-term VR bet.
Disclosure: I have no positions in any stocks mentioned, and no plans to initiate any positions within the next 72 hours.
Disclosure: I/we have no positions in any stocks mentioned, and no plans to initiate any positions within the next 72 hours.
I wrote this article myself, and it expresses my own opinions. I am not receiving compensation for it. I have no business relationship with any company whose stock is mentioned in this article.