The Oil crash has weighed heavy on U.S. financial stocks with exposure to the energy sector, dragging them down as fears of huge write-offs escalate in a low oil-price environment. This scenario has pulled high-quality blue-chip stocks such as Wells Fargo (NYSE: WFC) and Bank of America Corporation (NYSE: BAC) to very attractive levels.
I stated in my previous analysis titled Wells Fargo Is A Magnificent Buy as to why the oil-induced scare was a buying opportunity in WFC. But for Bank of America, the situation may turn worse first before it gets better.
The Bank of America stock has been tracking oil's (NYSEARCA: USO) movement for quite some time now. In fact, the stock hit a bottom of $11 per share on the same day when oil hit its bottom. And now, when oil is facing renewed selling pressure and speculations of price crashing to low 30s are gathering momentum, we can see the stock struggling to break above $14. Take a look at the strong correlation in the two charts presented below.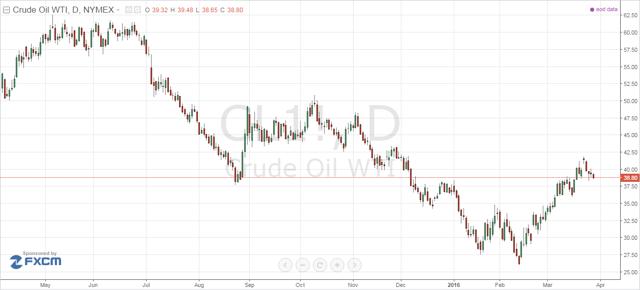 Source - Crude Oil Daily Price Chart, NYMEX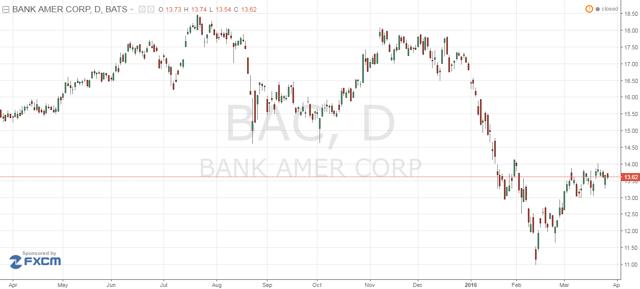 Source - Bank of America Corporation Daily Price Chart
What Does This Correlation Indicate?
The strong correlation suggests that the investors are most concerned about the impact of sustained low oil prices on the company's energy portfolio. Even the positive tone of the U.S. Fed Chair Janet Yellen on the economy has been unable to decouple the stock from the energy prices.
So, if oil does crash to low $30s, we can expect the stock of BAC to revisit levels close to $11 per share.
According to the company's Annual Report 2015, the utilized energy exposure represents approximately two percent of total loans and leases. At the end of 2015, the total loans and leases stood at $903,001 million. Paydowns from large clients has also helped the company reduce its energy-related exposure by $3.9 billion to $43.8 billion. Check out the table below:

The $43.8 billion has been committed by the Bank of America to the energy sector; this money can be called on by the borrowers as they attempt to weather the storm.
But could this be the sole reason which is panicking the BAC investors? Honestly, I think there is more to it than meets the eye. I think that the market is expecting a cascading-effect of sorts, which affects all other loan categories. I think that the market is anticipating the oil rout to engulf or at least strongly (adversely) affect other loan portfolios such as automobiles, housing, commercial real-estate, banking, technology hardware, etc. And that is why, BAC investors may be closely tracking oil's price action.
Conclusion
For such a well-diversified company to be valued solely on the basis of oil is a bit hard to digest, so there might be something more ominous that the Wall Street is expecting rather than just company's energy-portfolio deterioration.
Of course, I could be wrong about this. May be, the oil scare won't bring down other factions of the economy. But there is the possibility that it will, and the market seems focused on that rather than anything else.
Disclosure: I/we have no positions in any stocks mentioned, and no plans to initiate any positions within the next 72 hours.
I wrote this article myself, and it expresses my own opinions. I am not receiving compensation for it (other than from Seeking Alpha). I have no business relationship with any company whose stock is mentioned in this article.