3M (NYSE:MMM) represents an iconic and innovative American company. Since 1902, it has evolved and expanded its product lines to include everything from sticky notes to safety, electronic, and healthcare equipment. Recently, however, innovation has been replaced by a more short sighted strategy. Rather than continuing to innovate new products to drive additional sales and higher margins, the company has opted to increase earnings by continuously buying back its own shares at an alarming rate. Furthermore, these buybacks have been done with debt, not cash, and have been made at prices well above fair value of the company.
Looking at the float of outstanding shares, it is really quite impressive how much stock 3M has bought back in the last 5 years. The float has dropped from 700 million shares to just under 625 million. During the same period, sales and net income both flat lined, yet EPS increased from $6.06 in 2011 to $7.72 in 2015. This 30% increase in EPS did not come from innovation or additional sales, but rather from the share buybacks which took place year after year. Furthermore, these share buybacks have been financed more and more by debt. Look at the chart below to see just how much additional debt the company has taken on in the last several years.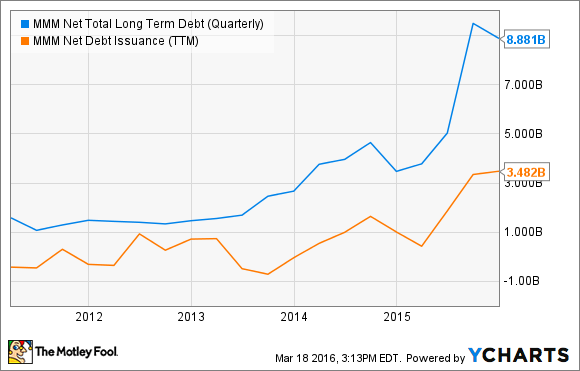 As you can see, total long term debt, along with new debt issuance has increased over the past 5 years, and has exploded higher since 2014. The majority of this debt was used to increase stock buybacks and dividends, not to research and innovate new products.
As most investors are aware, stock prices are not directly tied to sales, but rather how fast a company is growing its EPS along with what type of dividend payment the company makes each quarter. In the case of 3M, they have chosen to go the route of using share buybacks to drive EPS growth, rather than creating it through additional sales and development of new products. While sales have barely budged, the stock price has more than doubled. This occurrence is directly related to how 3M has financially engineered its way to higher EPS growth than organic growth would have allowed for.
The most alarming aspect of the recent share buybacks by 3M is that the price the company has paid for each share has been well above what one would call a "cheap" or even fair value. Even now as the company continues to repurchase shares, the stock is becoming alarmingly expensive. The current P/E ratio is 22, and the stock is near all-time highs. 3M is entering a viscous cycle where even greater share buybacks will be required just to maintain the stock price at current levels. With sales stagnate, and the use of excessive amounts of debt to repurchase expensive shares, 3M should be avoided until the company returns to what made it great to begin with: creating innovative products and technologies.
Disclosure: I/we have no positions in any stocks mentioned, and no plans to initiate any positions within the next 72 hours.
I wrote this article myself, and it expresses my own opinions. I am not receiving compensation for it (other than from Seeking Alpha). I have no business relationship with any company whose stock is mentioned in this article.