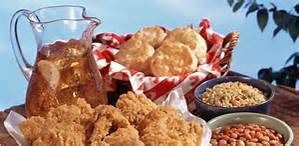 Bojangles' (NASDAQ:BOJA) came public about a year ago and since that time, shares have been pounded. The company's rich valuation when it began trading was the culprit as BOJA continues to produce impressive growth numbers but it hasn't helped the stock. After the company's Q3 report, I went long BOJA due to its ever-rising comp sales and its margins that were beginning to creep up. But with shares falling to just $13 subsequent to the report, it looked as though I had been overzealous with my long call. Q4 earnings seem to have given some steam to bulls once more, however, and the stock is well in excess of its 50 DMA for the first time ever. With this mixed picture, what are investors to do?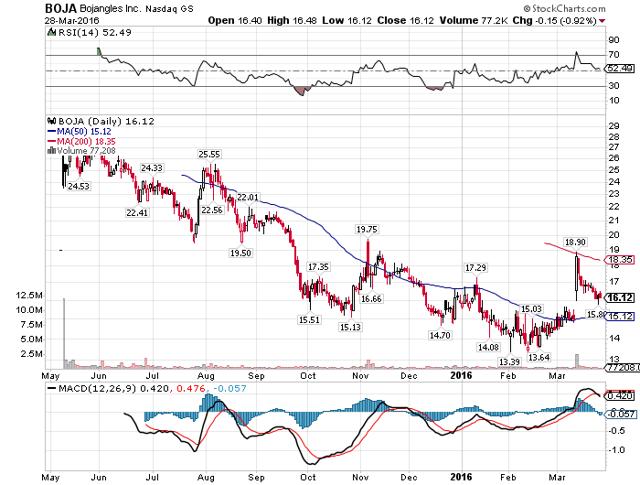 My bullishness on BOJA is pretty simple; the company's formula works. BOJA has been producing very strong comp growth in the mid-single digits as well as opening a significant number of new restaurants. This combination of organic and new store growth is powerful and BOJA's revenue continues to fly higher. I was bearish on BOJA when it came public simply due to its valuation, but at these levels, it certainly looks enticing.
However, the bull argument suffered some setbacks with the Q4 report and guidance for 2016. Revenue came in high again at 9.6% growth during the quarter, but the company's comp sales accounted for just 0.6% of the gain. BOJA suffered setbacks due to flooding in its very important Carolinas market as well as McDonald's (NYSE:MCD) all-day breakfast push, which directly competes with BOJA's model. These setbacks were certainly powerful as BOJA's year-long comp was 4% so Q4 was a major reduction. Flooding is obviously transitory but is the McDonald's breakfast initiative? Perhaps it will run out of steam, but for BOJA, it clearly took some traffic. In addition, the company's transaction count was lower during the quarter so the only reason comps were positive was higher prices; that's not a good situation. In short, the revenue picture is much uglier after Q4 than it was a quarter ago and that has me concerned.
In addition to low comp sales growth, the company's unit-level contribution margin fell 70 bps to 18.9% during the quarter as higher operating costs weighed on BOJA's profit margins. This comes at a time when comps were basically flat but total revenue growth was still strong; one wonders if higher operating expenses at the store level are here to stay or if it was simply a product of opening new stores and will dissipate over time. BOJA's margins are still very high even after falling in Q4 so I will give management the benefit of the doubt, but given its weak comps for Q4, it needs every bp of margin it can squeeze out of the business.
I said after Q3 that BOJA's estimates for 2016 were too low as I thought the company's hot comp sales numbers and its higher margin levels would persist. However, as it turns out, the company's guidance provided in the press release was essentially exactly where consensus was. The reason is because BOJA's sales growth is a little lighter than I anticipated due to lower-than-expected comps and more importantly, unit-level margins.
BOJA guided for just 17.6% to 18.1% unit level margins, roughly congruent with 2014's level of 17.9% but lower than last year's 18.2%. That slowdown in margins is very concerning to me and to be honest, I'm not sure if BOJA is sandbagging its guidance or if its 18%+ unit-level margins are just a thing of the past. Weak performance in Q4 has shaken my confidence in BOJA and I'm concerned.
At 18.3 times this year's earnings and 16 times next year's numbers, BOJA certainly isn't expensive considering where it is in its life cycle. BOJA still has years and years of high unit growth ahead of it so it is nowhere near mature, but the fact that it is trading for such a multiple and not closer to 20 implies to me that others share my concerns. BOJA disappointed me in Q4 and its guidance for this year is weaker than I had anticipated, particularly with respect to margins. Should the relative weakness in margins persist, the long-term growth track of the company's profits will certainly have to be adjusted down.
I still like BOJA's model but the simple fact is that the reasons for my bullishness after Q3 have been negated by weak Q4 performance and guidance for 2016. The company's comps are clearly at risk due to McDonald's all-day breakfast menu and its margins are slated to fall at the unit-level even as corporate costs continue to rise to support the growing store base. With the heavily promotional fast food environment, I don't see BOJA getting to 19% unit-level margins anytime soon until it figures out a way to compete with McDonald's on all-day breakfast. For that reason, I'm out of BOJA until the stock gets cheaper and/or its outlook improves.
Disclosure: I/we have no positions in any stocks mentioned, and no plans to initiate any positions within the next 72 hours.
I wrote this article myself, and it expresses my own opinions. I am not receiving compensation for it (other than from Seeking Alpha). I have no business relationship with any company whose stock is mentioned in this article.