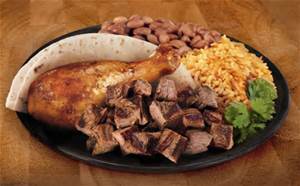 El Pollo Loco (NASDAQ:LOCO) is just another beaten-down restaurant stock in a sector littered with names that have been hammered. When you zero in on just restaurants that have come public in the last couple of years, their charts nearly uniformly look like LOCO's; lots of down action in the price. LOCO's valuation was absurd when it came public but since its first trades, the stock has lost two-thirds of its value. That has led to a struggle between bulls and bears over the past few months at the $13 level, and after Q4 earnings, that is exactly where we find the stock.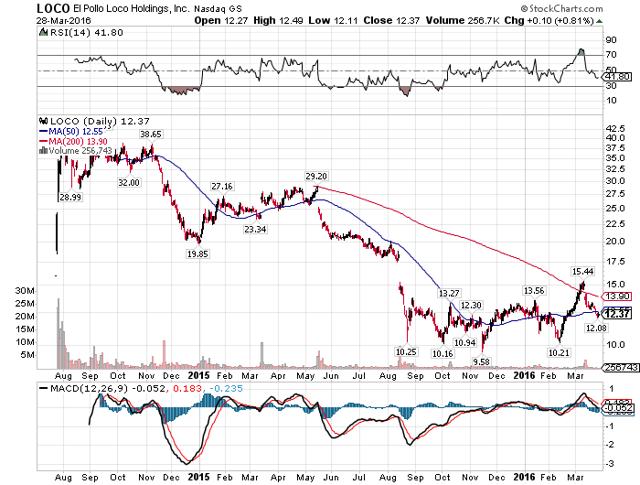 Revenue fell in Q4 in comparison to the year-ago quarter but last year's quarter contained an extra operating week. That week accounted for $4.6 million in revenue and as LOCO's total revenue fell $3.7 million in Q4, it would have posted a very small gain of around 1% without that extra operating week boosting Q4 2014. While the revenue picture isn't as bad as the headline decline, it isn't good either. This is especially true considering that LOCO is supposed to be in its growth phase right now so flat revenue Y/Y is pretty much inexcusable. It's tough to justify owning a growth stock that isn't growing.
System-wide comps came in at 1.8% which is fine, but again, LOCO is touted as a growth company with a long runway for expansion so the fact that its comps are that low against a flat/negative total revenue growth picture is very concerning indeed.
Unfortunately for LOCO, the same is true of its margins. Adjusted EBITDA was flat against last year after adjusting for the extra operating week, another cardinal sin for an alleged growth company. If LOCO isn't growing sales and it isn't growing margins, what is it doing, exactly?
Results are better on both fronts for the full year against 2014 but to be honest, 3% revenue growth annually simply won't cut it and marginal EBITDA growth isn't helping either. LOCO has very high expectations for growth - not the least of which come directly from management commentary - but the fact is that it isn't delivering against those expectations. That is why the stock is down by two-thirds and why it can't rally.
At 17 times this year's earnings and 15 times next year's numbers, LOCO isn't all that expensive if you believe the growth story. In fact, if you believe the growth story, the stock is probably a screaming buy. The problem is that LOCO has given us no reason to buy into the idea of significantly higher revenue and profits over time because it isn't executing with its small store base; what will it be like in five years when the store base is much larger? LOCO has shown a complete inability to manage a small store base so it's supposed long runway for growth should be scary for longs more than anything.
Guidance for this year was also weak as the company forecast system-wide comp sales to grow in the low single digits but the unit guidance was interesting as well. LOCO is focusing on opening more company restaurants than franchised units despite the fact that the franchised units vastly outperform company-owned stores. For example, in Q4, franchised units saw comps grow at 2.4% but company-owned stores were up just 1%. And this isn't a one quarter phenomenon; this is the norm at LOCO. Yet, management focuses on company-owned stores.
The company also forecast roughly flat unit-level margins and adjusted EBITDA that will grow commensurate with revenue growth. That implies that EBITDA margin is going to be flat once again as LOCO's profitability growth issues emerge again. It isn't that LOCO isn't profitable - it has great unit-level margins - but it has proven the inability to grow those margins and that's a problem for long-term profit growth if margins have already hit their ceiling.
Analysts have EPS growing very slightly this year but at a rate of 12% next year. I'm interested to know exactly how that's going to happen considering LOCO's profit margins have clearly topped out; we have two years of data and guidance for 2016 that suggest that to be the case. In addition, as it focuses on opening company stores that have roughly flat comps, revenue growth will lag. LOCO has growth issues and operates more like a mature chain that should be paying a dividend instead of touting its future growth but that is not the case.
For these reasons, I'm still bearish on LOCO. The company's estimates for next year are too high as LOCO has shown no ability to grow its EBITDA margins. The valuation isn't bad but it isn't good enough to warrant buying a company that isn't growing more than what a mature chain would produce but without the stability and track record that goes with it. LOCO's shares are dead money until further notice, and I certainly would not be surprised to see them move down to $10 again. There are simply better places for your money if you want to own a restaurant chain.
Disclosure: I/we have no positions in any stocks mentioned, and no plans to initiate any positions within the next 72 hours.
I wrote this article myself, and it expresses my own opinions. I am not receiving compensation for it (other than from Seeking Alpha). I have no business relationship with any company whose stock is mentioned in this article.