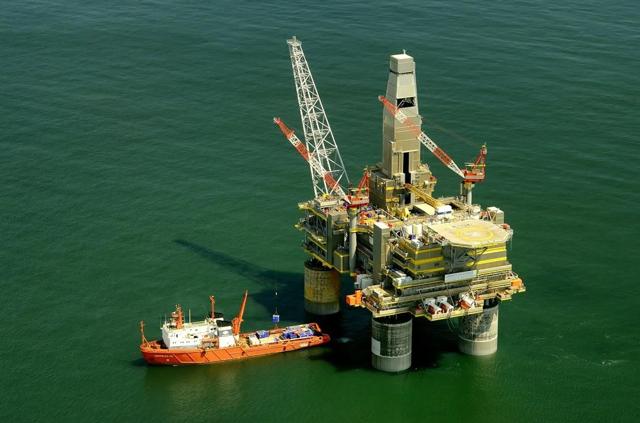 Source: Stock Photo
There are several things of importance concerning the recent news from Reuters that Exxon Mobil (NYSE:XOM) is interested in buying at least a 15 percent stake in Eni SpA's (NYSE:E) Area 4 project off the coast of Mozambique, located in its Rovuma Basin.
First, it should be known the 15 percent stake is reportedly on the lower end of speculation and interest, with some sources saying Exxon Mobil could be targeting 20 percent, or the entire stake Eni SpA has in the field, which is 50 percent.
While a deal hasn't been confirmed yet as I write, it would be a win/win for both companies as it fits the strategy each needs to and are employing to strengthen their performance in an ongoing weak oil and gas price environment.
Exxon Mobil needs to replenish resources and Eni SpA needs to streamline its operations and raise capital.
Why I like it for Exxon Mobil
If the deal goes through, there are a couple of good things I like about if for Exxon Mobil. The first is it should be able to acquire the property at a decent price under the current market conditions, although that's not a guarantee. It'll depend on how badly Eni SpA really needs the capital.
That said, there are offsetting needs each company has, which could keep the downside of the pricing subdued. Later in the article we'll look at what a prior acquisition in the Rovuma Basin field looked like and how that may translate to this deal. One thing I believe can be counted on is Eni SpA shouldn't be able to command a premium price for the property.
Why Exxon Mobil may have to pay a little more for the asset than it wants to, even if it isn't for a premium, is in 2015, for the first time in over two decades, it failed to replace about 33 percent of its oil and gas production. It has to start to find ways to replace production in the years ahead, as energy demand, while slowing in 2016, will continue to grow, even if it's not at the projected pace industry experts were looking for.
As for the weakness in natural gas prices, outside of North America prices hold up better, and this particular field will target mostly the Asian markets, where the resource will be fed to a number of LNG onshore plants built for exports.
If the acquisition represented about a 15 percent stake, it would come in at about 6.4 trillion cubic feet, with the overall field holding an estimated 85 trillion cubic feet of natural gas.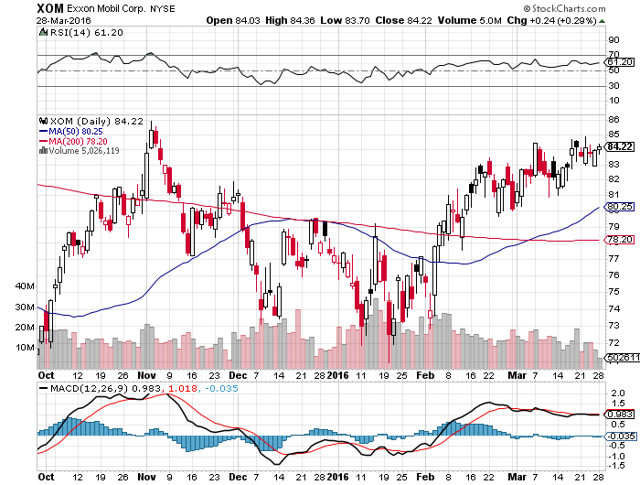 source: StockCharts.com
What's in it for Eni SpA
In early March, Eni SpA said it will divest about $7.9 billion in assets through 2019, in order to raise capital and streamline the company, including lowering capex to develop projects. It wants to hang on to the operating side of the business with the fields it sells.
Eni needs to lower risk and raise capital, and having a large suitor like Exxon Mobil fits into its stated strategy. It also has other companies interested in the asset, including Huadian Corp., which is based in China. What remains to be seen is if Area 4 is what is being fought over, or if it is the entire 50 percent of its holdings in the area. That's important because it would determine if companies would have to boost their bids in order to get the property. That would be obviously more beneficial to Eni.
Whoever Eni sells this and other assets to, it'll reduce its need to spend on development while bolstering its balance sheet. That will give it more capital to endure a prolonged low-price energy environment, while also allowing it to spend on the more immediately lucrative operational side of the business.
More important concerning this deal to me is how it may have an impact on upcoming negotiations for assets after a deal is worked through, whoever ends up owning Area 4. It will give a sense of how the market is valuing assets, which will provide more visibility for future deal.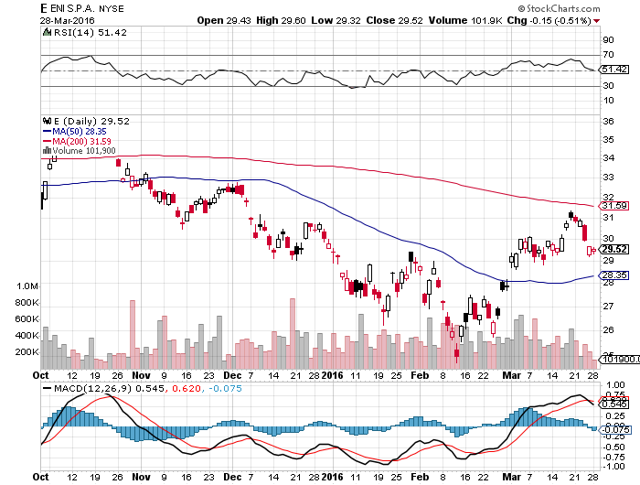 source: StockCharts.com
Bellwether for future acquisitions?
However this all works out, I do think this is an important deal to watch because it will likely be a bellwether for future higher quality acquisitions in the energy sector. I draw that conclusion from a couple of years ago when valuations were very high when Eni made a $2.4 billion deal with China's CNPC for 20 percent interest.
Even with the price of oil rebounding from about $26 per barrel, and natural gas prices showing little strength, this could cause problems if Eni and its suitors are far apart on expectations. The spread is likely smaller now, but it will have to be worked through.
I think much of this will depend upon how each company views the short and long term future of natural gas in particular, and the degree that should be reflected in the price. Another factor will be the probable argument natural gas prices will follow oil prices up. That would be a hard sell, but one that will probably be part of the negotiations.
Whatever ends up deciding the price of the asset, it will determine the cost of similar assets going forward, assuming there isn't a major move in energy prices during this period of M&A.
Why I value this outcome is it will provide the market with a clearer picture of what it will cost to secure a solid property on the natural gas side of the business. The same will happen with quality oil assets as well, although that may take a little longer to discover under this volatile oil market.
Conclusion
Eni SpA did make some good moves when becoming owner of these assets, as it plays into the need for larger companies to replace reserves. This gives it some bargaining strength in an otherwise weak market. I don't believe it will result in a premium price it would have received when prices were higher, but it should offset the general weakness of the market that would have forced it to sell at a bargain price.
Exxon Mobil, if it is able to secure the property, is essentially buying into its production future, and doing so without having a lot of impact on its available capital, because of its cash position.
It is going to ramp up its acquisitions because it doesn't want to start buying into a higher-price market, when it's obvious it has to replenish its energy reserves. Even with what would be a relatively small deal for the company - assuming it's only looking at the 15 percent stake - it doesn't want to allow momentum to dictate a price when it could easily reverse direction and weaken for an extended period of time.
Competitors are starting to exercise their acquisition muscles as well, and it wants to be aggressive in making these deals before the market floods with companies looking to land future supply streams that don't come available all that often. This is definitely the market to do this in, as it will only get more expensive to acquire energy assets.
As mentioned earlier, this makes sense when considering natural gas can command a higher price outside of North America, and the bulk of the assets Eni is looking to unload will supply the emerging Asian markets.
If Exxon Mobil can land a larger piece of Area 4, along with some of the other assets held by Eni in the region, both companies would be winners and stronger as a result.
This would enhance Exxon Mobil, which has moved up nicely over the last six months. Eni, which has been struggling more, would stabilize and slowly start to increase in value after divesting of some of its numerous assets.
Disclosure: I/we have no positions in any stocks mentioned, and no plans to initiate any positions within the next 72 hours.
I wrote this article myself, and it expresses my own opinions. I am not receiving compensation for it (other than from Seeking Alpha). I have no business relationship with any company whose stock is mentioned in this article.