In my article, OPEC 'Freeze Talk' Is A 'Free Lunch', I explained how I thought OPEC may have stumbled upon a way to get a free lunch: OPEC freeze talks. No producer actually gives up anything, at least not now and maybe never.
It has made the market alter its distribution of potential future oil prices, raising its probability-weighted expected value, which is the futures price, minus a risk-premium for longs (read why here). The "freeze" does not cut production, and oil market participants may not even expect that. The reason why prices can still rise is that short-sellers get hurt from random statements by producers ("headline risk"), and decide they don't like the risk-return at lower prices. The evidence is in: that appears to be exactly what happened.
CFTC Data
The Commodity Futures Trading Commission (CFTC) reports the Commitments of Traders (COT) of CRUDE OIL, LIGHT SWEET - NEW YORK MERCANTILE EXCHANGE (Code - 067651) on a weekly basis for futures and options combined. It disaggregates long and short positions by "Producers/Processors/Users" (hedgers) and "Managed Money" (speculators).
The "freeze" concept was announced on February 15th. In the week ending February 9, 2016, speculative short positions were at 191,897 contracts (192 million barrels). The shorts liquidated 66% of their short positions - approximately 127 million barrels - through the week ending March 22nd to 64 million barrels (N.B.: data for week ending March 29th are not available as of this writing). This 66% cumulative liquidation correlated (negatively) to a 48% cumulative increase in NYMEX crude oil futures prices as depicted in the graph below.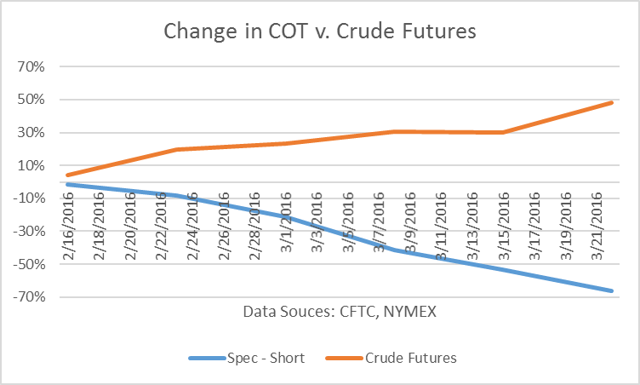 Note: Data are weekly but graph shows data smoothed.
This is more than the liquidation in short speculative positions in early 2015, when futures began to rebound in March (see graph below). Short spec positions fell to just under 60 million barrels by mid-June, corresponding to the peak in crude futures during that rebound, $61 per barrel. Although this is only one indicator, it does suggest that the short-covering impetus to prices may have run its course.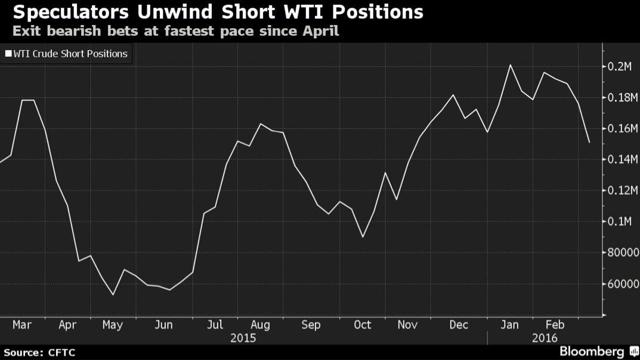 Headline risk about a freeze or cuts causes prices to spike. However, it does have its limits. I thought a $5 to $10 "premium" might be reasonable. And prices have moved up a bit further than that range. And so for this additional reason, I'm out.
Finally, it is interesting to compare the liquidation of short spec positions with long spec positions, and long and short hedge positions. Long spec positions were about unchanged, down 1%, which shows spec buyers were not the impetus driving prices higher.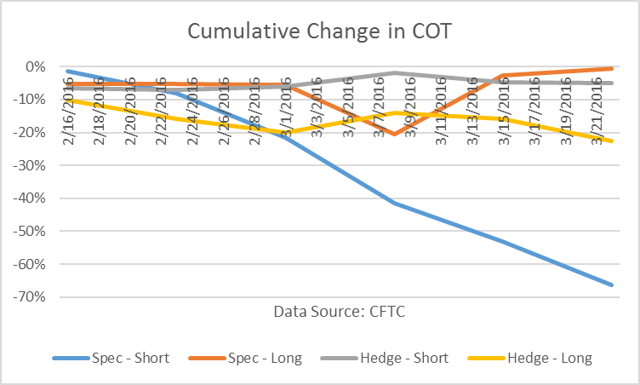 Hedge short positions fell by only 5%, again showing the hedgers were not pushing prices higher though massive liquidations. This is interesting because oil hedgers' positions over time have been negatively correlated with prices in the past, reflecting hedge errors due to greed rather than intelligent risk management.
And hedge long positions actually fell by 23% over this period. Not only did hedge buyers not contribute to the price advance, they actually liquidated into a price rise.
Conclusions
Money managers owning short futures and options positions dramatically liquidated their shorts (through buying) since the freeze announcement. I think their reason had more to do with unpredictably-timed "headline risk" than the belief that supply and demand are going to balance anytime soon as a result of a freeze at record production rates. The much-reduced level of short positions may imply that the price rebound has run its course due to this factor. It also stands to reason that a $10/b premium due to this factor may be enough.
CFTC statistics show that hedge buyers and sellers, as well as spec buyers, had little to do with the price run-up. Perhaps hedgers have become more disciplined after poorly managing their price risk after the price collapse.
Disclosure: I/we have no positions in any stocks mentioned, and no plans to initiate any positions within the next 72 hours.
I wrote this article myself, and it expresses my own opinions. I am not receiving compensation for it (other than from Seeking Alpha). I have no business relationship with any company whose stock is mentioned in this article.