JinkoSolar (NYSE:JKS) was one of best performing solar stocks last year. The stellar stock performance has been underpinned by strong fundamentals. The company is amongst my favorite picks in the Chinese solar industry and has one again given an extraordinary performance in the past quarter. JinkoSolar has been posting high double digit gross margins since the last four quarters and has successfully reduced its in-house cost of production each quarter. The company met the higher end of its shipment guidance of 4.5GW for 2015. For the next year the company is looking at shipping 6.5GW in 2016, which will mean a growth of 40% year on year. The stock is a strong buy in my view due to a diversified customer base, industry-leading technology, strong relationships with financial institutions and cheap valuation.
Jinko Positives
1) Stellar Q4'15 Performance. Q4'15 revenues increased to more than $937 million, from $637 million in the previous quarter. Gross margin for the current quarter was 19.5%, while EPS more than doubled to $2.44 from $1.04 in the previous quarter. With improving technology and operating efficiency, JinkoSolar's in-house cost of production reduced to 39 cents per watt from 44 cents per watt at the beginning of the year. JinkoSolar connected 161MW of solar projects to the grid during Q4'15 bringing the total to 1007MW during 2015 out of which 772MW was in utility scale and remaining 235MW was in distributed generation, mostly in China.
2) Debt levels remained stable. Total debt stood almost unchanged (from the previous quarter) at $1.2 billion for Q4'15. However, the short term debt decreased 31% to ~$508 million, while long term debt increased 31% to ~$714 million. Total cash balance increased to $654 million from $584 million in the previous quarter. Interest expenses declined to $15 million from $23 million in Q3'15. JinkoSolar has a strong balance sheet as compared to most of other Chinese solar companies.
3) Strong presence in USA solar market. Unlike its peer JA Solar (NASDAQ:JASO), Jinko has a strong presence in USA which is set to become the second largest solar market in 2016. JinkoSolar is now among the top three module suppliers in that geography. With the ITC being extended, USA installations are expected to witness a growth of 54% according to GTM Research. Residential installations in USA are expected to increase 35% as compared to a no extension scenario, while utility installations are estimated to increase by more than 70% in the next five years. Jinko's module shipments to North America increased to 476MW from 248MW in Q3'15. Total shipments to USA increased to 29% of the total shipments as compared to 23% in the prior quarter. JKS is growing its marketshare in two of the largest solar markets globally.
4) Huge increase in total shipments and production capacity. JinkoSolar shipped a total of 4.51GW solar modules in 2015 and expects shipment of 6.5GW by 2016. The company exceeded its fourth quarter and full year module shipment guidance. Module shipment for Q4'15 was 1.7GW, with a quarterly growth of more than 50%.
Module sales by region
| | | |
| --- | --- | --- |
| (As a % of total) | Q4'15 | Q3'15 |
| China | 37 | 31 |
| North America | 29 | 23 |
| APAC | 10 | 18 |
| Emerging Market | 12 | 21 |
| Europe | 12 | 7 |
Data from JKS Q4'15 PPT
The image below shows JinkoSolar's consistent improvement over the years. The company has been increasing its wafer capacity in tandem with cells and modules. This is starting to reap benefits since the prices of wafers are now increasing affecting the bottomline of solar panel makers who buy wafers from outside.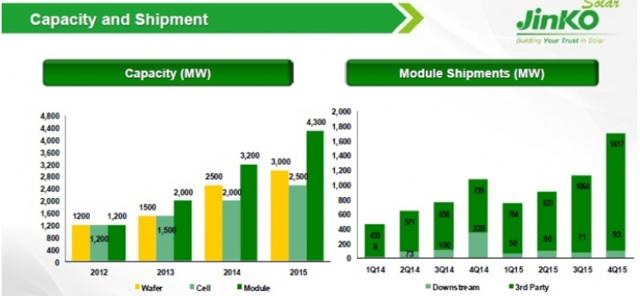 JKS Q4'15 PPT
The company is expecting to increase its production capacity across the entire supply chain with module capacity alone expected to expand by 2GW.
| | | |
| --- | --- | --- |
| (in MW) | FY'15 | FY'16 (expected) |
| Wafer | 3000 | 3500 |
| Cells | 2500 | 3500 |
| Modules | 4300 | 6300 |
Data from JKS Q4'15 PPT
"ASPs in major markets are expected to further stabilize during the first quarter of 2016 as demand grows. We remain cautious about the expansion of production capacity, but with demand growing sharply, we have plans in place to expand our manufacturing capacity to meet our minimum market demand expectations."

Source: JKS Q4'15 Results
Downside
Volatility in Chinese market with a depreciating RMB
The weakness in the Chinese stock market has raised concerns across the entire energy sector. Oil price decline has sent jitters amongst the investor community and has increased global risk aversion. Any further decline in the Chinese economy might adversely affect the performance of JinkoSolar, since China is the largest market for JKS. China's weakness has negatively impacted the global economies since they depend largely on Chinese imports. China's Renminbi fell ~5% against dollar last year and is expected to fall further during the second half of 2016 according to analysts. JinkoSolar has been increasing its currency hedge ratio to guard against further volatility of RMB.
Stock performance & Valuation
The stock performance has been quite good, even as most energy stocks were battered last year due to falling oil prices. JKS outperformed its peers by a wide margin during the last one year. The stock is currently trading at near $20 which is 38% above its 52 week low price.

Source: Google Finance
The market capitalization of the company is ~$607 million, with a P/E of 8.8x. Compare this to First Solar's (NASDAQ:FSLR) market capitalization value of $6.9 billion with a P/E of ~13x and Sunpower's (NASDAQ:SPWR) market capitalization value of ~$3 billion.
Conclusion
JinkoSolar is a market leader in China with a growing presence in the US. According to SEIA, solar power will hit 95GW mark by 2022. JinkoSolar will benefit from its position as a leading Chinese module supplier in USA. However, the company needs to strengthen its project portfolio in USA in order to capture better returns from the growth of the USA market as well as manage RMB fluctuations. Overall the company gave a good quarterly performance and guided for strong shipment growth in 2016. It is expanding capacity prudently and has also managed to keep its debt levels low. The cheap valuation makes it an attractive buy in my view.
Disclosure: I/we have no positions in any stocks mentioned, and no plans to initiate any positions within the next 72 hours.
I wrote this article myself, and it expresses my own opinions. I am not receiving compensation for it (other than from Seeking Alpha). I have no business relationship with any company whose stock is mentioned in this article.